10 reasons why you shouldn't worry about the New York Knicks
Sure, their center is hurt and their offense is a mess and they keep playing weird lineups, but Carmelo Anthony and the New York Knicks are going to be OK.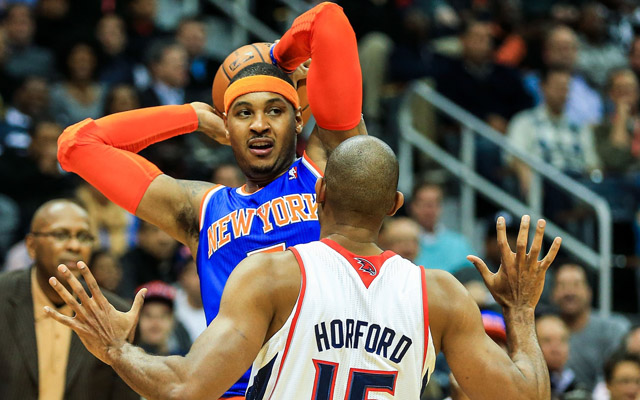 The New York Knicks enter Thursday night's game against the Houston Rockets at 3-4. They took a big win on Wednesday in Atlanta against the Hawks and can get back to .500 against Houston, moving to 2-0 since owner James Dolan guaranteed a win last Sunday. But overall, they look like a hot mess, and nothing like the super-contending-team they were in last year's regular season. 
Fans are getting worries, bloggers are getting nauseous and even the sycophantic sub-media types who like to profess everything's fine have expressed concern. Mike Woodson's even starting to pop up on lists for being on the hot seat. 
I'm here to say "Chill out, put on some JD & the Straight Shot, have a ginger ale, and let your worries go." The Knicks aren't in as much trouble as they seem, and I've got ten reasons why. 
1. The Schedule
The Knicks come in with just the 19th strongest strength of schedule according to Basketball-Reference.com, but that's a pure metric. Let's look at the losses.
A one-point loss to Chicago in the Bulls' home opener, on a Derrick Rose super-contested floater. Yes, the Knicks were down double-digits early, but they still rallied and were in position to steal that game. That's a good loss. 
A nine-point loss at home to the Wolves. Look, Minnesota is Hansel-hot right now. Losing within single-digits is acceptable. It's not ideal, it's not a good loss, but it's one you can live with. 
A ten-point loss to Charlotte. OK, this one was bad. It was a bad loss, at home. They did make up for it later this week with a win in Charlotte, but honestly, this is a team they should beat at home... except that this is the second loss in a year for Melo's Knicks vs. the Cats. They do play them well. 
A 720-point loss to the Spurs. OK, that's just what it felt like. Bad loss. Great team, though. They way they lost was really dispiriting, but really, this is a top-three team in the league at any point. They're perfectly designed to attack New York on both ends. You can't be surprised at this loss. 
So you're only looking at really two bad losses, and both were to not-completely-horrible teams. For a look at what it's like to lose to bad teams, go to Brooklyn. 
2. Last Year Shows You What Early Results Mean
At this point in the season last year, the New York Knicks were unbelievably (unsustainably) hot, at 5-0. They looked like world beaters, ready to contend for a championship. This, in part, has helped cause the mass frustration in New York. They were so good last year. What happened?
Well, here's a helpful sidebar to that story. The Indiana Pacers, who would go on to finish just behind the Knicks in the standings and eventually beat the ever-loving crap out of them in the playoffs? 
They were 3-6 at this point. 
Champions, even 2-seeds, are not made in November. They're forged throughout the season. You could even argue that the Pacers have been as unsustainably hot as the Knicks were last year. You're not always going to get hot out of the gate. It's better to improve as the year goes on anyway. 
3. Tyson Chandler Injury
When center Tyson Chandler went down, that took away a. the team's best defensive player, b. the team's most effiicient offensive player (which they kind of need), and c. their best weapon in the pick and roll. 
So, yeah, that's going to sting. Now they had problems before Chandler went down. But New York is a top-heavy team that lost what is probably their second-best overall player. That's a big deal and should be accounted for. 
4. The defense hasn't been.... completely awful
The Knicks are 14th in defensive efficiency (points allowed per possession) and that's just not that bad. They haven't played a whole lot of juggernauts yet but if the Knicks are going to be successful, it has to be with an uglly, defensive-first approach and in the top half of the league is a good enough start. 
5. Andrea Bargnani hasn't sucked as much as we thought he would
Hey, look at that! 48 percent shooting from the field, 38 percent from three for Bargnani? OK, sure, according to NBA.com, the Knicks have a 110 defensive rating (points per 100 possessions) with him on the floor, but you knew that was going to be an issue. You got Bargnani to impove the offense and give you another weapon. He's doing that. If you can figure out a way to make the pieces fit, this could work out for you, and that's a big win early in the season. 
6. It's not like they're losing pole position in the East
Three teams are above .500 in the East. The Nets and Bulls, two of the other team exepcted to vie with the Knicks for the top four seeds, have been massive disappointments as well. The dangerous teams in the bottom half of the playoff picture have been sewage backups with Washington, Cleveland, and Detroit all with huge problems. The Knicks haven't taken advantage of the slow start by so many teams, but they're not aready way behind, either. 
7. Where have they fallen to, really?
Is a top seed vital for this team? Have they gone anywhere? Were we really expecting some sort of dramatic improvement over last year's smoke and mirrors routine? They're still an incredibly flawed group from a team concept standpoint, who rely way too much on isolated contested jumpers and will likely be a playoff team that doesn't win the title. If you've managed your expectations on this team correctly, they haven't really gone anywhere. 
8. They can make up any ground they need in April
The Knicks, and Carmelo Anthony in a particular, live for April. Not so much the playoffs, as the two weeks before when everyone's either tanking or resting. That's where the Knicks can create separation for a seed or make a burst to get in the playoffs if it comes to that. Carmelo Anthony is never better than in those final two weeks of the season, and they should be good enough to accompish something there and give themselves some momentum going into the playoffs, even if this rough start keeps up. 
9. There will be no panic trade; there are no tradeable panic assets
There's rumor of a possible Iman Shumpert for Kenneth Faried trade, but Shumpert's been on the block for two years. If that happens, it's not a panic move, it's just the Knicks being the Knicks. 
Meanwhile, they can't make a panic trade. The Andrea Bargnani trade was kind of already one. They have no draft picks to send out, they can't move Amar'e Stoudemire's contract, Tyson Chandler's hurt, Raymond Felton has more shots than points, no one else wants J.R. Smith's contract or the headache that goes with it (not to mention the bonus cost of his brother) and it's not like they're moving Carmelo Anthony. 
There's nowhere to go here. They can't freak out and make things worse, because they've handcuffed themselves to this radiator. 
10. Melo can carry you
Carmelo Anthony takes a lot of ill-advised shots, doesn't play to his strengths, isn't a great defender and has lacked leadership. But a. he's actually taken some leadership efforts this early season trying to rally the troops and b. he's still so good, he can carry a sack of potatoes to 41 wins. The Knicks may not be elite with Anthony, but he's also so good, they can't be bad with him. This roster has problems contending or instilling long-term confidence. It should not create questions about them being decent. There's just too much talent there. 
Show Comments
Hide Comments
Washington's forward suffered an ankle injury early in the second quarter of Game 1

Markieff Morris' turned ankle is a huge deal for a shallow Wizards team

Carter turned 40 this season
Washington's forward suffered a nasty ankle injury in the second-round opener vs. Boston

The Spurs are the favorite, but the series will likely be close

The second round of the 2017 NBA Playoffs tips off Sunday at 1 p.m. ET, with Game 1 of Cel...