2013 NBA playoff matchups and first-round schedule
The NBA playoff matchups are set, and the Knicks and Celtics will play Game 1 on Saturday afternoon.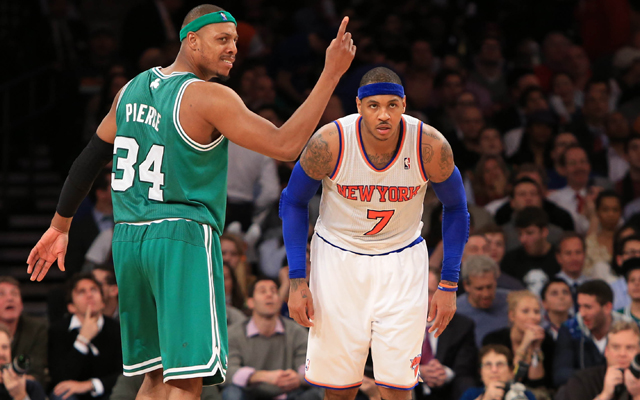 Here are the matchups for the 2013 NBA playoffs (numbers in parentheses are conference seeding). 
EASTERN CONFERENCE
(1) Miami Heat vs. (8) Milwaukee Bucks
(2) New York Knicks vs. (7) Boston Celtics
(3) Indiana Pacers vs. (6) Atlanta Hawks
(4) Brooklyn Nets vs. (5) Chicago Bulls
WESTERN CONFERENCE
(1) Oklahoma City Thunder vs. (8) Houston Rockets
(2) San Antonio Spurs vs. (7) Los Angeles Lakers
(3) Denver Nuggets vs. (6) Golden State Warriors
(4) Los Angeles Clippers vs. (5) Memphis Grizzlies
Here's the first-round schedule. First time is local, second is ET.  * indicates "if necessary." 
WESTERN CONFERENCE
Houston Rockets at Oklahoma City Thunder
Game 1 -- Sun, April 21: Houston at Oklahoma City, 8:30 p.m., 9:30 p.m. 
Game 2 -- Wed, April 24: Houston at Oklahoma City, 6 p.m., 7 p.m. 
Game 3 -- Sat, April 27: Oklahoma City at Houston, 8:30 p.m., 9:30 p.m. 
Game 4 -- Mon, April 29: Oklahoma City at Houston, TBD
Game 5 * Wed, May 1: Houston at Oklahoma City, TBD
Game 6 * Fri, May 3: Oklahoma City at Houston, TBD
Game 7 * Sun, May 5: Houston at Oklahoma City TBD

San Antonio Spurs vs. Los Angeles Lakers

Game 1 -- Sun, April 21: L.A. Lakers at San Antonio, 2:30 p.m., 3:30 p.m. 
Game 2 -- Wed, April 24: L.A. Lakers at San Antonio, 8:30 p.m., 9:30 p.m. 
Game 3 -- Fri, April 26: San Antonio at L.A. Lakers, 7:30 p.m., 10:30 p.m. 
Game 4 -- Sun, April 28: San Antonio at L.A. Lakers, 4 p.m., 7 p.m. 
Game 5 * Tue, April 30: L.A. Lakers at San Antonio, TBD
Game 6 * Thu, May 2: San Antonio at L.A. Lakers, TBD
Game 7 * Sat, May 4: L.A. Lakers at San Antonio, TBD 

Denver Nuggets vs. Golden State Warriors

Game 1 -- Sat, April 20: Golden State at Denver, 3:30 p.m., 5:30 p.m. 
Game 2 -- Tue, April 23: Golden State at Denver, 8:30 p.m., 10:30 p.m. 
Game 3 -- Fri, April 26: Denver at Golden State, 7:30 p.m., 10:30 p.m.
Game 4 -- Sun, April 28: Denver at Golden State, 6:30 p.m., 9:30 p.m. 
Game 5 * Tue, April 30: Golden State at Denver, TBD
Game 6 * Thu, May 2: Denver at Golden State, TBD
Game 7 * Sat, May 4: Golden State at Denver, TBD 

Los Angeles Clippers vs. Memphis Grizzlies

Game 1 -- Sat, April 20: Memphis at L.A. Clippers, 7:30 p.m., 10:30 p.m. 
Game 2 -- Mon, April 22: Memphis at L.A. Clippers, 7:30 p.m., 10:30 p.m. 
Game 3 -- Thu, April 25: L.A. Clippers at Memphis, 8:30 p.m., 9:30 p.m. 
Game 4 -- Sat, April 27: L.A. Clippers at Memphis, 3:30 p.m., 4:30 p.m. 
Game 5 * Tue, April 30: Memphis at L.A. Clippers, TBD
Game 6 * Fri, May 3: L.A. Clippers at Memphis, TBD
Game 7 * Sun, May 5: Memphis at L.A. Clippers, TBD


EASTERN CONFERENCE 

Miami Heat vs. Milwaukee Bucks

Game 1 -- Sun, April 21: Milwaukee at Miami, 7 p.m., 7:00 p.m. 
Game 2 -- Tue, April 23: Milwaukee at Miami, 7:30 p.m., 7:30 p.m. 
Game 3 -- Thu, April 25: Miami at Milwaukee, 6 p.m. 7 p.m. 
Game 4 -- Sun, April 28: Miami at Milwaukee, 2:30 p.m., 3:30 p.m. 
Game 5 * Tue, April 30: Milwaukee at Miami, TBD
Game 6 * Thu, May 2: Miami at Milwaukee, TBD
Game 7 * Sat, May 4: Milwaukee at Miami, TBD 

New York Knicks vs. Boston Celtics

Game 1 -- Sat, April 20: Boston at New York, 3 p.m., 3 p.m. 
Game 2 -- Tue, April 23: Boston at New York, 8 p.m., 8 p.m. 
Game 3 -- Fri, April 26: New York at Boston, 8 p.m., 8 p.m. 
Game 4 -- Sun, April 28: New York at Boston, 1 p.m., 1 p.m. 
Game 5 * Wed, May 1: Boston at New York, TBD
Game 6 * Fri, May 3: New York at Boston, TBD
Game 7 * Sun, May 5: Boston at New York, TBD

Indiana Pacers vs. Atlanta Hawks

Game 1 -- Sun, April 21: Atlanta at Indiana, 1 p.m., 1 p.m. 
Game 2 -- Wed, April 24: Atlanta at Indiana, 7:30 p.m., 7:30 p.m. 
Game 3 -- Sat, April 27: Indiana at Atlanta, 7 p.m., 7:00 p.m. 
Game 4 -- Mon, April 29: Indiana at Atlanta, TBD
Game 5 * Wed, May 1: Atlanta at Indiana, TBD
Game 6 * Fri, May 3: Indiana at Atlanta, TBD
Game 7 * Sun, May 5: Atlanta at Indiana, TBD 

Brooklyn Nets vs. Chicago Bulls

Game 1 -- Sat, April 20: Chicago at Brooklyn, 8 p.m., 8 p.m. 
Game 2 -- Mon, April 22: Chicago at Brooklyn, 8 p.m., 8 p.m. 
Game 3 -- Thu, April 25: Brooklyn at Chicago, 7:30 p.m., 8:30 p.m. 
Game 4 - Sat, April 27: Brooklyn at Chicago, 1 p.m., 2:00 p.m. 
Game 5 * Mon, April 29: Chicago at Brooklyn, TBD
Game 6 * Thu, May 2: Brooklyn at Chicago, TBD
Game 7 * Sat, May 4: Chicago at Brooklyn, TBD
Show Comments
Hide Comments
Our NBA experts predict the first round of the postseason

Can the Clippers close the series without Blake Griffin?

The playoffs are starting to heat up
The Cavs are the first team to move on to the next round

Our experts predict every series in the 2017 NBA postseason

No answers, no challenges, no adjustments as Bulls fall into 2-2 tie