2013 Offseason Report: Minnesota Timberwolves
Over the next month, CBSSports.com's Eye On Basketball will take a team-by-team look at the 2012-13 NBA offseason. We continue with the Minnesota Timberwolves.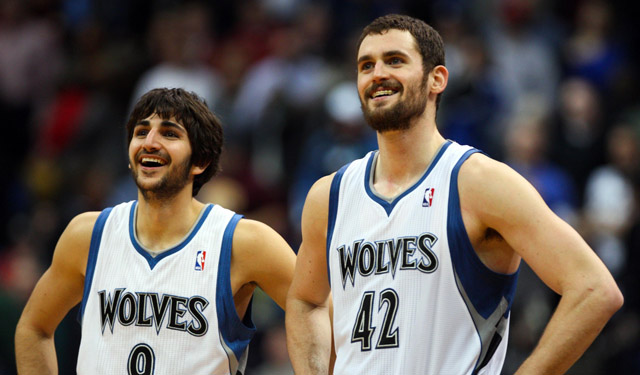 Over the next month, CBSSports.com's Eye On Basketball will take a team-by-team look at the 2012-13 NBA offseason. We continue with the Minnesota Timberwolves.
How they finished 2013
A preseason of expectations last year turned into a regular season of injuries and frustration. The Minnesota Timberwolves looked poised to finally return to the postseason for the first time since 2004 before the opening tip-off of the 2012-13 campaign. They were awaiting the return of Ricky Rubio from an ACL tear, but if they managed to survive until he was rounded back into shape, they'd be fine. But then the injuries hit and the team was decimated throughout the course of the season.
Overall, they lost 341 games due to injuries. Kevin Love broke his hand twice and missed 64 games. Brandon Roy had his same knee issues in his brief comeback attempt and missed 77 games. Chase Budinger had a lateral tear in his meniscus and was out for 59 games. Ricky Rubio missed 24 games as he recovered from his knee injury. Nikola Pekovic missed 19 games due to various bumps and bruises (although a few at the end could have just been avoiding injury risk at the end of a contract year). Andrei Kirilenko missed 18 games. Malcolm Lee had both knee and hip surgery and missed 63 games. There were also various injuries with other Wolves players.
Even Rick Adelman left the team for a time to be with his wife as she battled seizures.
The only players who were consistently in the lineup were Luke Ridnour (82 games), Dante Cunningham (80 games), Derrick Williams (78 games), Alexey Shved (77 games) and Greg Stiemsma (76 games). Somehow, they managed a whole team effort for 31 games, which is their highest total in a season that didn't involve Kevin Garnett, but it obviously wasn't enough.
The Wolves had expectations to make the playoffs prior to last season and actually crumbled in the process of trying to fulfill those expectations.
Needs entering the offseason
The Wolves had a few very important items on the agenda this offseason:
1. Resolve the David Kahn situation. Kahn had alienated Love over the past few years and the team didn't really start making significant progress until Adelman started helping out with the decision-making.
2. Figure out the coaching situation. There weren't any guarantees that Rick Adelman would be back after last season because of his wife's health.
3. Re-sign restricted free agent Nikola Pekovic. The 27-year old center has been a brutish revelation over the past two seasons. He went from someone that didn't look like he belonged in the NBA during his rookie season to one of the better centers in the NBA over the past two years.
4. Find 3-point shooting. The Wolves were probably the worst 3-point shooting team in NBA history last season. Only two teams all-time have taken at least 1,000 3-pointers in a season and made 30.5 percent or worse. The 1990-91 Nuggets made 28.3 percent of their 1,059 3-pointers. The 2012-13 Timberwolves made 30.5 percent of their threes, but shot 1,475. When you factor in volume, the Wolves were historically the worst.
5. Figure out the Andrei Kirilenko situation. He opted out of $10 million for next season in order to secure a longer deal.
6. Get everybody healthy.
The draft
The Wolves went into the draft with the ninth and 26th picks in the first round. Their hope was to move up in the order to draft Victor Oladipo, but were unsuccessful. The second order of business was to find a way to draft Kentavious Caldwell-Pope out of Georgia, but they needed him to fall to No. 9. They also had their sights set on Cody Zeller to add some big-man depth.
None of these things happened. The Magic grabbed Oladipo, the Bobcats/Hornets took Zeller and the Pistons drafted KCP one spot ahead of the Wolves' selection. The next idea was to work out a trade with the Jazz. They picked Trey Burke for the Jazz and in return received the 14th and 21st picks.
With the 14th pick, they selected Shabazz Muhammad out of UCLA and then they took Louisville's Gorgui Dieng at 21. In terms of value, they made a great trade. Muhammad has enough talent to be a solid wing in the NBA, though he has to be willing to work with the coaching staff and come to terms with being the fourth option when he's on the floor.
Dieng gave the Wolves much needed depth inside at a cheaper price than did Greg Stiemsma. His ability to pass and shoot the midrange jumper make him a nice piece in Adelman's high-post offense. He's also a solid defender inside and in the pick-and-roll. The Wolves moved the 26th pick to help with cap space and grab future second-round picks.
Free agency and trades
Here's how the checklist looks so far:
1. The Wolves replaced David Kahn with former coach Flip Saunders, who takes over constructing the roster. Saunders has overseen the Wolves' offseason, though some of the fan base feel uneasy with what he has done.
2. As of right now, Adelman will be back with the organization. He's been heavily involved with offseason moves and summer league as his son, David Adelman, coached the Wolves' summer league team. There won't be any big announcements regarding the situation unless Adelman decides to step down to be with his wife.
3. The Pekovic situation is a bit weird right now. The Wolves have reportedly offered him a four-year deal for around $50 million. His agent is trying to secure a bigger deal for his client, but really only the 76ers have enough cap space to give him a big offer sheet for the Wolves to match, and they are looking to rebuild. Some have been wondering if this process is dragging out in order to give Pekovic a pass on playing in EuroBasket.
4. The Wolves re-signed Chase Budinger for $16 million over three years. The Wolves also grabbed Kevin Martin for four years, $28 million in a sign-and-trade that sent Luke Ridnour to Milwaukee.
5. The Wolves reportedly offered Kirilenko the mid-level exception in a three-year deal, but he declined after opting out, expecting a bigger deal with the team. Instead of doing what they could to bring back Kirilenko, the Wolves essentially used his salary commitment to go out and grab both Martin and Corey Brewer. Brewer was another sign-and-trade get for three years and roughly $15 million.
6. There aren't any reported injuries at this time ... but it's still early.
Overall grade and accomplishments: B-
There are some legitimate questions the Timberwolves face heading into next year. It looks like they might be a playoff team in an already loaded Western Conference, but it also looks as if they might have one of the worst defensive teams in the NBA. Rubio, Dieng and Dante Cunningham will be fine defenders in the rotation. The Wolves also brought in Ronny Turiaf for added inside depth. But is Rubio's defense going to be enough when he's on the floor with Budinger, Martin, Love and Pekovic (assuming he re-signs, which is still expected)?
The offensive woes appear to be fixed for this team. The Wolves scored just 100.1 points per 100 possessions last season, which was 25th in the NBA. Not having a healthy Kevin Love or Kevin Love at all for most of the season was a big part of those struggles. Pekovic looked great when he was on the floor and Rubio not only got his leg strength back but actually looked improved from his rookie season as the year went along.
But will the offense be enough to suppress the defensive issues? Will the team be able to devise a game plan and execute it to defend as a team? Is it enough to bring the Wolves out of the lottery for the first time in 10 years after a nine-year playoff drought?
The Wolves certainly added depth and firepower to their roster this offseason and they brought a familiar face to the front office that won't make Love wish he were elsewhere. However, we'll have to wait and see whether this team can withstand expectations and injuries during their next campaign.
The Knicks failed to reach the playoffs in Thomas' first stint in New York as president in...

Will Toronto's current team president be the successor of Phil Jackson in New York?

Where are the top NBA free agents heading and who is still available?
Griffin suffered a toe injury that cut short his postseason, and apparently may keep him s...

Daryl Morey feels good about the Rockets chances of pushing the juggernauts with Chris Paul...

Everything you need to keep track of during the all NBA offseason madness