2013 Offseason Report: New York Knicks
CBSSports.com's Eye On Basketball is taking a team-by-team look at the 2013 NBA offseason. Today, we look at the New York Knicks' offseason.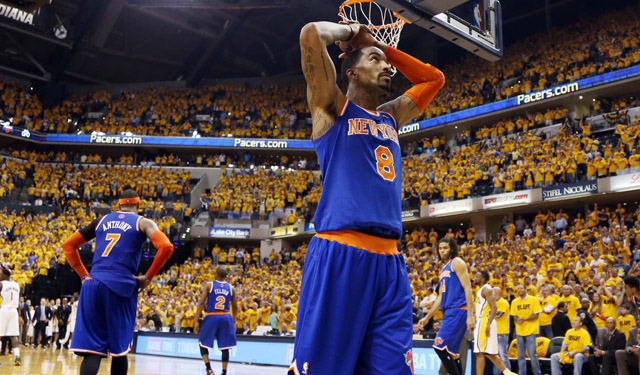 Over the next month, CBSSports.com's Eye On Basketball will take a team-by-team look at the 2013 NBA offseason. We continue with the Eastern Conference hopefuls, the New York Knicks . Check out the rest of the offseason reports here.
How they finished 2013
How much did you believe in the New York Knicks this past season? Now, how much do you believe in them in the future? Belief is a huge thing when it comes to the Knicks, more so than many other teams.
There were times in the 2012-13 season when the Knicks looked incredible, and could hang with anybody. They had the third-best offense in the league with an impressive 108.6 points per 100 possessions. They had the sixth best net rating at 5.1 points per 100 possessions. They shattered the single season record for 3-pointers made by a team with 891 (previous record was 841 by the 2009-10 Orlando Magic, although the Houston Rockets also beat that last season with 867 3s). The Knicks were mostly fun and put on a show offensively a lot of nights.
Unfortunately, there are two ends of the court and the Knicks didn't exactly play the same stellar team defense we saw from them in 2011-12, when they were ranked fifth in defensive rating. This past season, the Knicks couldn't defend anybody. They weren't one of the worst defensive teams in the NBA, but 18th isn't won't win many championships.  Tyson Chandler didn't have the same impact he had the previous year and the perimeter defense wasn't up to par.
Even with inconsistency from one end of the floor to the other, the Knicks still won 54 games, taking the Atlantic division for the first time since the 1993-94 season, and securing the 2-seed in the East. The Knicks endured injuries to Carmelo Anthony ,  Raymond Felton , Chandler, Amar'e Stoudemire , and Iman Shumpert (ACL rehab) to win 50-plus games for the first time since 1999-2000 and their most wins since the 1996-97 season when they won 57.
They beat a battered Boston Celtics team in six games in the first round of the playoffs, never really being in danger of missing the second round. In the second round, they got beat up by a much more physical Indiana Pacers team and just didn't have the offensive wherewithal we saw so many times throughout the season. They let their offensive attack of ball movement and 3-point accuracy change to contested shots and nobody contested shots better last season than the Pacers. The Knicks lost in six games.
Offseason needs
Defense and shot creation. 
It's weird to think that the third best offense in the NBA needed to change something, but when they were faced with an incredibly tough defensive opponent in the playoffs, they crumbled because they didn't have the ability to dribble penetrate to make the defense scramble. Having more players with the perimeter capabilities to keep the 3-pointers flying is key, but having those same players be able to put the ball on the floor against an over-aggressive closeout can keep the toughest defenses off-balance.
Defense also had to be a priority for the Knicks. It was one thing when their offense stalled but their defense never really got going. They couldn't stop players in isolation. They couldn't stop other teams on the pick-and-roll. Help defense just wasn't there, either, because injuries kept players from maximizing their help or the help just not being there because players didn't buy in.
The draft
The Knicks had the 24th pick in the 2013 draft and they took Tim Hardaway Jr. out of Michigan. New York has gone to a lot of small lineups the past couple of years. Hardaway should be able to fit in nicely at a position already occupied by J.R. Smith and Shumpert. Hardaway showed a nice outside shot in two of his three years at Michigan and his ability to create off the dribble will be great for the second unit. 
It's unlikely their depth will give him much playing time in the first year but he's a nice asset and role player to have for the future.
Free agency and trades
The most confusing move of the summer might be the Knicks trading Steve Novak , Marcus Camby , Quentin Richardson , two second-round picks, and a first-round pick to the Toronto Raptors for Andrea Bargnani . Let's say the Knicks were given an extra amnesty clause and use it on Stoudemire's contract this summer. I would understand the Bargnani move so much more. However, with Stoudemire still on the roster and still not fully fitting in with Anthony on the court, I'm not sure how Bargnani also squeezes into the plan.
The other moves the Knicks made were re-signing Smith to a three-year deal worth roughly $17 million. They also re-signed Pablo Prigioni on a three-year deal and Kenyon Martin on a one-year deal. To address Jason Kidd retiring and moving on to coach the Brooklyn Nets, the Knicks signed Beno Udrih , which was a great pickup if they ever want a point guard in the second unit who can destroy on pick-and-rolls and pull-up jumpers in transition.
The most exhilarating move the Knicks made this offseason was bringing in homegrown  Metta World Peace on a two-year deal. Not only is he back home in New York, but more important, he adds plenty of defensive minutes at both forward positions. But you've still got Anthony, Stoudemire, and Bargnani looking for minutes. Some of those guys can play center, but at a certain point the Knicks' positional revolution may be out of control.
Overall grade and accomplishments: C
What I really want to give the Knicks is an "incomplete" because I haven't been able to figure out how the Bargnani move is going to work out. They ended up saving one year on the salary cap by getting rid of Novak's deal, but was that worth a first round pick and a couple of second round picks just so you can have a cluttered frontcourt with Bargnani in the mix now?
The Udrih move and World Peace move are ones you can get behind because they're low risk and high reward. They allowed Chris Copeland to leave as a restricted free agent because they didn't have much flexibility to keep him aboard, but would not play ahead of Bargnani anyway. The Knicks have depth but some of that depth is awkward. They still have scoring but we don't know how the minutes and shots will divvy up after Melo gets to feast within the offense.
And if Chandler isn't able to be 100 percent for much of next season, they may not have addressed their needs for better defense, even with Metta in tow.
You're once again asking yourself how much you believe in this Knicks team and their 3-point attack. Except this year, that belief may have to battle an even tougher Eastern Conference at the top with the Miami Heat, Chicago Bulls, Indiana Pacers, and Brooklyn Nets all looking improved.
Show Comments
Hide Comments
Our Latest Stories
We need video of this ASAP

So there's a beacon of sanity in a world gone mad

LeBron is mad, and he has reason to be, because the Cavs aren't good enough defensively right...
Nuggets star narrates some of his wildest, and best passes of the season

Knicks All-Star not a fan of Phil's grand design

Marshall Plumlee was once left stranded in the middle of the woods