2014 Las Vegas Summer League: What to watch on Day 2
Taking a look at the match-ups from Las Vegas Summer League for Saturday, July 12 and whom you should pay attention to.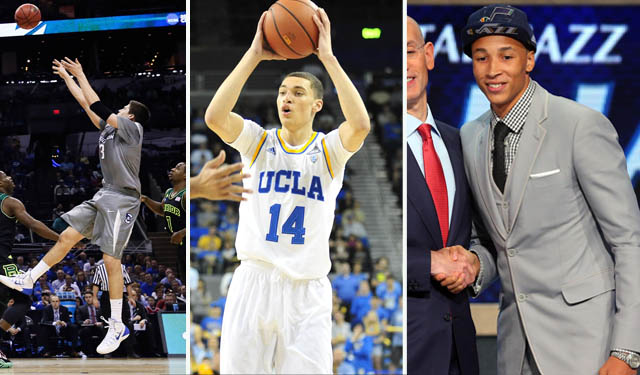 More Offseason Analysis: Coaching changes, news | Free Agency | Draft
On a day in which a Decision dominated the news cycle, we had a great start to the Las Vegas Summer League session. It was highlighted by the match-up between Andrew Wiggins of the  Cleveland Cavaliers and Jabari Parker of the Milwaukee Bucks . Wiggins' summer squad got the best of Parker's team with a 70-68 win, and Wiggins led the way with 18 points on 7-of-18 shooting (1-of-8 from three). Parker had 17 points (5-of-11 shooting) and nine rebounds in the loss. And we got plenty of highlights from these two showing off their athleticism, footwork, and emerging skill sets.
On Saturday, we'll get introduced to a few more rookies and young players as we get the rest of the teams for LVSL started. Guys like Doug McDermott, Zach LaVine, and Dante Exum will give us a glimpse into their talents and why they were drafted in the lottery. Let's take a look at what to look for from Saturday's match-ups:
4 p.m. ET - Portland Trail Blazers vs. New York Knicks
The Blazers' summer league team may as well just be called the Blazers' regular season second unit. Although it doesn't feature newly signed Chris Kaman and Steve Blake , it has a lot of other NBA talent on the roster. C.J. McCollum will try to dazzle us like he did at the beginning of his Vegas experience last summer. He'll have Thomas Robinson filling the lanes and grabbing rebounds, Allen Crabbe spotting up and playing defense, Will Barton scoring a ton of points, and the Joel Freeland - Meyers Leonard combo working the interior. Keith Appling will try to make a name for himself after going undrafted, and Craig Brackens and Rodney Carney will try to find their way back into the NBA circles. 
The Knicks' squad will try to build off of what we saw from them yesterday in their 76-64 win over the Mavs. Tim Hardaway Jr. was firing away, asking for the ball repeatedly down the floor, and showing a quick release once he got it. But it worked quite well for him with 25 points on 6-of-15 shooting. Cole Aldrich dominated the boards with 15 rebounds to go with nine points. And Cleanthony Early had a nice summer debut with 13 points on 5-of-10 shooting, including this big dunk in transition on Ivan Johnson.
4:30 p.m. ET - Atlanta Hawks vs. Washington Wizards
This Hawks team has a lot of guys who will likely have a chance to be prominently featured in the rotation this season. Adreian Payne, 15th pick out of Michigan State, will likely lead the way for the summer team as we see his athleticism and 3-point shot on display today. He's joined by Walter Tavares, Mike Muscala, and Dennis Schroeder. Schroeder's defensive ability and great passing instincts were tremendous in his summer session last year in Vegas. Lamar Patterson and John Jenkins also get to prove to Mike Budenholzer just how well they can stretch the floor for him. They're two incredible shooters who can get hot in a hurry. 
The Wizards' team will feature Otto Porter , who gets a chance to show his disappointing summer league performance last season, along with a relatively insignificant rookie season, were just an aberration. The lanky small forward needs to show a consistent shot and handle on the ball, but he should be able to create nicely for himself and others. He'll be flanked by Glen Rice Jr. on the wing, as the second-year shooter looks to fill it up from outside. Daniel Orton , Kim English , and Maalik Wayns will try to get a foothold back in the NBA with their summer performances. Khem Birch out of UNLV will be an intriguing forward prospect to watch too. 
6 p.m. ET - Toronto Raptors vs. Denver Nuggets
We got our first look at Bruno Caboclo yesterday, and while the "Brazilian Kevin Durant " comparison may be a little strong for him, he's certainly talented and looks like he could be a nice player. He had 12 points on 5-of-7 shooting, made a couple of threes, and he had three quick turnovers early in the game. Some scouts said he looked incredibly raw still but his length is impressive. He'll keep getting a better feel for the game and start getting some of that rawness out of his system. John Shurna had a big game shooting the ball. He led the way with 21 points on 6-of-9 shooting, including 5-of-8 from 3-point range. Dwight Buycks continued the nice summer production from last year with 14 points and five assists. Question for them as the week keeps going is can they find a way to feature Caboclo more to see how much he can handle out there?
The Denver Nuggets will get to see what 19th pick Gary Harris can do right away. This Nuggets team will need a scoring leader out there and a focus for the offense to set things up for other players. Harris can be that guy. Erick Green and David Lighty will get a chance to keep working their way into the league, and maybe we'll finally see Quincy Miller put together all of that talent he displayed in high school and college. I did see him politely waiting in line at the concession stand yesterday. I have no idea what he was ordering, but he showed the willingness to be a good teammate by waiting his turn. Would like to see him be more aggressive there and try to get it to translate to the court. 
6:30 p.m. ET - Dallas Mavericks vs. Minnesota Timberwolves
The Mavericks didn't look great in their summer debut yesterday, but they get to live another day and try to turn it around. Bernard James looked fantastic out there with 15 points, 10 rebounds, and four blocks. Ricky Ledo tried to take the onus of the offensive attack on his own shoulders. He was just 4-of-14 from the floor but showed a willingness to be a playmaker. He kept trying to attack the middle of the defense to keep out of traps and bad situations. Gal Mekel looked great in terms of running the show and handled pressure defense really well. Eric Griffin stole the show though with a big dunk. To paraphrase Nick Nolte from Tropic Oklahoma City Thunder , "I don't know what you call it; I just know the sound he makes when he destroys a defender in the lane."
We get to see a loaded Wolves' summer league team start their session off today, and the roster is composed of a lot of guys who could be in the rebuilding process once Kevin Love is traded away. Zach LaVine (No. 13 pick) will try to use his athleticism and explosiveness to put on a show. Shabazz Muhammad and Gorgui Dieng will show us what they worked on following their rookie years. Alexey Shved is making an appearance to try to become more comfortable at the point guard position. Glenn Robinson III will show off his athleticism and an improved shooting stroke. And Kyrylo Fesenko will likely provide the in-between quarter entertainment. 
8 p.m. ET - Phoenix Suns vs. Golden State Warriors
These were the two best teams in summer league last year. The Suns come back with a loaded roster once again. The Morris twins won't be playing this year but we should get to see Alex Len work on his inside presence. He'll be joined by Miles Plumlee i. First round picks T.J. Warren (14th) and Tyler Ennis (18th) will have a chance to show off their skill set. Warren needs to show he can hit the three and Ennis' outside shot could use a little improvement/consistency as well. The Suns also have Archie Goodwin out there as well. Some interesting fringe guys are on the team, as well, with Seth Curry and David Stockton on the roster.
This Warriors team is not the same fun summer squad we saw win it all last year, but they've still got a couple of guys to keep an eye on. Nemanja Nedovic had a great game against the  Charlotte Hornets on Friday. He scored 17 points to lead his team. He only took six shots (made four), but he got to the free throw line 11 times by being aggressive with the ball. James Michael McAdoo had a great debut too. He had 11 points and three boards, but also had a nice dunk against Noah Vonleh in the game. He helped keep Vonleh scoreless as well. 
8:30 p.m. ET - Chicago Bulls vs. Los Angeles Clippers
TEACH ME HOW TO DOUGIE! Doug McDermott makes his summer league debut and McBuckets will have a lot of pressure on him to score right away. He was such a dynamic scorer in college, the idea of him being able to translate that to a smaller role in the NBA is incredibly intriguing, especially for this Bulls team. Tony Snell joins him on the squad. Snell was pretty good in this environment a year ago, but needs to catch some of that McDermott shooting touch magic to help keep that shooting stroke consistent. Their second round pick Cameron Bairstow can show off some hustle and his size, as well, much like Erik Murphy did a year ago.
No Reggie Bullock . No C.J. Wilcox. Both young guys are out with injuries. However, Delonte West is trying to get back into the NBA and Doc Rivers is giving him a shot with the summer league roster. West can prove he belongs in the NBA again. The skills are likely there. If he's in shape and capable of moving defensively, he's a perfect role player off the bench. Clippers also have Jon Brockman to be a monster on the glass. Keith Benson should dunk on at least one person this week in tremendous fashion as well. 
10 p.m. ET - Houston Rockets vs. Miami Heat
It's going to rain in Las Vegas if the Rockets have anything to say about it. This team is full of shooters and if they're anything like the D-League and NBA versions of this organization, they're going to let it fly. Isaiah Canaan and Jabari Brown can fill it up from outside. They'll be two of the backcourt shooters looking to set the tone early. Maarty Leunen can also bomb from downtown. They want Nick Johnson being consistent with that outside shot, but we'll want him showing off that athleticism that can make anybody into a YouTube sensation at the blink of an eye. Donatas Motiejunas is on the roster as well, so if he plays, he'll be the best player on the Rockets' team. 
The Heat will bring their Orlando summer league game to Vegas. This time, there will be a little more distraction with the fallout of LeBron James ' departure. James Ennis and Shabazz Napier will lead the way, and Justin Hamilton will be the interior presence just like we saw in Orlando. Napier has to continue running the offense and be more proficient in passing and shooting decisions. For Ennis, you want to see that his shooting stroke is consistent after shooting 52.4 percent from three in Orlando. Andre Dawkins and Tyler Johnson had nice impacts in Orlando and will need to keep that play up. There's a roster spot open now, guys!
10:30 p.m. ET - Utah Jazz vs. Philadelphia 76ers
The mystery that is Dante Exum will finally be revealed as the nightcap for today's action. He'll make his summer league debut and show why scouts were so high on him, despite not having a lot of material to go off of. Summer league is built for someone like Exum. He's going to be physically bigger than most guys at his position, and an aggressive attack could get him a lot of layups and free throw attempts. If he averaged double figures in free throw attempts this week, it wouldn't shock anybody. He's joined by Trey Burke and 2013 summer league championship game MVP Ian Clark in the backcourt. Rodney Hood, Malcolm Thomas, and Rudy Gobert round out this loaded Jazz squad.
We don't know if this Sixers team will have Nerlens Noel , K.J. McDaniels, or Jerami Grant on the Vegas addition after seeing them in Orlando. As of right now, the roster doesn't reflect they'll be on it, but that can change at any time if the Sixers want to see more out of them. We might be relying on Elijah Millsap, Scottie Wilbekin, and Adonis Thomas for entertainment. Maybe Joel Embiid's awesome Twitter account can entertain us instead? Let's just watch Exum.
Show Comments
Hide Comments
Will Iggy stay with Golden State? Does anyone have any idea what to do with Derrick Rose?

Hoiberg was asked about Isaiah Thomas possibly carrying the ball during Game 5

Celtics point guard does not need anyone to hype up his defense
The Bulls had it, they had it ... and ... it's gone

The Bulls found they were without hot water following their Game 5 loss

Wall finished with 20 points and 14 assists in win over the Hawks