2014 NBA All-Star starters: Kobe, Love, Curry in; Howard out
No first-time selections among starts as LeBron James leads the way. Who will take Kobe Bryant's place in the West?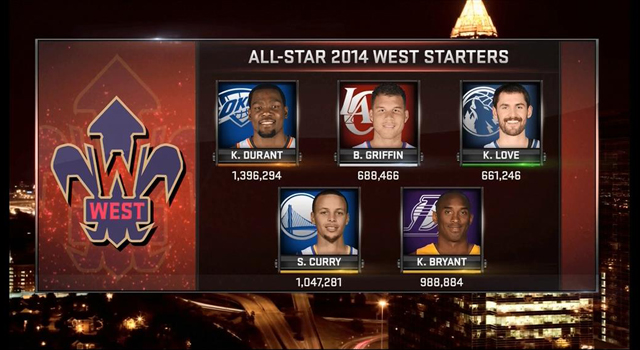 The 2014 NBA All-Stars were announced Thursday night on TNT's "Inside the NBA." 
2014 NBA All-Star Game Starting Lineups
EAST

Kyrie Irving

, G


Cleveland Cavaliers


Selections: 2

Dwyane Wade

, G


Miami Heat


Selections: 10

LeBron James

, F
Heat
Selections: 10

Paul George

, F


Indiana Pacers


Selections: 2

Carmelo Anthony

, F


New York Knicks


Selections: 7
WEST

Stephen Curry

, G


Golden State Warriors


Selections: 1

Kobe Bryant

, G


Los Angeles Lakers


Selections: 16

Kevin Durant

, F


Oklahoma City Thunder


Selections: 5

Blake Griffin

, F


Los Angeles Clippers


Selections: 4

Kevin Love

, F


Minnesota Timberwolves


Selections: 3
The big takeaways are that Curry overtook Chris Paul for starter status, but more importantly, Kevin Love took Dwight Howard's spot. It was believed he would overtake Griffin, but instead it's Howard that drops out. It's a massive upset that leaves questions about the hit a player takes in popularity when they leave the Lakers, and a changing perception of exactly how dominant Howard is. Huge upset. 
Don't even think about it -- LeBron's reportedly not going anywhere

The point guard's unhappiness reportedly helped lead to his eventual trade request

Even Floyd Mayweather weighs in on the war of words between the two stars
The three-team deal would have also shipped Kevin Love to Denver

Ball wasn't happy about a foul call, swore at a referee and took his team off the floor

Jared Sullinger wants back in the NBA; he knows his weight will play an important part