2014 NBA Draft: Celtics get an A- for picking James Young at No. 17
With the 17th pick in the 2014 NBA Draft, the Boston Celtics selected James Young out of Kentucky.
More 2014 NBA Draft: Draft Tracker | Draft Trade Tracker | Mock Drafts
The Boston Celtics selected Kentucky forward James Young with the No. 17 pick in the 2014 NBA Draft.
He was highly touted early into his freshman season at Kentucky and he was even getting called the best pro prospect on that loaded Wildcats roster early on. Whether that's true or not, Young is a very talented, athletic wing who has a 3-point shot that looks better than his percentage. Many pundits and scouts believe he'll be someone who can stretch the floor quite nicely, and he's good enough to get his own shot.
He joins a Celtics team that is amassing talent in an attempt to jumpstart the rebuilding process with a trade or two for some veteran stars. 
CBSSports.com's Matt Moore loves the pick for the Celtics.
Celtics: A-: A real plug-and-play option that allows them to move Green. Nothing complicated and they got two good talents in this draft

— Matt Moore CBS (@MattMooreCBS) June 27, 2014
The 6-6, 215-pound Young averaged 14.3 points and 4.3 rebounds per game in in his lone season at Kentucky, which finished 29-11 and lost to UConn in the national championship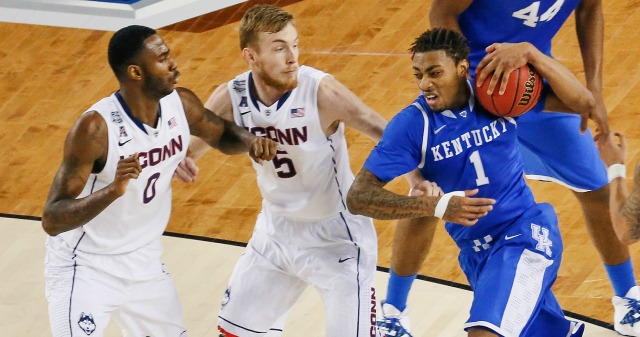 Show Comments
Hide Comments
Perhaps Houston's star is finding his footing as a leader

He's 100 percent correct on this, too

In a two-part episode, Zach Harper and CBSSports.com's Robby Kalland discuss Dwight Howard...
Ohio's Mapleside Farms created a giant corn maze to honor the Cavs 2016 championship

Thousands sing happy birthday to Kobe Bryant on his day in Los Angeles

DeMarcus Cousins goes undercover as a referee and fails miserably