2014 NBA Draft: Hornets take Shabazz Napier at No. 24, trade him to Heat
With the No. 24 pick in the 2014 NBA Draft, the Hornets selected Shabazz Napier out of UConn and traded him to Miami.
• 1 min read
The Charlotte Hornets selected UConn guard Shabazz Napier with the No. 24 pick in the 2014 NBA Draft. They then traded him to the Miami Heat for the No. 26 and 55 picks, plus a future second-round pick, according to Brian Windhorst of ESPN.
The 6-1, 180-pound Napier averaged 18.0 points and 4.9 assists per game during his senior season for UConn, which finished 32-8 and defeated Kentucky for the national championship.
Napier was named the tournament's Most Outstanding Player. CBSSports.com's Matt Moore gave the pick a B-.
Heat: Shabazz Napier: They need point guard depth. And, you know, he makes LeBron happy, so sure.

— Matt Moore CBS (@MattMooreCBS) June 27, 2014
Famously, LeBron James is a fan of Napier's:
No way u take another PG in the lottery before Napier.

— LeBron James (@KingJames) April 8, 2014
My favorite player in the draft! #Napier

— LeBron James (@KingJames) June 27, 2014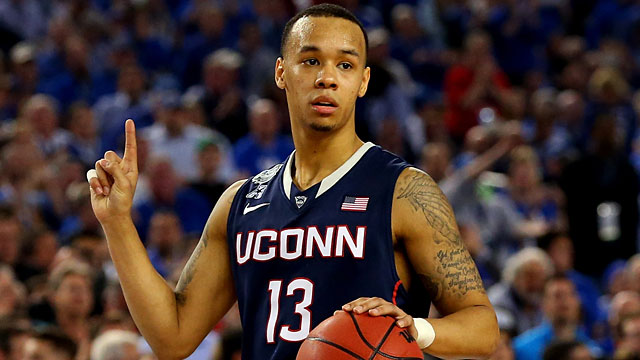 Show Comments
Hide Comments
The commissioner's infamous veto of the Paul trade could have been different

Warriors are intent on keeping a mind like Jerry West around

LaVar has always been proud of his son, which Magic says isn't a problem as long as it doesn't...
Curry was cookin' on the pan and stole the show when she took over the mic

Shaq says LeBron isn't comparable to any one legend, rather a mixture of several greats

Kevin Love says the Cavaliers are on the same level as the Warriors: 'We match up well'