2014 NBA Draft: Nuggets select McDermott at No. 11, deal him to Bulls
With the 11th pick in the 2014 NBA Draft, the Denver Nuggets selected Doug McDermott out of Creighton.
More 2014 NBA Draft: Draft Tracker | Draft Trade Tracker | Mock Drafts
The Denver Nuggets selected Creighton forward Doug McDermott with the No. 11 pick in the 2014 NBA Draft.
Matt Moore of CBSSports.com likes the pick a lot for Chicago as this pick is on the move.
Bulls: McDermott: A+: Can he put the round orange thing into the little circle with the net? (Exceptionally well.) Then the Bulls need him.

— Matt Moore CBS (@MattMooreCBS) June 27, 2014
CBSSports.com's Ken Berger confirms the rights to McDermott are on their way to the Chicago Bulls. 
League source confirms earlier reports: 11th pick Doug McDermott goes from Denver to Chicago for 16th and 19th picks.

— Ken Berger (@KBergCBS) June 27, 2014
The 6-8, 225-pound McDermott averaged 26.7 points and 7.0 rebounds per game as a senior at Creighton, which finished 27-8 and lost to Baylor in the NCAA Round of 32.
McDermott finished as the fifth-leading scorer in NCAA Division I history with 3,150 points.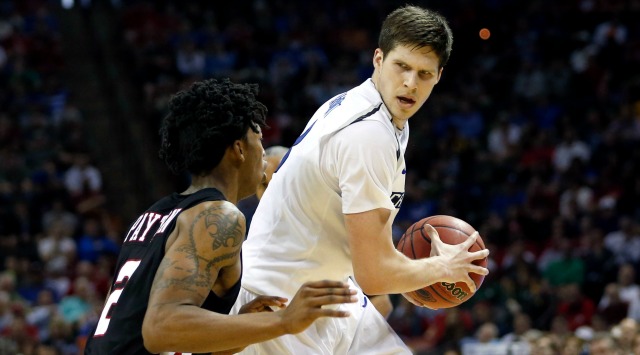 Hayward will be in Miami this weekend, while Utah and Boston also have meetings scheduled

Sacramento signs Serbian to 3-year, $36 million contract while passing on Ben McLemore

Free agency is around the corner, which means there could be a ton of significant moves coming...
The Knicks still intend to trade Carmelo Anthony even with Phil Jackson gone

Paul George is a college football coach at heart

CP3, the Point God, is headed to Clutch City, and the NBA landscape has again flipped on its...