2014 NBA Free Agency: Top 20 bigs
A look at the 20 best big men available this summer in free agency, including Chris Bosh, Greg Monroe, Pau Gasol, and Marcin Gortat.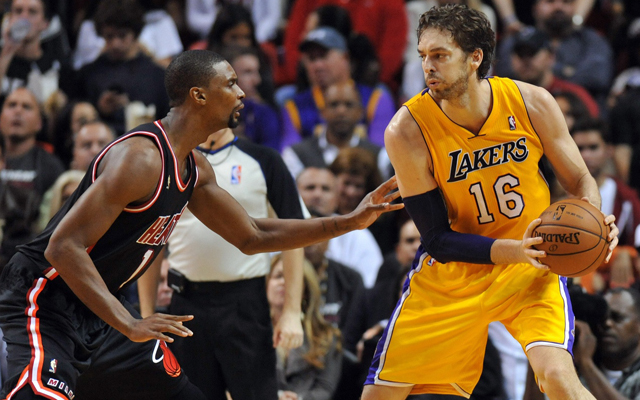 More Offseason Analysis: Coaching changes, news | Free Agency | Draft | Rumors
On Friday we released the top 40 NBA free agents this offseason effective July 1. Now we turn our attention to position rankings, separated into point guards, wings, and bigs (to reflect the modern NBA positionality, or lack thereof). We continue with the bigs, the most shallow of the three groups in depth.
Position rank, player, current team (overall rank)
The stars
1. Chris Bosh , Miami Heat (No. 2 overall): When I put Bosh as the No. 2 free agent on our Top 40 ahead of Carmelo Anthony , predictably I was bombarded with shade. The idea that Bosh, the "soft" third option in Miami could be the second-best free agent available sounds nuts to some. But if you don't understand what Bosh allows your team to do, you're missing the point. Anthony is a production guy. He gives you points, rebounds and is a shot-maker. What Bosh does is more subtle.
Bosh allows you to attack the rim by providing space with his ability to stretch the floor. He allows you to pressure the defense as a roll man both to the rim and in the pick and pop. He allows you to play small by playing him at the 5 and going with more shooters and fewer bigs. He allows you to hide your weak defensive big on the floor. He allows you to swarm with your defense thanks to his intelligent rotations and expert hedging, plus lateral movement. Bosh is one of the few players who can wholly transform how a team operates. If he were to go to Chicago, the Chicago Bulls immediately get better defensively and offensively, and that gives their shooters more space to hit shots. Houston's defense would suddenly go from passable in the regular season and awful in the playoffs to lock-down regular season and likely superb in the playoffs.
With Bosh, you're not paying for production, you're paying for skill. And you're getting a ton of it. And sometimes, that's more valuable for your dollar.
Of course, all those reasons are why it's highly unlikely Miami lets him get away.
2. Dirk Nowitzki , Dallas Mavericks (No.3): Nowitzki indeed is a free agent, but he's re-signing with Dallas. He's literally laughed off any other idea. But if you're wondering why he's second on this list ...
He's a future Hall of Famer. He brings so much experience, star power, professionalism and respect, it can transform a locker room. Beyond, that, he's freaking Dirk Nowitzki -- deadly from the mid-post, an underrated rebounder at this point in his career, lethal on the trailer 3, always able to get shots up and knock them down. He's one of the best scorers in the history of the game. Yeah, he'd be a pretty good signing for any team.
But he's not the guy he used to be. He had a tremendous regular season last year, a bounce-back year for him, honestly. But he also had to be more of a decoy in the playoffs than in years past. It's getting harder to command the game like he used to.
3. Greg Monroe , Detroit Pistons (No. 7): Somehow, a guy who averages a per-36 double-double in 33 minutes per game has gotten tremendously underrated in the past few years. It's true that Monroe's a mess defensively. But Monroe's issues stem from poor instincts and some physical limitations, not effort. And those are factors good coaching can improve. Regrettably, Monroe hasn't had that in Detroit.
Monroe's a restricted free agent, and Detroit's going to want something out of his deal. Whether that's keeping him, or a sign-and-trade, they want return on investment. That hurts his value, but you still have to get excited about what Monroe can bring. He's able to score with either hand at the rim. He has superb footwork and is an underrated passer. That's the bizarre thing about the cluster-nightmare in Detroit last year. They actually moved the ball surprisingly well.
The defensive issues are legit. You better have a good coach in place and a shot-blocker next to him (preferably one with experience, Andre Drummond 's not there yet, mentally). You can't put him too far out in coverage or on stretch 4s. There's a lot you can't do with Monroe. His mid-range needs serious work.
But finding guys who project as well as Monroe in terms of offensive production (particularly post scoring), and who can rebound effectively? That's tough. He's worth a big offer. The max? ... Well, that depends on how the market shakes out.
Detroit will match any offer to him in restricted free agency if they can't facilitate a sign-and-trade, but a deal can likely be struck.
4. Marcin Gortat , Washington Wizards (No. 13): The Polish Hammer hits unrestricted free agency at the right time, coming off a playoff run with the Wizards in which he showed all sides of his talent. Gortat isn't as skilled offensively as Pau Gasol , but he is miles tougher, much better defensively, more mobile, and has fewer injury concerns.
Gortat can get run down defensively, but finished in the 86th percentile defensively last season according to Synergy Sports. He's better at corralling ball handlers than he is at defending athletic bigs rolling to the rim. But he's also willing to give the hard foul. He's got a soft touch at the rim, and is a remarkably efficient scorer. He's also a better rebounder, both in raw numbers and in percentage.
Here's the trick: You get Greg Monroe if you think you can make him better between now and his next contract. But Gortat is a better value, a better defender, and a smarter overall player. If your goal is to make the most of a young roster, Monroe is the play. If you're focused on winning now, Marcin Gortat is your best option. He could likely end up with a four-year, $40 million-ish deal. Anything above that is too much, anything below that, especially fewer years, is a steal.
5. Pau Gasol, Los Angeles Lakers (No. 15): He averaged 17.4 points and 9.7 rebounds last season. He has a 16.4 rebound percentage, so despite playing at a higher pace, he still rebounded as effectively as Gortat (16.7 percent rebound rate). He played in 60 games. Considering his injuries, that's pretty impressive.
So why is he No. 5? Two factors:
One, He's about to turn 34 next week, a few days before the moratorim ends. A big man, with his kind of minutes, with his injury history, at 34 years of age does not bode well. You just can't sign him to a four-year deal. This thing has to be a two-year deal and if you're going to get a two-year deal on him, you have to pay through the nose, just based on star power.
Two, and I struggle with this ... he's soft. I hate writing that sentence. That kind of thinking is dangerous. But Gasol is simply, overall, when faced with a tough move or matchup, cottage cheese. Dunked on, over, through. He is Gogurt on both ends when significantly challenged. Against mismatches and as a 20-minutes-per-game guy, he's terrific. Anything else and he's a significant liability to your efforts to dictate the tone of the game.
But if you can get Gasol at a discount? If you can nab him for under $10 million, or even honestly at two-years, $20 million? That's really good return. He can make your team better. He just had better not be the best or second-best guy at the team and you had better have a good training staff.
Calculated risks
6. Boris Diaw , San Antonio Spurs (No. 20): The championship shine effect. It really needs to be re-stated here: Diaw was terrible before he got to the Spurs. In 37 games with Charlotte in 2012, Diaw had a negative number of Win Shares via Basketball Reference. He hasn't had a plus-league-average-15 PER ever, but it was especially bad in Charlotte, where it hit 11.2 before he was let go by the Bobcats.
He wasn't bad. He was a disaster.
But he just won an NBA title and was probably third in the rankings for Finals MVP at the end. He defended LeBron James and tore up the defense. He passes, he hits from the perimeter, he scores in the post, he does everything.
Diaw is here because if you put him on a winning team in a quality environment with good coaching and a great offensive system, he can be transcendent. If you overpay to add him to a bad team, you could wind up with a player who could bury your team.
But man, when he's good, Diaw is a brilliant passer, strong rebounder, quality shooter, good teammate and smart as all get-out. Diaw is the missing piece to a lot of teams. You just have to make sure you get the Spurs version. Which is why the most likely scenario is him re-signing with the Spurs.
7. Emeka Okafor , Phoenix Suns (No. 24): Mek had terrible luck last season. He suffered a herniated disc in his neck in September, and that was it for him. He'll be 32 at the start of next season. That, also, not great.
But he's a rim protector, and that trumps nearly everything else. The injury's a concern. But if he clears it enough to warrant a deal, he's getting you something you just can't find on this list. He changes your team defensively with his size and length.
The Wizards had a 99 defensive rating (points per 100 possessions) with Okafor on the court in 2013, per Basketball Reference. Thanks to his rebounding, he hasn't had a sub-league-average-PER since 2008. He's a consummate role player. And when you realize that he could be had for a discount due to the injury, there's a great chance Okafor could be a steal here. He made $14.4 million last season. If a team can get him at 2-years, $14 million, that's tremendous value -- if healthy.
Okafor isn't versatile, efficient or dynamic. But he's big and mean, and that counts for something.
8. Andray Blatche , Brooklyn Nets (No. 26): Tread lightly.
Blatche's career redemption story is admirable. He was a lost cause on a bad contract in Washington. He spent 2012-13 proving he was still a good NBA player. He spent 2013-14 proving he was a good soldier for returning on a cheap deal and building toward this contract.
Blatche will be 28 at the start of the next season. His extra-curricular activities are renowned. But he's also a legit post scorer who can get buckets off the bench. That has value. He's a willing defender.
He also will make some of the absolute worst decisions you can make on the floor. You have to accept the good with the bad. He's worth a three-year deal but the team culture had better be strong with a leader to make sure everyone toes the line.
Quality role players
9. Josh McRoberts , Charlotte Hornets (No. 29): Admission: You can argue I am slightly pro-McBob. He's athletic and plays to the absolute maximum effort on every possession. McRoberts is a wiling passer and will challenge perimeter penetration at the rim. He's got an attitude and a killer beard.
There are limitations. He gambles on defense. He's not quick laterally. He's not a great scorer, isn't a Marc-Gasol-like passer, he's just a nice passer. He's not an elite rim protector, he can just help out. McRoberts does a lot of little things pretty well.
His spot here is based on that versatility and the likelihood of getting him at a discount. He's probably get-able for $4 million per year and for that kind of value, he's tremendous. He has more value for good teams than bad, won't completely change a team's complexion. But he helps, and that's enough.
10. Jordan Hill , Los Angeles Lakers (No. 31): Hill is so low on this list because he's likely to be overpaid. Hill is a beast inside. He attacks relentlessly and has an uncanny ability on put-backs. He's athletic and quick laterally. He turns 27 in July but still has miles left in him.
Hill averaged 16.7 points and 12.8 rebounds per 36 last season. He doesn't have a versatile skill set or a jump shot, but still will probably wind up on the expensive side because of his age and production level.
11. Spencer Hawes , Cleveland Cavaliers (N/A): Hawes rebounds well and can stretch the floor out to three-point territory. He's a smart player and has evolved into a typical tough veteran. He still makes painful mistakes on the defensive end and lacks lateral quickness, but he could be a steal if maximized in the right system. He's effectively just as good as Hill and McRoberts.
Depth charges
12. Patrick Patterson , Toronto Raptors : It wouldn't be totally incongruous to list Patterson as a wing. He's a stretch four in the purest sense. Since coming out of Kentucky, Patterson developed a reliable three-point shot and has added muscle. He's athletic, long, and just turned 25. He averaged 14 and 8 per 36 minutes with the Raptors last season. He's still prone to mistakes and doesn't have a go-to offensive move, but if you're shopping for a stretch four, Patterson is an underrated candidate.
13. Channing Frye , Phoenix Suns: Fry is 31 years old, but he's also a deadly shooter. As far as stretch fours go, they don't get much more pure than Fry who shot in the 90th percentile in the pick and pop last season, nailing 46 percent of all no-dribble jumpers off the pick according to synergy. He can hit from all over the floor, has a few post moves, and is a willing, if limited defender. Terrific value for a contender who could likely have him for the Mid-Level or less.
14. Trevor Booker , Washington Wiards: A relentless wrecking ball of energy, Booker can come of the bench and provide a huge spark. He was a legitimate difference maker for the Wizards in their first-round win over Chicago and has a great future as a defensive cog. He's not going to get you points, just fouls, rebounds, and blocks, but he's going to do all that well. He's athletic and just 26.
15. Kris Humphries , Boston Celtics : He man everyone loves to hate is a decent NBA player. Humphries inexplicably has drawn the ire of fans after the Kardashian marriage, despite clearly not knowing what he was getting into. Meanwhile, he's a quality rebounder who hustles and make plays. He's also got a better-than-advertised jumper. Humphries is perfect as "that guy on the playoff team who the other fans learn to absolutely hate with the fire of a thousand suns during a series." Worth at least a two-year, $6 million deal.
16. Jermaine O'Neal , Golden State Warriors : Still able to block shots, grab rebounds, and hit hook shots. You just can't have him starting anymore. The body's just not there anymore.
Old dudes -- and
Ed Davis
17. Chris Andersen , Miami Heat: I'm honestly stunned he opted out. He should have hung on to his situation in Miami til the bitter end. Still good odds he returns to Miami. Can foul and rebound. If that's what you need, he works. Can't play over 20 minutes per game due to fouls and exhaustion.
18. Ed Davis, Memphis Grizzlies : Has never set himself apart in any way. I can't tell you what he's bad at, nor can I tell what he's good at. He just is. Regrettably, what was a promising start in Toronto has given way to "meh" in Memphis. He's fine, if you need a guy.
19. Elton Brand , Atlanta Hawks : The tough veteran who can still score down low and gives great effort. A quality locker room guy to have on the squad.
20. Drew Gooden, Washington Wizards: Still a decent score both in the post and face-up, and gives great effort. Has re-made his career nicely. Tough interior veteran. Good value for the veteran minimum.
Honorable mention: Udonis Haslem , Ryan Kelly , DeJuan Blair , Al Harrington , Jason Smith , Cole Aldrich , Jeff Adrien , Glen Davis , Chris Kaman
Statistical support for this post provided by Basketball Reference and NBA.com.
Need a two-way player to stretch the floor? J.J. Redick to C.J. Miles and P.J. Tucker, here...

Everything you need to keep track of during the all NBA offseason madness

Phil Jackson has made it clear he wants Anthony out of New York, but would prefer to trade...
Boston is working on adding serious star talent this summer

Light fixtures and outlet covers across the facility are covered in hidden notes

M.J. reminds Russ that even he won an MVP before winning an NBA title