2014 Offseason Report: Charlotte Hornets
Charlotte has a new name, a new starting shooting guard and a couple of talented rookies entering the equation.
• 6 min read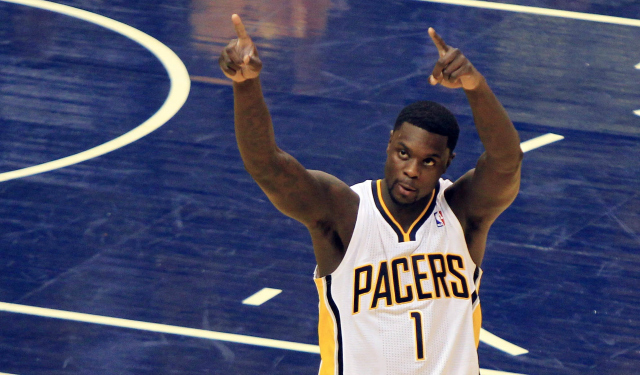 CBSSports.com's Eye On Basketball is taking a team-by-team look at the 2014 NBA offseason. We continue with the Charlotte Bobca—no, the Charlotte Hornets . Check out the rest of the offseason reports here.
How they finished 2014: Charlotte was swept by the Miami Heat in the first round of the playoffs. Three of the four games were decided by double digits. The then-Bobcats ran into a much more talented and experienced opponent, and playing hard was never going to be enough. Not even close.
No team wants to lose like that, but it's hard to even call the series disappointing because of the expectations going in. As for the season, it was a clear-cut success story for new head coach Steve Clifford. The longtime assistant took the NBA's worst defensive team and turned it into the fifth-best in defensive efficiency. You can't overstate how much of an accomplishment that is, and how unlikely it looked that Charlotte would make the postseason when Clifford took the job. 
The addition of veteran Al Jefferson in free agency had the desired effect, too. A dependable post presence and a valued veteran for an inexperienced group, Jefferson was snubbed for an All-Star spot but named third-team All-NBA a couple of months later. A major reason the Miami series was so lopsided was the fact that he was playing through what he called "the worst pain I've dealt with in my career" in his left foot. Jefferson missed only the final game, but Clifford said he would've missed weeks if the injury had occurred in the regular season.
Offseason needs: The Hornets needed to get some new firepower along with their new name. They made some meaningful progress on offense in the second half of last season, but they still finished 24th in offensive efficiency despite almost never turning the ball over. Charlotte desperately needed shooting and could have done with another playmaker on the wing.
Versatile Josh McRoberts was headed to free agency, and the Hornets wanted to keep him. Another rim protector would have been nice, too, as Bismack Biyombo 's three years in the league have not seen him prove that he's ready to play a meaningful role.
The draft: Hours after the franchise was officially renamed, the historic day got even better. The Cleveland Cavaliers beat the odds to win the 2014 lottery, which bumped the Detroit Pistons ' pick back from eighth to ninth. That meant the lucky Hornets would receive the pick as a result of the 2012 trade that sent Corey Maggette to Detroit for Ben Gordon . It was only top-eight protected, and on draft night it turned into Noah Vonleh , who could have easily gone much higher. This was best-case scenario stuff for Charlotte fans.
Vonleh is a a 6-foot-9 big man with 7-foot-4 wingspan and hands the size of Kawhi Leonard 's. He's drawn comparisons to Chris Bosh because he can battle for boards in the paint and has a nice-looking jump shot. Clifford has said he'll take things slowly with Vonleh, but he has the ability to become a key contributor as a rookie if given the opportunity.
The Hornets made a trade with the Heat to drop down from No. 24 to No. 26, where they took P.J. Hairston , who is much more talented than his draft position would indicate. The North Carolina product who spent last season in the D-League could turn out to be a steal if he puts everything together, and his shooting could help right away if he plays within the system. They also got a 2019 second-round pick in the deal, plus cash and the rights to No. 55 selection Semaj Christon, who they traded to the Oklahoma City Thunder for, you guessed it, more cash.
Charlotte also had the No. 45 pick, but dumped it to Cleveland along with center Brendan Haywood . The Cavs used the pick on Dwight Powell .
Free agency and trades: The front office, which no longer included Rod Higgins after he stepped down as president of basketball operations in mid-June, did not have an encouraging first couple weeks of free agency. McRoberts signed a four-year, $23 million deal with Miami, leaving a hole at the starting power forward spot. He was also one of the team's best passers and shooters. Even with Vonleh and Cody Zeller waiting in the wings, this hurt.
The Hornets then tried to make their big splash, signing restricted free agent Gordon Hayward to an offer sheet with a four-year, $63 million maximum contract. That was a highly controversial amount of money, but it didn't end up mattering because the Utah Jazz matched it. 
Veteran Marvin Williams signed with Charlotte for two years and $14 million, which isn't a debilitating deal. It just seemed a bit much for someone who doesn't create offense or play great defense. Williams played some stretch four in Utah the previous season, though, and the Hornets needed someone to replace McRoberts. It might have been better to re-sign Anthony Tolliver and save some money in the process, but Williams should fit in just fine.
The big deal went down a few days later. Lance Stephenson , a 23-year-old borderline All-Star, decided to leave the Indiana Pacers to sign a three-year, $27.4 million deal in Charlotte. Based strictly on his game, his age and his potential, this is a home run, a steal, almost a miracle. Stephenson is an intense competitor, a skilled scorer and a tough defender. He can make plays for himself and others out of the pick and roll, and he can take over games for stretches. A capable shooter from the perimeter, he brings exactly what the Hornets needed. 
It's no mystery why Stephenson wound up commanding tens of millions of dollars less than Hayward, though. His on-court antics and misguided comments to the media drew as much postseason attention as his play. He brings with him the perception that he could be disruptive in the locker room and cause more trouble than he's worth. The good thing: Stephenson should be more motivated than ever and, if everything clicks, Charlotte will be in a much better position than it would've been with Hayward at his enormous price tag.
The Hornets also signed backup point guard Brian Roberts and brought back Jannero Pargo as insurance at the position. Luke Ridnour left in free agency for Orlando and Tolliver went to Phoenix, while fellow 2013-2014 reserves Chris Douglas-Roberts , Gary Neal and D.J. White remain unsigned. 
Overall grade and accomplishments -- B+: If Stephenson keeps improving in Charlotte, this could be a team no one in the East wants to face in the playoffs. That contract carries some risk, but it's also great value. The Stephenson signing and the offer sheet to Hayward, while both very different deals, showed that the Hornets are seriously going for it. They're not satisfied with just making the postseason. You have to applaud them for their aggressiveness.
You also have to like what they did on draft day, which is why overall it's been a strong summer for Charlotte. I'd give the team an A if it had managed to acquire a true sharpshooter or another solid big man in free agency, but the Hornets can try to get guys like that down the road. In the meantime, they're clearly going in the right direction.
It appears Wall will be staying in Washington for a long time

Apparently James wasn't aware that Kyrie was considering a change of scenery

The Knicks reportedly have interest in the Cavs star, but do not want to give up their uni...
The Knicks, Spurs, Timberwolves and Heat are reportedly his preferred teams

Altman has been serving as the Cavs' assistant general manager under David Griffin

It was a calm Friday in the NBA world ... and then it wasn't