2014 Offseason Report: Cleveland Cavaliers
The King is back in Cleveland and the Cavaliers are looking ready to pounce and be title contenders.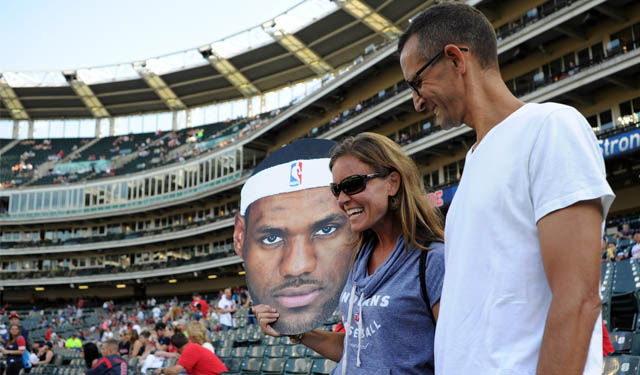 More Offseason Analysis: Coaching changes, news | Free Agency | Draft
CBSSports.com's Eye On Basketball is taking a team-by-team look at the 2014 NBA offseason. We continue with a familiar face in a familiar place, the Cleveland Cavaliers . Check out the rest of the offseason reports here.
How they finished 2014: The Cavs were very hard to understand. After three seasons of accumulating lottery picks and then finally bringing back Mike Brown to help them channel their talent, the Cavs had their eyes on a playoff spot in the East. Considering the dearth of depth and talent the East, it wasn't going to take a Herculean effort to accomplish this. All it was going to take was some consistency. That's exactly what the Cavs couldn't muster.
Before they traded for Luol Deng in early January, the Cavs had a decent defense (15th in NBA with a 102.8 defensive rating) and a horrendous offense (28th in NBA with a 96.6 offensive rating). They were 11-23 and reeling from early season drama (mostly highlighted by an alleged rift between Kyrie Irving and Dion Waiters ). After the Deng trade, the team improved with a record of 22-26. Their defense after the Deng acquisition was horrendous, settling in at 19th in the NBA with a 106.8. Their offense jumped up -- helped by the acquisition of Spencer Hawes -- to 14th over that stretch by putting up 104.7 points per 100 possessions.
The Cavs would lose a string of games and then win five in a row. They would unravel again before winning five of seven games. Cleveland couldn't get pointed in either direction for very long. They just kept taking an equal step in the opposite direction. They finished the season 33-49 and missed the playoffs by eight games.
Offseason needs: There were two goals this offseason; Hire a new coach who will take them back to the playoffs and convince LeBron James to come home. They had plenty of needs. Despite having a young stable of big men with Tristan Thompson ,  Tyler Zeller , and Anthony Bennett , the Cavaliers really needed to find a main big man to anchor the rotation. Anderson Varejao is capable of being that man, but he's missed 166 games the past four seasons. 
They also needed to unload the contract of Jarrett Jack , who didn't have the impact they hoped when he signed a four-year deal last summer, and find some guys who can flat-out hit shots. The Cavs were 27th in field goal percentage and 18th in 3-point percentage in 2013-14. With Hawes, Deng, and C.J. Miles all free agents, the Cavs needed to reload the wing position to accomplish the shot-making needs.
The draft: For the third time in four years, the Cavaliers ended up with the No. 1 pick in the draft. With injuries to Joel Embiid proving too big a gamble, the Cavs had to choose between Kansas' Andrew Wiggins and Duke's Jabari Parker. With Parker, they would have been selecting a ready-to-go scorer with a possibly lower ceiling but a quicker impact on a skaky offense (23rd in the league). With Wiggins, they were getting a potential all-around star whose athleticism could change games at both ends. They ended up taking Wiggins to pair with Irving and possibly someone else.
With the 33rd pick, they grabbed sweet-shooting wing Joe Harris out of Virginia. Harris wasn't the best player on the board, but probably the best shooter available. The Cavs also made a trade to get Dwight Powell , a strong rebounding power forward out of Stanford and Brendan Haywood 's magical, tradable contract. They gave up Alonzo Gee in the process. 
Free agency and trades: Landing James (two-year, $42M deal) transformed the Cavs back into a promising franchise, and they added wings needed to complement his game. They signed James Jones to a one year contract and Mike Miller to a two-year, $5.5 million deal. The best player they've ever had is back and he is still in his prime. He's coming off of four straight Finals appearances, two championships, and a couple of MVP awards. He makes every player surrounding him better and turns the 10th-best team from the East last season into one of the contenders to represent the conference in the 2015 NBA Finals.
This addition of LeBron fits nicely with the hiring of international coaching legend David Blatt. Blatt's innovative offensive system and adjustments made him extremely successful overseas. Couple his adaptive coaching nature with arguably the highest basketball IQ in LeBron and you potentially have a pretty special combination. The additions of Blatt and James put the team back in the position Dan Gilbert hoped they would be back when the rebuilding process began. The team now boosts the economy in the city and they'll have the national spotlight without the vitriol the Miami Heat endured during LeBron's last venture.
They also managed to unload Jack's contract to the Brooklyn Nets, but had to give up picks and Tyler Zeller in the three-team deal to get it done. Cleveland also avoided another potentially messy divorce by locking Kyrie Irving up to a five-year, $89 million extension.
Overall grade and accomplishments -- A-plus: I'm trying to think of how this offseason could have gone better in Cleveland, and any other scenario would be just a crazy fantasy. Maybe even the reality is a crazy fantasy of sorts. They got the No. 1 pick and selected a guy who is likely to be a future star. They hired an extremely well respected coach who can adapt to just about any situation and roster you throw his way. They brought back the best player in the NBA after a very dramatic and hate-filled departure, while the player is still very much in his prime. And the Cavaliers still aren't done making big moves for this roster.
Many people expect it's only a matter of time before they move Wiggins to Minnesota in a deal that will bring them Kevin Love . Love would be the perfect pick-and-pop complement to both LeBron and Kyrie. He would give them arguably the best rebounder in the NBA. He'd be the second best player on the team and give them an incredible scoring prowess. They'd still have to figure out the defense, but it'd be a huge jump from last year without really stripping the core of the team. New GM David Griffin is in a spectacular position.
Show Comments
Hide Comments
Boston used the No. 3 pick on the Duke forward, hoping he can develop into a dominant scor...

This could get awkward for OKC fans, who lost their superstar to Golden State

Golden State didn't have a pick in this year's draft, but they found a player they wanted
Butler was overseas with other NBA players when he heard the Bulls had traded him

The crowd at draft let themselves be heard, but nothing could get under Ball's skin Thursday...

Sacramento finally has its point guard after taking the Kentucky product with the No. 5 pick...