2014 Offseason Report: Houston Rockets
On the verge of constructing a superteam, the Rockets took a step back.
• 5 min read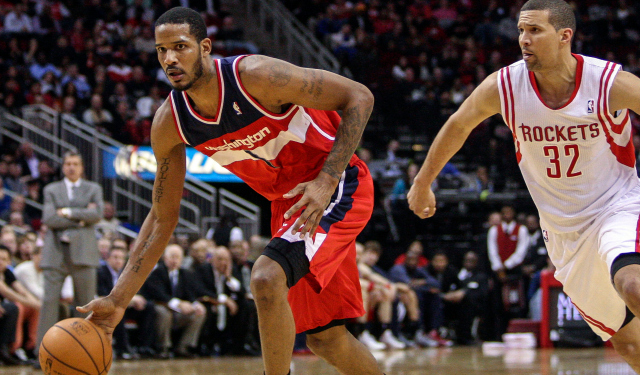 CBSSports.com's Eye On Basketball is taking a team-by-team look at the 2014 NBA offseason. We continue with the always-interesting Houston Rockets. Check out the rest of the offseason reports here.
How they finished 2014: Like this:
If you've forgotten, that was overtime of Game 6 of the first round. It was the series' fourth overtime game. The Houston Rockets were 0.9 seconds away from hosting Game 7 at the Toyota Center. That was tough.
Houston general manager Daryl Morey said in numerous interviews after the season that the team had to add talent if it wanted to be truly elite. Since we're talking about Morey, let's put it this way: a lot of randomness goes into which teams win close games. The Rockets needed to be significantly better so they wouldn't be in a position to lose a game and a series to Portland because of 0.9 seconds. While Houston was a powerhouse in the second half of the regular season, Morey didn't want to stick with the status quo in the brutal West. 
Offseason needs: Already an excellent team, the Rockets could separate themselves from the pack if they could find a star to play power forward. It was no secret that they'd try to woo Carmelo Anthony , and that they'd be suitors for Chris Bosh 's services just like they were in 2010. They'd try to make a pitch for LeBron James and get in the Kevin Love sweepstakes, too. Why not?
Houston had a decision to make with a team option on the last year of  Chandler Parsons ' contract. It also had to find salary-clearing deals for Jeremy Lin and Omer Asik in the event that there was a legitimate chance to land one of its big targets. 
The draft: The Rockets grabbed Swiss big man Clint Capela at No. 25. Capela was a sleeper after a somewhat disappointing showing at the Hoop Summit, but he's 20 years old, 6-foot-11 and projects to be a tremendous defender. The upside here is huge, and — unsurprisingly for a Rockets pick — the advanced stats paint an appealing picture.
In the second round, Houston used the No. 42 pick on Nick Johnson. He's a combo guard with elite athleticism, and he showed that off quickly in summer league:
Johnson was always a solid player on both ends at Arizona, and he has the tools to be an excellent defender as a pro. If he can consistently hit NBA 3s, the Rockets could have two steals on their hands here.
Free agency and trades: Houston had the highest of hopes, but things got really weird. Morey decided not to exercise the team option on Parsons, making him a restricted free agent instead of paying him $960,000 next year and then hit unrestricted free agency. The Rockets told him they'd keep him, but wanted to first clear cap space, then sign someone like Bosh or Anthony. Of course, this was risky.
On July 2, Anthony visited Houston. The Rockets had billboards of him outside the arena, wearing Lin's No. 7 jersey while he was still officially on the roster. Soon enough, though, the cap space was cleared. Houston dumped Lin to the Los Angeles Lakers , giving up a first-round pick in the process. It also agreed to send Omer Asik to the New Orleans Pelicans in exchange for a first-round pick. 
By July 11, when James announced he was going to Cleveland, the Rockets had turned their attention from Anthony -- who would later announce he was returning to New York -- to Bosh, offering him a maximum contract. Parsons had signed a three-year, $46 million offer sheet with the Dallas Mavericks , but it seemed like everything had fallen into place for the Houston to match. Bosh would surely prefer to join a Rockets superteam than return to Miami without the best player in the world, right?
Wrong. Bosh was comfortable staying with the Miami Heat , whose five-year, $118 million max offer trumped Houston's because of CBA restrictions. Shockingly, Morey then decided to let Parsons go to Dallas, reaching an agreement with free agent Trevor Ariza on a four-year, $32 million contract instead. The Asik and Ariza deals were officially completed as a part of a three-way trade, where Houston sent away Omri Casspi and acquired Alonzo Gee and Scotty Hopson .
Ariza wasn't the only former Rocket to make a return — free agents Joey Dorsey and Ish Smith came back, too. Houston also re-signed Francisco Garcia and Troy Daniels , and added banger Jeff Adrien and forward Kostas Papanikolaou. These were all minor moves, but good ones nonetheless.
Overall grade and accomplishments — C-: I understand why Morey did what he did. He felt that, especially with the Mavericks including a 15-percent trade kicker and a player option on the third year, matching on Parsons would handcuff his team. Here's what he told a Houston radio station, via ESPN:
"That structure of that [contract] is literally one of the most untradeable structures that I've ever seen. That's why it came down to a bet of Harden, Howard and Parsons being the final piece, because we would have had no ability to do anything after that. And Harden, Howard, Parsons could have been good enough. I think Parsons is a tremendous player and is going to keep getting better. 

"The question is, is it better with that core or is it better with Ariza plus the hundreds of moves that might be able to upgrade us in the other scenario. And there's really no moving -- that core was going to be the core that we had to have, because if we ever wanted to move off and go after the other stars, if we ever wanted to go after a different core, it wasn't going to be possible.
Morey isn't dumb, and he never pretended that losing Parsons was part of his grand plan. It's just how things worked out. Ariza will help make up for Parsons' departure, but he's not as skilled, versatile or young. Head coach Kevin McHale's bench rotation was dealt a pair of big blows with Asik and Lin going elsewhere. There was sound logic throughout the process, but the results were far from optimal. 
The Rockets also might have to worry about developing a reputation as an organization that doesn't value chemistry or loyalty, always looking to acquire more talent -- Dallas owner Mark Cuban already started pushing that point of view, as he revealed that Morey asked him if he'd trade Maverick lifer Dirk Nowitzki .
Despite everything, Houston can still build on what it started with Howard last year. Several young players are capable of improving, including the man USA Basketball chairman Jerry Colangelo just called the leader of Team USA. The Rockets aren't toast, and the offseason wasn't a complete catastrophe. It was definitely disappointing, though, especially when you remember they could have kept Parsons under contract making less than a million dollars. The most likely scenario come playoff time is that Houston will be hoping for some more luck in close games, while its front office prepares to make its next big play. 
Show Comments
Hide Comments
The Hornets have reportedly set their sights on the Louisville product as their draft sele...

LaMarcus Aldridge's unhappiness in San Antonio is the driving force behind the Spurs' recent...

Aldridge is under contract for next season, with a player option for 2018-19
Both rounds of the NBA Draft will take place on Thursday

The Timberwolves reportedly are swinging hard to enhance its talented young core

Despite the Wolves being better with him on the floor, Rubio can't escape more trade rumor...