2014 Offseason Report: Toronto Raptors
Masai Ujiri retained the players he needed to at fair prices, and he made several smart moves to add depth.
• 6 min read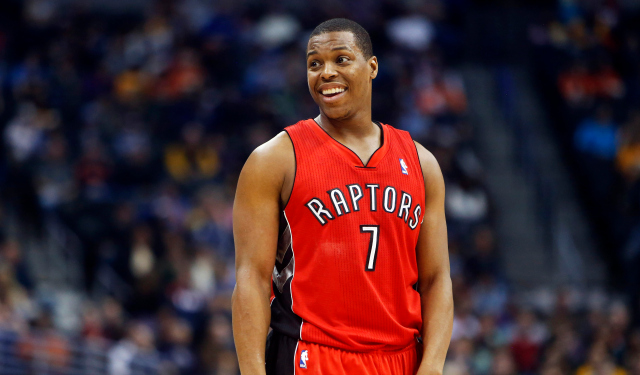 Offseason: Free Agency | Latest from Ken Berger | Rumors
CBSSports.com's Eye On Basketball is taking a team-by-team look at the 2014 NBA offseason. We continue with the up-and-coming Toronto Raptors . Check out the rest of the offseason reports here.
How they finished 2014: The Raptors were one possession away from advancing to the second round for the second time in franchise history. They had the ball in their best player's hands with 6.2 seconds left in Game 7 against the Brooklyn Nets. Kyle Lowry split a double team, got in the paint and had his shot rejected by Paul Pierce . Lowry fell to the ground, the best and most enjoyable year of his career over. Fans inside and outside of the Air Canada Centre applauded Toronto's effort.
Despite that disappointment, the Raptors had a stellar season. They were close to being dismantled in December, but turned everything around after Rudy Gay was traded to Sacramento for four role players. Lowry became the clear No. 1 guy, DeMar DeRozan earned his first All-Star berth and sophomores Terrence Ross and Jonas Valanciunas made the best of their minutes. At the end of it all, Toronto general manager Masai Ujiri found himself presiding over a franchise on the rise rather than one mired in mediocrity.
Offseason needs: While the Raptors' wing rotation was good enough to get them 48 wins and the Atlantic Division title, Joe Johnson ate them up in the playoffs. Their lack of a big, strong defender to put on him was exposed then, so finding one looked like the most obvious area of need. Toronto could also have used a rim-protecting big on the bench, but before worrying about those problems, Ujiri had to deal with all the guys whose contracts were expiring. 
Lowry was headed to unrestricted free agency, and there were whispers that the Rockets, Heat and Lakers might be interested in his services. He was the first priority. At DeRozan's end-of-season media availability, the swingman refused to even entertain the notion that Lowry might leave.
The Raptors would have been blown out by the Nets if not for reserves Patrick Patterson and Greivis Vasquez , both restricted free agents. They'd arrived via the Kings and benefited from good ball movement, shooting better from behind the 3-point line than they ever had before.
Ujiri had to make a decision about the future of head coach Dwane Casey, who had done a remarkable job in keeping the ship steady but was hired by the previous regime. Third-string point guard Nando De Colo would also be on the market.
The draft: Toronto made the most shocking first-round selection in recent memory, taking 18-year-old Bruno Caboclo with the No. 20 pick. While Ujiri's front office had been tracking the Brazilian since he won MVP at Basketball Without Borders Americas the previous summer in Argentina, he was a complete mystery to the viewing public. Caboclo is a 6-foot-9 forward with wingspan that stretches to almost 7-7. He's a project, but has a higher ceiling than just about anybody the Raptors would have taken at that spot. It was a gutsy, risky choice, and it'll be fascinating to see what he becomes, even if he doesn't manage many meaningful minutes as a rookie. 
With the No. 37 overall pick, Toronto drafted DeAndre Daniels from the NCAA champion UConn Huskies. Daniels shot 42 percent from long range as a junior, and he has potential as a 3-and-D guy, especially if he can add some strength. Daniels will spend next season stashed in Australia, however, playing for the Perth Wildcats of the NBL. 
The Raptors traded the No. 59 overall pick to the Brooklyn Nets for cash considerations. The Nets used it on Xavier Thames.
Free agency and trades: Casey received a new contract essentially as soon as the season ended, earning a three-year, $11.3 million deal. That's a reasonable rate for a coach who has been a model of consistency and professionalism throughout three tumultuous years in Toronto. At the news conference, Ujiri said that the next step was re-signing his own players.
The biggest domino fell first. One day after the free-agent moratorium began, Lowry and the Raptors agreed to a four-year, $48 million deal. For a fan base that has seen several stars leave over the years, the importance of him committing to the organization for his prime years can hardly be exaggerated. Losing Lowry would have been disastrous, and at $12 million a season, this was a relative bargain. 
Toronto retained Patterson (three years, $18 million) and Vasquez (two years, $13 million) without doing too much damage to their future financial flexibility, ensuring that the core of the surprisingly successful 2013-2014 roster will remain intact. The hope is that continuity and chemistry will give the Raptors an edge next season, and they made some other moves to improve their bench.  
Ujiri sent John Salmons ' mostly unguaranteed $7 million deal to the Atlanta Hawks in exchange for Lou Williams and Lucas Nogueira, the No. 16 pick in the 2013 draft who spent last season in Spain. Salmons wasn't going to stick around anyway, so netting a solid combo guard and a high-ceiling big man for practically nothing has to be seen as a steal.
Toronto then shipped Steve Novak to the Utah Jazz in a salary-clearing move. Novak is an incredible 3-point shooter, but his main value to the Raptors last year was in the locker room rather than on the court. Casey thinks defense-first, and Toronto owed Novak $7.2 million over the next two years.
James Johnson, signed in free agency for two years and $5 million, should be a great fit. While he clashed a bit with Casey during his first stint with the team, the coach has been vocal about him embracing his role as a defender. Johnson was much more efficient than ever before with the Memphis Grizzlies last year, and he's exactly the type of guy the team wanted to guard dynamic, strong wing players. 
De Colo wound up signing with CSKA Moscow, and the Raptors waived fellow reserve guards Dwight Buycks and Julyan Stone . Summer league standout Will Cherry came aboard on a minimum contract, but the he will find it hard to get playing time behind Lowry, Vasquez and Williams in the backcourt. 
Overall grade and accomplishments — A: What more can you ask of Ujiri, realistically? You can quibble with the yearly salaries doled out to Patterson and Vasquez, but it's not like either of those contracts will become poisonous or untradeable. Toronto brought the band back, didn't wildly overpay anybody and quietly became one of the deepest teams in the East. 
CBSSports.com's Matt Moore ranked Lowry as the best free agent on the market outside of the four perennial All-Stars, and he chose the Raptors. Johnson and Williams are under-the-radar acquisitions who make the team more versatile and could help lessen the minutes load on Lowry and DeRozan. Toronto's development program has intriguing new students in Caboclo and Nogueira, and there should be more internal improvement. 
The Cavs and Bulls are rightfully being talked about more than any other teams in the conference, but the Raptors have assembled a balanced roster that should be extremely competitive. They have solid scorers and defenders, and they have youth and experience. The sting of losing in the first round should have them more than motivated. 
If the summer had gone sideways, fans could have been lamenting the front office's decision to push for the playoffs rather than tanking last year. Instead, they're looking forward to Toronto potentially going farther.
Show Comments
Hide Comments
Houston advances, and San Antonio is set up to follow suit after its Game 5 win

This is fuel to the Westbrook haters' fire

How to watch the first-round series between L.A. and Utah
The playoffs are getting interesting

Harden didn't play great, no one could shoot, and the Rockets still rolled to a 4-1 series...

The Cavs and Warriors have both swept their first-round opponents