76ers' Andrew Bynum also has swelling, damage in other knee
Andrew Bynum says he has swelling and cartilage damage in his other knee now.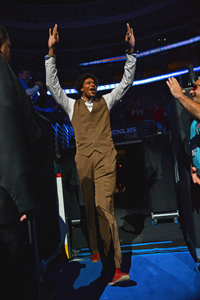 Bynum will be in a suit a while longer.(Getty Images)
Andrew Bynum has yet to play a game for the 76ers after having swelling in his right knee. He had the German blood manipulation treatment on it, and then the Sixers announced an extension of his timetable for his return until after the start of the new year. 
On Friday night, Bynum met with reporters and said there is now swelling and cartilage damage in his left knee. It is not "degredation." There's no surgery required, but it needs more time. Bynum said this information doesn't change the timeline offered earlier this week that has him starting basketball activity in late December, but there's going to be alarm in Sixersville nonetheless. He also said the damage is the result of him overcompensating for the right knee. 
Cartilage damage is one of those terms in sports that just makes you panic. With the number of injuries Bynum has had, that's the last thing you want to hear. And with it being the other knee, that's fairly significant. That's two knees he has to get healthy after a career with issues. 
The Sixers have managed OK without him, but the offense is going to continue to struggle and counting on Spencer Hawes for interior scoring is going to be a problem. Hopefully, Bynum can get past this and get back on the floor by February. The Sixers can probably hang on with defense and Jrue Holiday until then. But if this gets worse, as it has with each month, it's going to be a devastating blow for a franchise that thought it had finally landed its franchise player.
Show Comments
Hide Comments
The hope for the Heat is that Bosh's salary will not affect the team's cap in the future

Thomas aggravated his hip injury during Game 2 of the Eastern Conference finals

The city was originally supposed to host the game this year, but the NBA moved it due to political...
LeBron had his worst playoff performance in years, scoring just 11 points on 4-13 shooting

Brown might well end up coaching in the NBA Finals against the team that fired him

Smith and his family got great news before Game 4 of the Eastern Conference finals