A four-game stretch of LeBron domination, amazing even for him
LeBron James is on a bit of a roll.
LeBron James is having himself a bit of a run. 
In the past four games, James has scored 123 points on 59 shots with 27 rebounds and 26 assists. Here, I'll do the math for you. That's 30.8 points, 6.8 rebounds, 6.5 assists per game.
In those four games, he shot 43-of-59 from the field, 73 percent. Those are numbers. Here. Let's see what it looks like.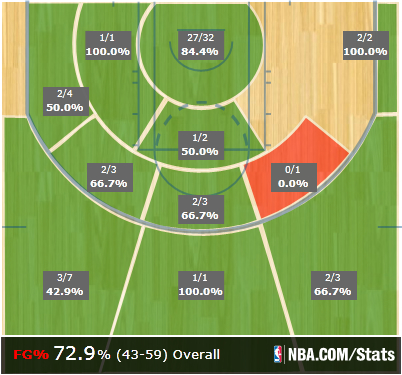 Is that good? That seems good. 
Thirty-four of James' shots came at the rim. He is the focal point of the offense. The defense anticipates him attacking, schemes directly to prevent him from scoring at the rim. Of those 34 shots, he missed ... five. Five.
James' play this season has been ... nope, I'm out of adjectives. I've got no words left for James. But this current streak that he has been on has been transcenbrilliamagnificamazing. There. That's the word I needed. 
Show Comments
Hide Comments
Our Latest Stories
Jarrius is making a strong bid for All-Star Weekend MVP

There are some crazy things you can bet on for Sunday's All-Star Game

The league's best will meet in a star-studded exhibition game in New Orleans on Sunday
The latest odds for NBA All-Star Weekend

Take a look at the players for the 2017 NBA All-Star Game

Here's a complete schedule of all the events for NBA All-Star Weekend