Adam Silver: The logical choice to succeed David Stern
Agree or disagree with him, Adam Silver was the logical choice to succeed David Stern as NBA commissioner.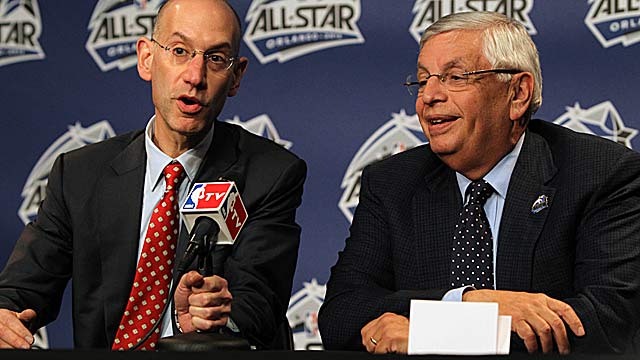 Adam Silver (left) has been with the league since 1992 and has held every position imaginable.
(US Presswire)
NEW YORK -- Some things the NBA has done over the past 30 years or so haven't made sense. Putting a team in Charlotte, moving it to New Orleans, and putting another team in Charlotte, for example? Those things didn't make sense.
Having Adam Silver in line to succeed David Stern as commissioner when he steps down in 2014? That makes perfect sense.
"It's a no-brainer," said Spurs owner Peter Holt, the newly elected chairman of the NBA's Board of Governors.
More on Stern
Stern's legacy

Ken Berger
At the end, when asked if he had any regrets, David Stern broke out a little Sinatra.
Read More >>
Related links
Maybe Holt said that because he was in the negotiating room lo those many nights last summer and fall when Silver was spearheading the owners' strategy in collective bargaining wth the players. Silver and I sometimes clashed over how much was fair to push for -- how much financial carnage the owners were willing to risk to get what they wanted -- but there's no denying Silver's skill and toughness as a negotiator. I joked with him in the hallway of the St. Regis Hotel on Fifth Avenue Thursday that perhaps that's why this 15-month window was set to negotiate his contract to succeed Stern.
Something tells me, though, that there won't be much posturing or hordes of media forming on the sidewalks of Manhattan while Silver and the owners hammer out his deal. With a unanimous vote, Silver has the approval of everyone he'll be working for because they've already seen him in action.
Agree or disagree with his tactics, it's hard to argue with the job he's done as Stern's right-hand man and it won't be difficult to predict what kind of job he'll do going forward. It's likely to be more of the same.
The fact is, for better or worse, Silver, 50, has been involved in almost everything the NBA has achieved and failed to achieve for fully half of Stern's tenure. He's negotiated the league's last two national TV agreements and three collective bargaining agreements with the players, launched the NBA's footprint in China and designed and pushed its global marketing strategy. Silver's had a hand in the exponential growth of the NBA's merchandising business, its digital properties -- including NBA.com and NBA TV -- and most important, he's done right by the owners for whom he works.
"He's a world-class executive," Stern said, and the trading of compliments didn't stop there.
"There are all kinds of business metrics that we look at that would define David as one of the great business leaders of all time," Silver said.
We know they like each other. We know the vision and substance will largely remain the same. The question is, in what ways will Silver be different?
He's been with the league since 1992 and has held every position imaginable, from special assistant to the commissioner to chief of staff to head of NBA Entertainment to deputy commissioner and chief operating officer. Holt is correct in his assumption that the 15-month succession process from Stern to Silver, the commissioner-elect, will have "a smoothness to it."
But like Stern's tenure, Silver's will have its share of rocky moments. The challenges and opportunities will be immense. Sacramento has to be resolved, and Seattle is poised to keep the musical franchise game spinning out of control. How Silver deals with all of this, while keeping the game and the revenues growing, will define his time on the job.
Silver is more pragmatic than Stern, more of a consensus builder. He won't rule with an iron fist, and doesn't have to because the owners already know who he is -- and also because he can't be someone he's not.
Show Comments
Hide Comments
You play who's in front of you, and that's what Golden State did -- and beat everyone it f...

This is the first sweep the Spurs have suffered since 2010

Pop doesn't know whether Manu Ginobili will retire, but he wanted to give him a proper salute...
San Antonio doesn't know what will happen with Manu Ginobili and Patty Mills this summer

Our experts predict every series in the 2017 NBA playoffs

Check back here for all of the conference finals results from the NBA playoffs