After first-round ouster, Boston Celtics face the end of an era
After a first-round loss to the Knicks, the Celtics face major offseason decisions involving Kevin Garnett, Paul Pierce and Rajon Rondo.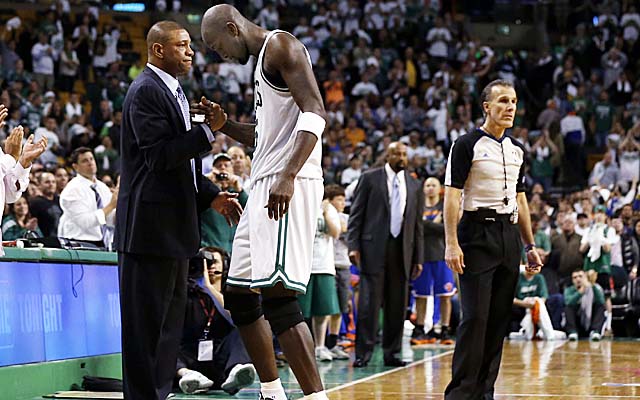 As their season ended on Friday night against the Knicks, as an era possibly came to a close, the Boston Celtics put up one last fight.
The real struggle begins now for Danny Ainge and Doc Rivers, who begin the daunting process of deciding where the Celtics go from here.
Out in the first round for the first time since the Big Three came together in 2007, the Celtics bowed out with an 88-80 loss to the Knicks in Game 6 at TD Garden. The proud champions who refused to go quietly, who forestalled any and all reports of their demise, finally were vanquished. Maybe for good.
More on Boston Celtics
Related links
More NBA coverage
Ray Allen left for Miami, and the Celtics endured. Rajon Rondo tore his ACL, and the Celtics endured. The Celtics, or what was left of them, were down 3-0 to the Knicks, and they endured.
But this Celtics playoff loss felt like more of a death knell than any other. Even after Boston lost to Miami in the 2011 conference semifinals, when everyone expected Doc Rivers to step down and cede the East to LeBron James and the Heat, he promptly announced after the game that he was coming back. And he did. And so did the Celtics, advancing to the conference finals the next year.
This time, Rivers was noncommittal about his future. Paul Pierce (4-for-18 in perhaps his final game as a Celtic) said once again -- and correctly -- that his future is out of his hands. Kevin Garnett, still brilliant in this series at age 36, closely tied his future to that of Pierce.
What does all of this mean? There are two scenarios that will dictate the Celtics' offseason decisions:
1. Do they believe that with a healthy Rondo, the band can come together for one more run next season with a couple of minor tweaks to the roster?
2. Do they believe that even with Rondo, they don't have enough talent -- or enough payroll flexibility and tools -- to compete with the likes of Miami and the Knicks?
The Celtics have $73.9 million in committed salaries for next season, which is pushing dangerously up against the dreaded luxury-tax apron -- the point $4 million above the tax-line where teams become hard-capped and do not have access to the full mid-level or bi-annual exceptions. Unless he's able to dump some salary, Ainge will be hard-pressed to add much more than a minimum-salaried player or two to a roster that, without Rondo, was severely limited -- especially offensively.
So what are the alternatives? They hinge on the two remaining members of original Big Three:
1. Pierce: The 35-year-old veteran has only $4 million guaranteed next season, so a buyout for that amount would save the Celtics $11.3 million. That would bring Boston under the tax, which would restore their mid-level and bi-annual exceptions and put them in play for trades. But it would still have them over the cap and unable to sign more than a mid-level free agent.
2. Garnett: The moment caught on camera, with audio, when Garnett checked out of the game on Friday night was telling. As KG came to the sideline, Rivers embraced him and asked, "You good?" And Garnett said, "Yup." To which Rivers said, "I love ya." It sure seemed like a goodbye, but was it? Garnett is guaranteed $12.4 million next season and $6 million in 2014-15. A buyout for Garnett this summer would do the Celtics no good; his money would remain on their cap and tax ledgers. A trade would require a team with cap room to be close enough to contention to take on a soon-to-be 37-year-old Hall of Famer -- and it would require Garnett to waive his no-trade clause. You have to look pretty far down the list of teams with cap room to find one for which KG would be willing to waive his no-trade -- if any.
Retirement? Garnett's money would be wiped off the Celtics' books if he decided to retire. But despite the hundreds of millions Garnett has made in his brilliant career, does anyone see him leaving $18.4 million on the table? I don't.
If the Celtics part ways with Pierce, it might open Garnett's eyes to other possibilities. But then it all goes back to Rondo, and whether the Celtics believe they're good enough with their existing core for one more year. If not, and if the alternatives aren't appealing, they might have to face the reality that Rondo is their most valuable trade asset. What can they get for him, and what does it mean for Pierce and Garnett?
If this was it, then it was a great run -- one that will not soon be forgotten. And if the Celtics have the same stubborn staying power off the court as they've shown on it, then it might take some time to sort this out.
Show Comments
Hide Comments
Utah couldn't clinch at home, and the Clippers live another day

The Celtics coach appeared to be upset when the chants broke out

Cleveland will host Toronto on Monday
Boston will host Washington on Sunday

Nothing can happen until Cleveland's season is over, however