After near-silent deadline, what is the plan for the Hawks?
Pondering decisions made to neither bolster depth nor tank out.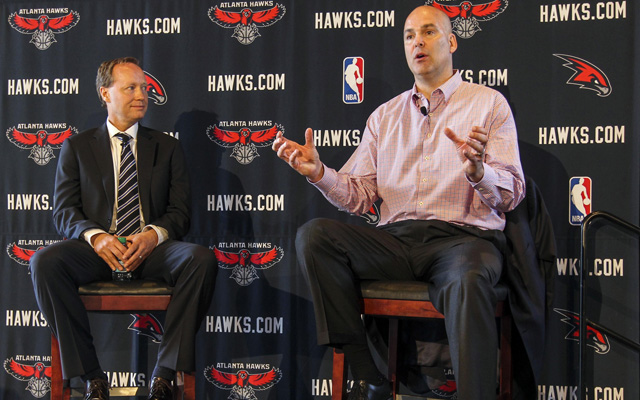 At the trade deadline, like a lot of teams, the Atlanta Hawks stood pat. (That is, outside of the move of a player who has never played for them for Antawn Jamison who they then waived. Woo.) This was kind of surprising either way they could have gone. With their injuries to players like Al Horford (out for the season), Pero Antic, and Gustavo Ayon's injury history, there was cause to upgrade their frontcourt for depth to ensure the playoff run. With their long-term goals of finding a superstar, a move towards tanking or adding assets would also seem to be a fine move. 
Standing pat was weird. Hawks blog HawksHoop.com broke down the scenario, and the situation poses some concerning questions. Oddly, the center of the question revolves around GM Danny Ferry's decision not to re-sign lunatic veteran forward Ivan Johnson last summer: 
This brings us to some questions regarding Ferry's inactivity. It has been speculated that the Hawks did not sign Johnson in the offseason because he was seeking a deal in the range of the mini-midlevel exception (around $2 million). If Johnson and the Clippers are now discussing a 10-day contract, the price has apparently come down. The Hawks still had about $1 million in cap space after absorbing a pro-rated amount of Jamison's $884,293 salary for this season, prior to signing Martin. Why wouldn't Ferry use that cap space to sign a front-court bruiser like Johnson to supplement a front line decimated by injuries?

After Al Horford and Pero Antic were lost to injuries, Gustavo Ayon appeared to be coming on strong, recently posting a double-double against the Raptors while holding highly-regarded center Jonas Valanciunas to a single basket. But now Ayon's durability issues, which I noted in the pre-season, have cropped up again. Elton Brand, whom coach Mike Budenholzer has preferred in a reserve role, has been pressed into starting duty. Paul Millsap and Mike Scott, neither of whom is large for a power forward, are now forced into spot duty at center. How long until more Hawks front court players break down due to a lack of depth Ferry has done nothing to address?

Some consider Johnson a bad culture fit for the Hawks. The fact is, he's gone toe-to-toe with every elite center in the NBA, from Dwight Howard to Roy Hibbert to Marc Gasol, and has not been found lacking. Should Ferry fail to bolster the Hawks' front line, regardless of any ancillary considerations such as culture, it can only mean one thing. It would mean that something other than winning, i.e. draft position, has become of greater importance to the Hawks' front office.
via Did the Hawks Just Throw in the Towel? | HawksHoop.
Now, there are a lot of reasons that Johnson is finishing up his season in China with the CBA. There are questions about his attitude both with coaches and other players. But if you need a tough guy down low, and the Hawks do, adding a guy like that would have been, or would be helpful. Johnson is expected to be available once the CBA season ends and several teams are expected to take a look at him. 
Are the Hawks just coasting? Ferry has made it clear he doesn't want to get stuck in no-man's land, but that's exactly where they're at. They've fallen to 8th in the East, just 2.5 over Detroit. But they have too much talent to fall much further. They're going to wind up with either a poor lottery spot or a first-round beatdown from Miami or Indiana. Ferry couldn't have predicted the Al Horford injury, and their young players look terrific overall, but HawksHoop does bring a good question. 
The Hawks are pretty well set for the long-term. They have picks from the Nets, they have young studs developing. They have cap room, no major obligations, a qualiy core, and no real hindrances. Long-term they're set. But there is the short-term to at least consider in some degree. 
What exactly is the purpose of the remaining season for the Hawks? 
Show Comments
Hide Comments
Some love for the Rockets over the Spurs, and at least one expert says the Cavs are going...

Ball is expected to be one of the top picks in the NBA Draft later this summer

The Bulls guard fielded questions about his future during exit interviews on Saturday
The two teammates were still up playing at 4 a.m.

Clippers point guard helped make sure Pierce's career would last at least one more game

The Celtics star coach looks ready to take the throne as one of the great coaches in the l...