After Prokhorov's shakeup, where do the Brooklyn Nets go from here?
Billy King has been reassigned and Lionel Hollins has been let go. The roster is a mess and the team owes its draft picks in multiple years. Where can Brooklyn go to get back to being decent?
After four years of short-sighted deals, bloated cap sheets, failed promises and embarrassing turmoil, a reckoning came to Barclays Center on Sunday, as the Brooklyn Nets fired coach Lionel Hollins and "reassigned" GM Billy King. (Reassigned is typically a code word for "removed from any and all decision-making capacities.)
In many ways, the move is a scapegoat maneuver from owner Mikhail Prokhorov. He never wanted to go the route of methodical, considerate roster construction upon the team's move to Brooklyn, and instead demanded superstars and wins, no matter the long-term cost. King definitely should bear the blame for the trades that hemorrhaged draft picks and deals that sent their cap sheet spiraling into an entire dimension of luxury tax waste that only they have reached, but he did so on orders from ownership. Your boss says leverage the future, you leverage the future.
To reach this point, the Nets wound up paying over $123 million in luxury tax payments alone, before salaries or overhead. 
There will be time to examine what we learned from Brooklyn's failures, but for now, where do the Nets go from here?
The Present Is Horrible
OK, so, Brooklyn is now without a GM and Yahoo reports that there's no clear plan for who's running the organization, which is exactly what you want to have happening less than six weeks from the trade deadline when you have an $83 million payroll for a team that is completely lost and outside the playoff race.
Brook Lopez remains a good player, but the decision on both his part and that of the Nets for him to stay with Brooklyn last summer was a terrible one. Lopez can't make the Nets a good team on his own, but is too good of a talent to waste. The best thing for both sides would be a trade, but at this point, Lopez is the only star-caliber player the Nets have, or can acquire, over the next 18 months, realistically.
But can't the Nets draft the next franchise superstar? Great idea, except the team traded its No. 1 pick, unprotected, to Boston in the Kevin Garnett/Paul Pierce trade. (Neither player, nor Jason Terry, who was also acquired in the deal, are with the Nets anymore. It was a good idea to make that trade, a gamble that didn't work out, but its results still go down to make it one of the most disastrous in NBA history.) The biggest reason this matters for the present is that they have no direction. They're bad and can't win, but there's no point in tanking because they can't improve themselves that way. They're going nowhere, and headed there in a very sloppy, ugly, depressing way.
The Nets are 29th in offense, 21st in defense and 28th in net points per 100 possessions. They are 20th in assist to turnover ratio, something greatly impacted by the fact that they are 28th in effective field-goal percentage. They are slow, 19th in pace and 27th in fast break points, yet give up the sixth-most fast-break points per game to their opponent.
Joe Johnson has fallen off a cliff, Thaddeus Young is a good, versatile player that can't shoot 3-pointers and therefore is limited in his effectiveness, and Jarrett Jack is out for the season with injury. Their fourth-best player, realistically, is Shane Larkin, who works hard and has some ability. Hwoever, saying "Shane Larkin is their fourth-best player" is basically a gateway to total misery.
That misery is the bigger problem. I've called the Nets "the Fountain of Sadness" for a year, because of the general miasma that has permeated their team. No one plays with any joy, and Barclays' black and white motif with the dark hardwood floor makes the place seem like a rust-covered mausoleum.
So yeah, things are pretty bad right now.
The Future Isn't Bright, Either
As I mentioned, that pick goes to Boston, as does their second-round pick, so they can't package it to trade up into the first. The Celtics can swap with the Nets next year, and they own the Nets' 2018 pick. The Nets don't have a second-round pick until 2021.
Take a second and think about how different your life could/will be in 2021. Now realize the Nets will have had no second-rounders until then.
A lot of their money comes off the books after this year, with only $45 million guaranteed on the books for 2016-17 with an expected cap of close to $90 million. This is the dangerous aspect for Brooklyn. If Prokhorov goes back to the well and demands to avoid the embarrassment of continued failure, he could decide to shell out big money next year for mediocre free agents on long-term deals, which is the worst thing they can do.
Improving to a team that can win between 30 and 44 games through free agency just to avoid the embarrassment of handing over a(nother) choice draft pick to Boston ignores the need for a long-term reset of the franchise.
On the other hand, if Brooklyn goes into the summer and offers big money on one-to-two year deals for free agents, that would accomplish both goals and let the Nets get through this dark period.
The best thing Brooklyn can do is to trade Lopez, Johnson, and Young for whatever pick they can acquire. Literally having any pick, even in the 20's, is better than suffering through. There's a middle ground between the Sixers' unfathomable tank efforts and trying to take shortcuts time and time again like the Nets have.
The Void
Of course, to do so, someone has to take charge of the franchise. In the wake of Sunday's moves, several outlets have reported there's widespread confusion about who's running shop, and that if someone called with a trade offer, the Nets wouldn't know whose phone to send them to.
Maybe that's kind of the goal, to prevent any kneejerk moves for the time being and try and wait until things can be sorted out, but it doesn't speak well to a. how the Nets are being run or b. the thinking behind these moves. It reflects an owner who hasn't built or communicated a plan to the staff, and who's just making moves like a guy playing with toy soldiers.
Which is pretty much how Prokhorov has come off since he took over the team.
The Nets need an architect, someone to guide the franchise with purpose toward a young future built through the draft (and who has ideas on both how to acquire those picks and how to survive until then), and Prokhorov needs to empower them to do so. They need a young coach focused on development to work on bringing up the team but who also has NBA experience to garner the trust of free agents until they can get back on track. 
The past is the past, what's done is done, and the Nets will simply have to bear down and deal with the future pain coming to this franchise that had such high hopes when it moved to Barclays. However, doubling down on the mistakes of the past with more attempts to find shortcuts will only exacerbate the problem. Step one is understanding the Nets are a fountain of sadness. Step two is understanding how to shut the water off. Step three is razing the ground and starting fresh.
It's a good plan, and it can work.
But it may legitimately take five years to get there.
Season tickets, on sale now.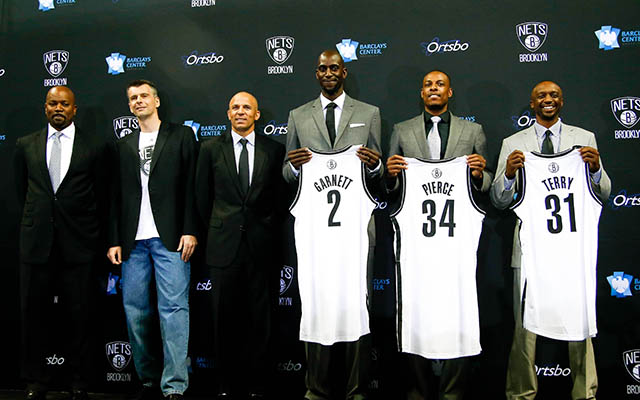 Show Comments
Hide Comments
Our Latest Stories
Big Papi was more than happy to help a fellow countryman on his big day

Rose is reportedly more concerned about his impending trial than he is letting on

Curry gave a glimpse at one of his new tricks at Warriors practice
A look at the past, present and future of three superstars who do not play for a superteam

The movie star imparted what a shark tale celebrity status can be for the young athletes

No big shock, the unanimous MVP plans to stay in the Bay.