Agent: Luol Deng will become a free agent next summer
Luol Deng's agent said his client will become a free agent next after extension talks stalled out with the Bulls.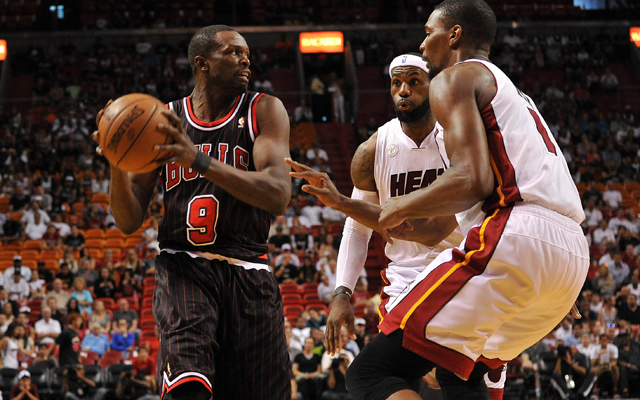 The free agent class of 2014 appears to have just gotten a little deeper. 
After a report earlier said talks between the Bulls and Luol Deng have stalled out, via the Chicago Tribune, Deng's agent says his client will look towards free agency next summer. 
The agent for Luol Deng said Tuesday that the two-time All-Star forward would "certainly visit free agency" next summer after being informed by Bulls management that contract extension talks would be tabled until after the 2013-14 season.

"Luol has taken the position that he will definitely go through the free-agent process," said Herb Rudoy, Deng's Chicago-based agent.
The prize of 2014 free agency will obviously be LeBron James (assuming he opts out), with Chris Bosh, Dwyane Wade and Carmelo Anthony close behind. After that, the class includes Paul George (restricted), Kobe Bryant, Dirk Nowitzki, Pau Gasol and Andrew Bogut.
Deng would fit in that second tier of free agents. He's 28 and would likely pull a multi-year deal exceeding $10 million a year. He'd be expensive for the Bulls to keep, but they're a big market with pretty deep pockets, and they still have their amnesty and could make room by dumping someone like Carlos Boozer. 
Deng has been one of the most durable players in the league, but missed the playoffs this season because of an illness he had trouble recovering from. The Bulls are trying to keep their flexibility and options open for the summer of 2014 with big names coming available, but could look to re-sign Deng on the open market as well. 
The question is if he wants to return, or if he's interested in a fresh start. He's not a star necessarily, but on a roster with good players, Deng is an extremely valuable player that can defend, shoot and rebound. He'll get paid, for sure. Just a question of who will be signing the checks. 
Show Comments
Hide Comments
Washington's forward suffered an ankle injury early in the second quarter of Game 1

Markieff Morris' turned ankle is a huge deal for a shallow Wizards team

Carter turned 40 this season
Washington's forward suffered a nasty ankle injury in the second-round opener vs. Boston

The Spurs are the favorite, but the series will likely be close

The second round of the 2017 NBA Playoffs tips off Sunday at 1 p.m. ET, with Game 1 of Cel...