Amar'e Stoudemire out 2-3 weeks with ruptured cyst in left knee
Amar'e Stoudemire is out 2-3 weeks with a ruptured cyst in his left knee.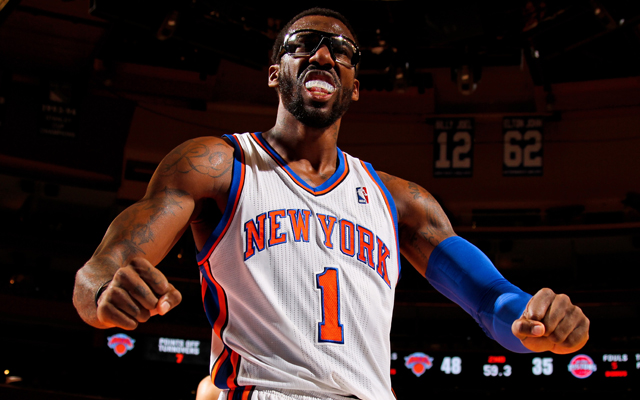 Stoudemire is out 2-3 weeks with a knee injury.
(Getty Images)
Amare Stoudemire went home this morning to get his left knee re-evaluated. MRI revealed a ruptured popliteal cyst.

— Al Iannazzone (@Al_Iannazzone) October 21, 2012

Amar'e Stoudemire's knee has been a concern since his microfracture in 2005 on that same left knee. The injury has come under extensive scrutiny based on his insurance status related to the knee. Stoudemire will miss the start of the regular season, but the injury does not require surgery. It does, however, sound incredibly gross. 
The Knicks' biggest question going into this season has been how Stoudemire and Carmelo Anthony would fit together. The duo have horrendous plus-minus numbers, fueling analysis to suggest Anthony should play more at the four spot and wondering if Stoudemire should even come off the bench, something Mike Woodson has flatly ruled out. With Stoudemire out, we're going to see how Anthony looks at the forward position and if the spacing changes help with getting Anthony more looks in the post where he's deadly.
But it definitely takes a chunk out of the offensive firepower of the Knicks, who were not expected to be elite in the first place. Raymond Felton was looking to pick up where he left off with Stoudemire in the pick and roll. The Knicks did pick up a number of front court players including Marcus Camby and Kurt Thomas along with shooter big Steve Novak, so they have some options. But in reality, this just means more of what the plan has been all along. 
More Melo. And it sets up an interesting scenario in which the Knicks' results without Stoudemire, either way, can have a lasting impact on how this team comes together.
Show Comments
Hide Comments
The Knicks owner won't be around for what might be a dramatic night for New York

Embiid is ready to thrust Porzingis into The Process.

Everything you need to know to be the most informed fan at your draft party
The previously projected salary cap was around $102 million

The unicorn and zen master came to be at odds, leading to unexpected trade rumors

Owner Dan Gilbert reportedly extended the offer on Wednesday but Billups has yet to accept...