Amar'e Stoudemire says no timetable for his return
Amar'e Stoudemire said it was only a matter of time before his knees gave out and that there's no timetable for his return. He has played in only 29 games this season.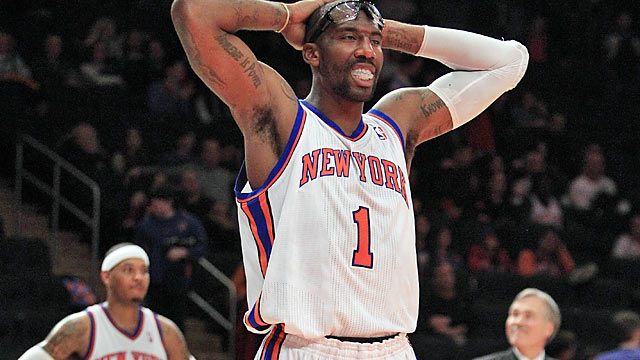 Amar'e Stoudemire held a conference call Thursday regarding a documentary airing about him called "Amar'e Stoudemire: In the Moment." During the call he said that there is still no timetable for his return, but he maintains hope he can play in the postseason. From Newsday: 
There is no timetable set on my return, Stoudemire said on a conference call Thursday. "Hopefully I can return soon enough for the postseason. I'm gearing toward that. If not, I'm going to make sure I'm ready and a hundred percent.
via Amare Stoudemire: No timetable for return.
Stoudemire also talked about the inevitability of the injury, according to the Daily News: 
Amar'e admits it was a matter of time before his knees gave out which is exactly what the Phoenix Suns' doctors said.

— Frank Isola (@FisolaNYDN) March 28, 2013
So that's not great news. The Knicks gave Stoudemire a $100 million uninsured contract in 2010 after the Suns declined to provide the same. Stoudemire underwent microfracture surgery earlier in his career and has struggled with the knee injury the past two years. He's played in just 29 games this season and may not play again this year. 
A frustrating turn for a player the Knicks had turned to as a franchise cornerstone. 
Could this have an effect on Carmelo Anthony's future in New York? What about Kristaps Por...

Chicago needs to decide whether to pay Rondo $13.4M next season or buy him out for $3M

Rose played in 64 games for the Knicks before a season-ending knee injury
Durant chose an odd way to shout out his former OKC teammate

Teams are reportedly trying to bring in the veteran forward in an effort to weaken the War...

LeBron has reportedly already ruled out any chance of joining the Clippers