An All-Star spectator, Kobe Bryant questions his basketball mortality
NEW ORLEANS -- Questioning his longevity and openly wondering whether his body is rebelling against him, Kobe Bryant said Saturday that his latest injury woes have forced him to ask himself, "Is this it?"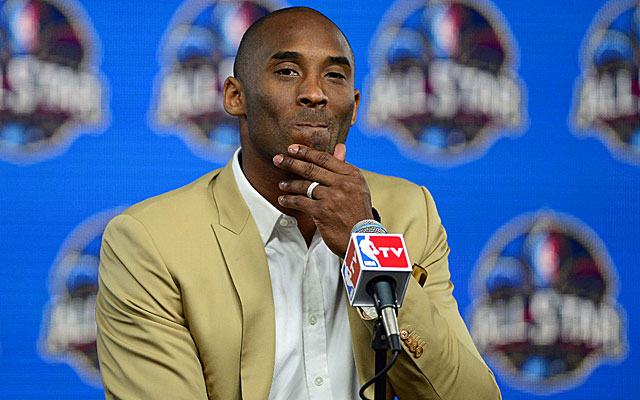 NEW ORLEANS -- Questioning his longevity and openly wondering whether his body is rebelling against him, Kobe Bryant said Sunday that his latest injury woes have forced him to ask himself, "Is this it?"
"To have those conversations with yourself and not be intimidated by that and not succumb to that is part of the challenge," Bryant said in the interview room before the All-Star Game, which he is missing as he recovers from a fractured leg. "It's really the biggest challenge. Maybe this is the end, but then again, maybe it's not. And it's my responsibility to do all that I can to make sure that it's not."
Bryant, 35, only made it six games into his comeback from a ruptured Achilles' tendon before fracturing his left tibia in December. He said he'll undergo more tests after the break to measure his progress. He twice dodged a question about whether he's hopeful he'll be able to return to the 18-35 Lakers this season.
"Stick to the script, just try to get better and then go from there," Bryant said. "I just try to focus, keep my blinders on and just do what I have to do."
Bryant reiterated that he's confident that the Lakers' front office, led by GM Mitch Kupchak and owner Jim Buss, will be able to orchestrate a quick turnaround. Bryant agreed to a two-year, $48.5 million extension prior to returning to the court this season, but the Lakers still have cap room to add a max-level free agent.
"What we have coming up this offseason, cap space and what we have ahead of ourselves seems to be right in the Lakers' wheelhouse, in terms of turning things around pretty quickly," Bryant said. "When we've had summers like this, they've never really faltered. They've normally made really sound and excellent decisions that put us right back in contention."
Asked if his reputation for being a difficult teammate might hurt the Lakers' chances of landing a top free agent, Bryant offered a psychological profile on what kind of player that has to be.
"I'm a difficult person to deal with for people who don't have the same kind of competitiveness or commitment to win," Bryant said. "Then I become an absolute pain in the neck, because I'm going to drag you in the gym every single day and if you need to be drugged, that's I'm going to do. And for players that have that level of commitment, it's very, very easy. ... But if you don't have that commitment, I'll absolutely going to be very, very tough to get along with. No question about it."
Bryant's tone and willingness to contemplate the end of his brilliant, 18-year career was in contrast to the stubborn optimism he exhibited after tearing his Achilles last April. He said the recovery from this latest injury has been a "slow process."
"I enjoy what I do; I love what I do," Bryant said. "That's the secret. When you love your job and you have a passion for it, you just want to continue to do it and do it and find new ways to do it. When you have that passion, then whatever challenge is thrown in front of you, the passion supersedes that and it just becomes more and more fun every year. That's really the secret."
Bryant said he expected to be back at All-Star weekend as a healthy competitor next year, when the game will be played at his favorite road arena, Madison Square Garden. He said he wouldn't mind being in the 3-point contest, but shared his disappointment with this year's controversial slam-dunk contest format.
"I grew up with the old-school rules, when Dominique [Wilkins] and Michael [Jordan] were competing," Bryant said. "I guess I'm kind of a purist at heart. I'd much rather watch that type of dunk contest format."
Show Comments
Hide Comments
Celtics reverse course in Chicago; Pacers head home

Our NBA experts predict the first round of the postseason

Can the Clippers close the series without Blake Griffin?
The playoffs are starting to heat up

The Cavs are the first team to move on to the next round

Our experts predict every series in the 2017 NBA postseason