Anderson Varejao developed blood clot, will miss remainder of season
Anderson Varejao done for the year after a blood clot is found in his lung.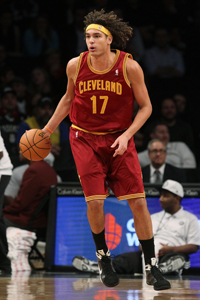 Varejao is out for year.
(Getty Images)
The Cleveland Cavaliers announced on Monday that injured C Anderson Varejao, who recently had knee surgery and was expected to miss eight-to-10 weeks, developed a blood clot last week. As a result of this scary condition, Varejao has had to undergo treatment with blood thinners and will miss the rest of the season. From the Cavs: 
Cavaliers center Anderson Varejao recently developed a blood clot (small right lower lung pulmonary embolism) and was admitted to the Cleveland Clinic last Thursday (January 17th). He is being treated with blood thinners (anticoagulants) and is expected to stay at the Clinic for several days, while undergoing treatment and observation. He will need to remain on blood thinning medication for approximately three months. While Varejao is expected to fully recover, he will miss the remainder of the current Cavaliers season.

Quote from Cavaliers General Manager Chris Grant: "Clearly our players' health is our top concern and we are disappointed for Anderson, and his family. We know what a competitor he is and how much he wants to be on the court helping his teammates. In the meantime, he has our full support and we look forward to welcoming him back as he recovers."
Scary, scary stuff. At least they caught it, and Varejao's expected to make a full recovery. 
This marks the third consecutive season that Varejao will play less than 31 games due to injury or whatever you call this. He doesn't have repetitive injuries, he's just been the victirm of a series of unfortunate freak injuries and conditions. Varejao had been playing at an All-Star level before his injury, even on a sub-.500 team like Cleveland. 
With Varejao done for the year, the Cavaliers need to commit to a full-on tank job, once again, in the hopes of getting better talent in what is considered to be a weak draft. But more important, Varejao survived what can be a deadly condition. Yeesh.
Unfortunately, Antoine Walker was not involved

The newly minted league MVP said he wanted to enjoy his big moment

Westbrook became the second player ever to average a triple double for an entire season.
Jeff Van Gundy is stepping back into coaching

When it comes to naming MVPs, particularly in basketball, we can't seem to figure out what...

Russell Westbrook finally receives validation