Andray Blatche guarantees Nets victory in Game 7
Nets forward says Brooklyn will "take care of business" vs. Raptors Sunday.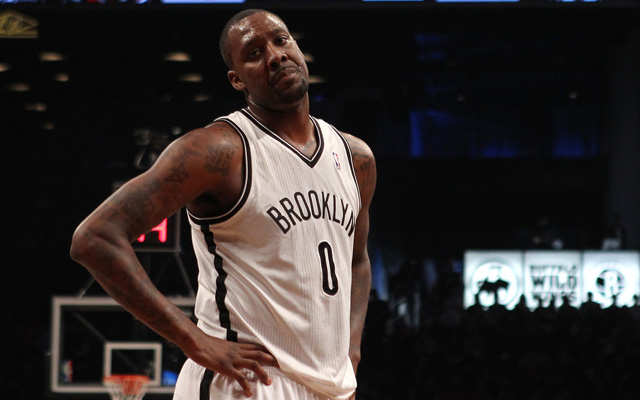 More postseason coverage: Playoff schedule, results | Latest news, notes
The Nets forced Game 7 Friday, but have to go on the road in a raucous atmosphere to advance to the 2nd round. Nonetheless, the veteran crew is confident, with backup forward Andray Blatche guaranteeing victory in Game 7.
Andray Blatche backed up teammate Paul Pierce's guarantee, promising a Nets victory in Game 6. And after helping Brooklyn stave off elimination with a 97-83 win — and earn a Game 7 in Toronto — Blatche doubled down and vowed they would win Sunday's first-round playoff series finale as well.

"Yeah, we guarantee it. We're going to go there, take care of business and go to Miami,'' Blatche said in a hallway in the bowels of the Barclays Center. The big man had guaranteed victory during Friday morning's shootaround, and after Jason Kidd gave Blatche extended minutes in Game 6, he made good on that vow.

"Yeah, I did [guarantee Friday's win]," he said. "We're not going home. We're not trying to go home. We're going to go out there, we're going to fight in Toronto on Sunday.''
via Nets 'absolutely, definitely' guarantee victory in Game 7 | New York Post.
The Nets took Game 1 in Toronto, and dominated in Game 6 in Brooklyn. They have momentum, experience, and comfort playing in tough environments. Granted, if they win, it likely won't be because of Blatche, but the result would be the same. 
We'll see if the Nets can back up the talk on Sunday in Toronto. 
It appears Wall will be staying in Washington for a long time

Apparently James wasn't aware that Kyrie was considering a change of scenery

The Knicks reportedly have interest in the Cavs star, but do not want to give up their uni...
The Knicks, Spurs, Timberwolves and Heat are reportedly his preferred teams

Altman has been serving as the Cavs' assistant general manager under David Griffin

It was a calm Friday in the NBA world ... and then it wasn't