Andre Iguodala signs four-year deal with Warriors
The Warriors signed Andre Iguodala to a four-year deal worth $48 million.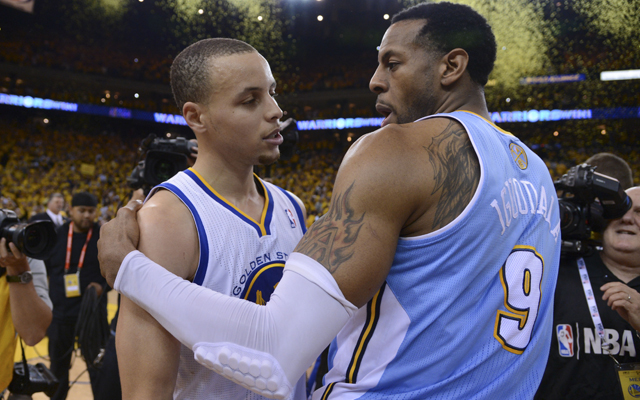 Andre Iguodala to the Golden State Warriors is complete. 
The deal for Iguodala is a three-team sign-and-trade between the Nuggets, Jazz and Warriors. As part of the deal, the Warriors sent center Andris Biedrins, forward Richard Jefferson and guard/forward Brandon Rush, along with two future first-round (2014 and 2017), two future-second round (2016 and 2017) draft picks and cash considerations, to the Jazz, as well as a future second-round (2018) draft pick to the Nuggets.
The Nuggets also received Randy Foye in a sign-and-trade with Utah with the Jazz receiving a 2018 second-round pick.
Iguodala's deal with the Warriors is worth $48 million over four years. 
"Andre Iguodala was a free agent that we targeted from Day One and we are thrilled that he chose to join our team," said Warriors general manager Bob Myers in a release. "His versatility as a player should help us tremendously on both sides of the court and we feel that his specific, unique skill set blends very well with the players already on our roster. Additionally, he will serve as a great asset to our young team as we continue to grow and develop in the coming years."
Iguodala, 29, averaged 13.0 points, 5.3 rebounds, 5.4 assists, 1.7 steals and 34.7 minutes this past season.
Show Comments
Hide Comments
The two best point guards in the East go at it in a series sure to be filled with drama.

Breaking down key matchups as the second season reaches the conference semifinal series

The second round of the 2017 NBA Playoffs tips off Sunday at 1 p.m. ET, with Game 1 of Cel...
The Spurs have homecourt advantage, and will host Game 1 Monday night at 9:30 p.m. ET

All-Star guard flew to Washington after Game 6 vs. Bulls to attend his sister's funeral Sa...

Some love for the Rockets over the Spurs, and at least one expert says the Cavs are going...