Andre Iguodala signs four-year deal with Warriors
The Warriors signed Andre Iguodala to a four-year deal worth $48 million.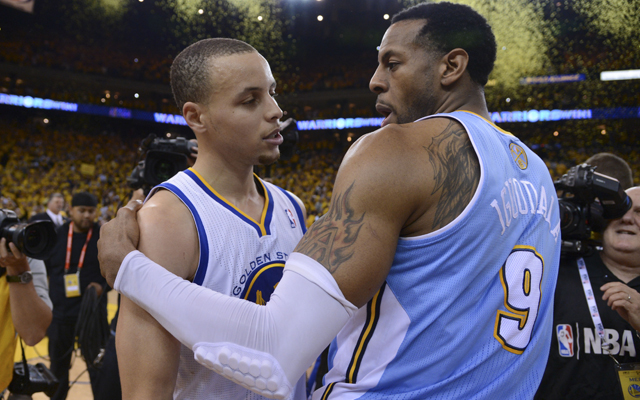 Andre Iguodala to the Golden State Warriors is complete. 
The deal for Iguodala is a three-team sign-and-trade between the Nuggets, Jazz and Warriors. As part of the deal, the Warriors sent center Andris Biedrins, forward Richard Jefferson and guard/forward Brandon Rush, along with two future first-round (2014 and 2017), two future-second round (2016 and 2017) draft picks and cash considerations, to the Jazz, as well as a future second-round (2018) draft pick to the Nuggets.
The Nuggets also received Randy Foye in a sign-and-trade with Utah with the Jazz receiving a 2018 second-round pick.
Iguodala's deal with the Warriors is worth $48 million over four years. 
"Andre Iguodala was a free agent that we targeted from Day One and we are thrilled that he chose to join our team," said Warriors general manager Bob Myers in a release. "His versatility as a player should help us tremendously on both sides of the court and we feel that his specific, unique skill set blends very well with the players already on our roster. Additionally, he will serve as a great asset to our young team as we continue to grow and develop in the coming years."
Iguodala, 29, averaged 13.0 points, 5.3 rebounds, 5.4 assists, 1.7 steals and 34.7 minutes this past season.
Show Comments
Hide Comments
Our Latest Stories
Blake Griffin has been working on his 3-point shot this offseason

Jason Kidd has John Stockton giving advice to his point guards during training camp

Could Kevin Garnett be helping to coach LeBron in Cleveland?
KD and Klay can't seem to miss a shot for about 75 seconds

The recently retired Kevin Garnett joined Doc Rivers and Clippers for practice on Thursday

They don't need to run necessarily but at least get the offense going much quicker