Andrei Kirilenko is 'unlikely' to play in season-opener for the Nets
Brooklyn Nets forward Andrei Kirilenko is dealing with a back injury right now that makes playing in the season-opener 'unlikely.'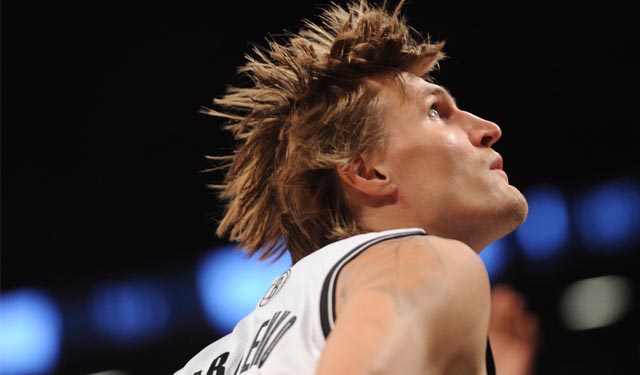 The Brooklyn Nets' big deal of the offseason was swinging a massive trade to bring Kevin Garnett and Paul Pierce from the Boston Celtics. It added some championship leadership to a team that had a hard time finding consistent effort and execution, especially during a first round matchup against the Chicago Bulls in last season's playoffs. While grabbing Garnett and Pierce was a big move for the Nets, acquiring Andrei Kirilenko for a huge discount may have been the key to turning this team into definite challengers to the Miami Heat.
Kirilenko's play-making and defensive ability will be much-needed to contain the perimeter attacks of opponents like LeBron James, Carmelo Anthony, and Paul George. Unfortunately, it doesn't look like we'll get a look at Kirilenko in the lineup for the Nets until after Wednesday's season-opener against the Cleveland Cavaliers. He's been nursing a back injury and while he expects to be available for Friday, playing Wednesday is "unlikely," according to Kirilenko.
Andrei Kirilenko, on his health: "Right now, it's too early to say anything. But I'm aiming for Friday. Tomorrow's game is unlikely." #Nets

— Brooklyn Nets (@BrooklynNets) October 29, 2013
Andrei Kirilenko made his return to the NBA last season for the Minnesota Timberwolves after sitting out the lockout-shortened season by playing in Russia. He averaged 12.4 points, 5.7 rebounds, and 2.8 assists for the Wolves but only managed to play in 64 games. Staying healthy and not racking up minor injuries that cost him games has often been an issue for Kirilenko. He hasn't played more than 67 games in his last four NBA seasons. In his 11-year career, he's played at least 70 games in a season just five times.
If the Nets can manage to take a lot of the physical beating away from Kirilenko's game, he could provide them with enough defense, rebounding, and playmaking off the bench to truly challenge the top teams in the NBA. However, being healthy has rarely been a strongsuit of Kirilenko and once again he's dealing with a nagging injury.
Show Comments
Hide Comments
Breaking down key matchups as the second season reaches the conference semifinal series

The second round of the 2017 NBA Playoffs tips off Sunday at 1 p.m. ET, with Game 1 of Cel...

The Spurs have homecourt advantage, and will host Game 1 Monday night at 9:30 p.m. ET
All-Star guard flew to Washington after Game 6 vs. Bulls to attend his sister's funeral Sa...

Some love for the Rockets over the Spurs, and at least one expert says the Cavs are going...

Ball is expected to be one of the top picks in the NBA Draft later this summer