Andrew Bynum is pretty excited to be 'the man' in Philadelphia
Andrew Bynum says it will be more exciting and fun to know that "everything is going through (him)."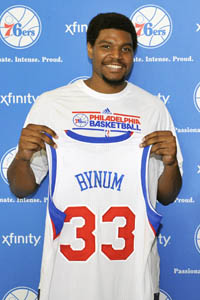 Andrew Bynum

wants to lead the Sixers.
(Getty Images)
The Philadelphia 76ers held a press conference Wednesday to introduce Andrew Bynum (and Jason Richardson). A large crowd gathered and chanted "Beat L.A." for some reason. It's clear that the Sixers think this moves them ito a whole new level of contention. That was the general tone of the conversation. 
Bynum was asked about being moved into a larger set of responsibilities. Instead of a generic response about playing as a team, or about how he just wants to help the team win, Bynum answered in his typically candid way. 
"It's going to be a lot more exciting," Bynum said, "and a lot more fun to know that everything's going to be run through me."
What's interesting is that there's no appearance of dischord with Kobe Bryant, the ultra-high-usage player on the Lakers who absorbed a lot of the touches that would have gone to Bynum. And it wasn't Mike Brown's fault last year, Bynum averaged more touches in the post than any season before, according to Synergy Sports. 
The Sixers will run the offense through Bynum, and there are questions about whether that's a good thing or not. Bynum struggled with double-teams at times last season, and the Lakers have a hard time getting him the ball. Most of that was on their guards' ability to deliver the entry pass, but it's a concern nonetheless. We're about to see exactly what Andrew Bynum as mega-usage star looks like. 
Show Comments
Hide Comments
Full results of all 60 picks of the 2017 NBA Draft

Highlights and lowlights, including several ways the Bulls found to lose

See who nailed it and who whiffed as we grade every pick of the 2017 NBA Draft
Lonzo's loudmouth father was at it again at the NBA Draft, but the Lakers coach is more me...

Ainge and Brad Stevens were flying across country when they learned Jackson had bailed

It's never too early to start thinking about next year's NBA Draft