Andrew Bynum says he hasn't played for a really supportive city
Former Los Angeles Lakers center and current Cleveland Cavaliers big man Andrew Bynum says he hasn't played in a really supportive NBA city.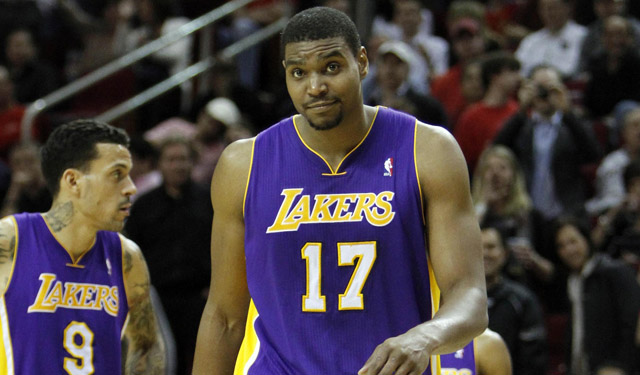 Los Angeles Lakers fans are known as a passionate bunch on the internet. Often, you can write an article about where the Lakers stand or Kobe Bryant anything and you'll see a wave of page views and a crash on the shores of the comments sections. Lakers fans come out in droves to see the team and their games often vie with just about anybody when it comes to getting television ratings. It's hard not to think of Lakers fans as a very supportive fan base, right?
If you're former Lakers center and new Cleveland Cavaliers center Andrew Bynum, you might not see it that way. In an interview with Fox Sports, Bynum was asked about what he knows about Cleveland sports fans. In his answer, Bynum may have accidentally (or purposefully) insulted the passion and support of the Lakers fan base. Via Beyond The Buzzer:
FOX Sports: It's not LA, but it's Cleveland, and the one thing we know about Cleveland is this city loves their sports. What do you know about the fans here?

"I just know that they're really, really passionate and I haven't had the opportunity to play for a city that is really just gonna stand up and really support the team. I'm super excited and I can't wait to see what it's like."
Andrew Bynum is a pretty intelligent guy, and while that doesn't mean he absolutely meant to slight the Lakers fans out there while pumping up Cavs fans, it also is hard to think he didn't know what he was doing when he chose those words. It's possible he didn't realize what he was saying when he answered that question, but I don't think anybody would be shocked by him taking a shot at Lakers fans.
When it comes to Andrew Bynum, if he's going to take a shot at someone, expect it to be a deep shot. 
The Lakers haven't had an attendance percentage under 97.5 percent in the past decade and have finished outside of the Top 10 (11th) just once in the past 10 years. While you get the celebrities in the courtside seats and lower bowl that are there just to get pictures of them at an event put into magazines and slideshows, the upper levels and fans watching at home are often pretty raucous. You can argue that the Lakers fans aren't the best in the league, but saying they're not passionate or supportive? That's a pretty heavy accusation. 
(H/T - Ball Don't Lie)
Show Comments
Hide Comments
Our Latest Stories
Booker had a prolific, but unusual, scoring night

Boston's All-Star guard: 'It's weird what they were doing'

The second-year Suns guard got a lot of love on social media
Second-year guard's franchise record includes 51 in the second half, 28 in the fourth quar...

Former Laker greats, including Kobe Bryant, speak at ceremony

Who faces who, who's in, who's out, and what happens next?