Antawn Jamison: 'I would never count Kobe Bryant out of anything'
The newest Los Angeles Clippers' acquisition Antawn Jamison says he would never count Kobe Bryant out of anything, as Kobe prepares comeback.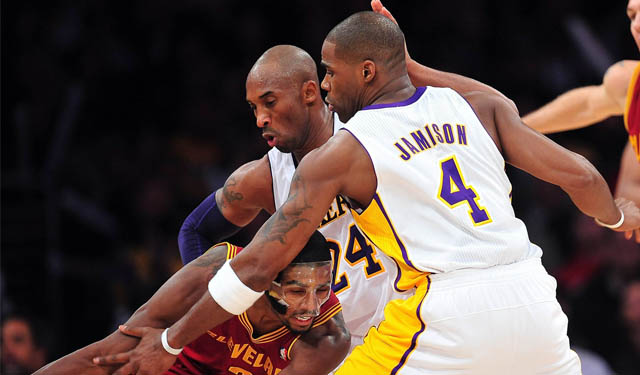 We've recently seen Kobe Bryant jumping off platforms that are high in the air and we're all wondering if he'll in fact be back in time for the opening night of the season when the Los Angeles Lakers take on the Los Angeles Clippers in a battle for Staples Center supremacy. As Bryant tries to make it back from his torn Achilles tendon in order to attempt to keep the Lakers from falling deep into the lottery, players don't seem to doubt whether or not Bryant can overcome such an injury in record time.
Former teammate Antawn Jamison jumped from the Lakers to the Clippers this offseason when he agreed to a one-year deal to switch Staples Center locker rooms. He's certainly not somebody that believes in limitations for Kobe Bryant and in an interview on the radio in Los Angeles, he told everybody that he "would never count Kobe Bryant out of anything." From ESPN Los Angeles:
"I would never count Kobe Bryant out of anything," Jamison said Friday in a radio interview on ESPN 710 in Los Angeles. "I've played with some special players. Gilbert Arenas when he was [in Washington D.C], at the top of his game, LeBron James, Shaquille O'Neal [in Cleveland]. I've played with a lot but never played with an individual player who had the type of mindset, the drive that he has. If [Bryant] says he's going to win a sixth ring, believe me, he's going to do everything possible to get that ring.

"Of course, on the outside looking in you could say, well, that might not happen this year or whatever with him coming off the injury and the Lakers trying to get things together. But I mean, that guy, he's going to do everything possible to get that sixth ring."
Jamison certainly has plenty perspective after 15 years in the NBA as he's been the top scorer for a team, a star role player, and now someone who is just supposed to come into a game and stretch the floor. His time playing with guys like Arenas, James, Shaq, and Bryant have given him plenty of time with guys continually defying the odds and limitations most players fall to is something not many players, let alone basketball fans can relate to.
However, at a certain point, it might not be up to will and determination as much as it's up to the age and wear-and-tear of the human body. At some point, the decline due to age or injury becomes too hard to avoid and a serious injury like Bryant's at the end of last season is something that fits the profile of such a debilitating injury. 
With that said, Jamison is right about Bryant because he has defied physical limitations, especially when it comes to injuries that are supposed to slow him down significantly, time and time again. He does seem to work as hard, if not harder, than just about every player in the NBA and doesn't seem content with status quo when it comes to playing and injuries. There's a lot of logic involved when you doubt him returning from such a big injury, but it's still hard to believe he will be held back by it until you see it.
I'm with Jamison as of right now. You can't count him out of anything. He seems unlikely to have the type of team to get himself a sixth ring any time soon, but in terms of coming back from his injury, I'll buy into him being as strong as he previously was.
Show Comments
Hide Comments
The Cavs are up 3-1, in part thanks to Irving's astonishing performance.

Maybe the best player of all-time has his best season, and he's not even in the discussion...

Cleveland took a 3-1 lead on Boston and will look to close it out Thursday
Boston had a 16-point lead at one point

Our experts predict every series in the 2017 NBA playoffs

Kyrie Irving saw LeBron James was in foul trouble and he stepped up big