Antoine Walker: 'It's time for me to be the Celtics' coach'
With the Boston Celtics looking like they need a new coach because of Doc Rivers' potential departure, Antoine Walker would like the job.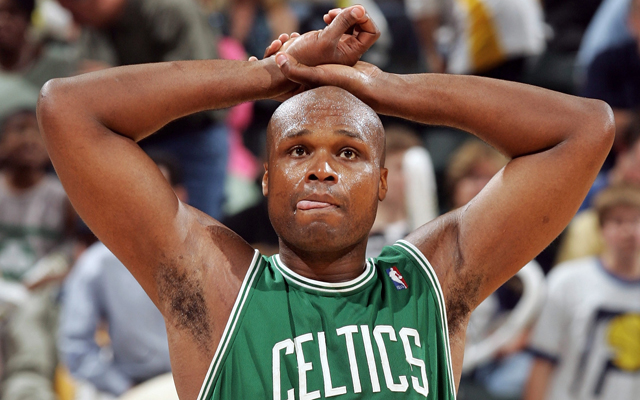 Antoine Walker spent seven-plus seasons playing for the Boston Celtics throughout his career. The first seven years of his career were spent in Boston, where he averaged 20.8 points, 8.7 rebounds and 4.2 assists with shooting percentages of 41.2 percent from the field and 33.3 percent from 3-point range. He was both a fan favorite and a fan frustration at times because of his inability to consider he might miss an outside shot if it leaves his finger tips.
Now he wants to go from playing in Boston for seven-plus years to possibly coaching the Celtics for a considerable amount of time. With the deal in place to essentially send coach Doc Rivers to the Los Angeles Clippers for an unprotected 2015 first-round pick, there's an opening on the Celtics' sidelines and Walker tweeted that he wants in.
Boston fans its time for me to be the celtics coach !!!!

— Antoine Walker (@WalkerAntoine8) June 24, 2013
Last year, Walker talked about wanting to get back into the game that he loves and considered coaching as a possibility. Whether it was playing again, coaching, front-office work or possibly being an analyst, he expressed a desire to stick with basketball in some capacity because he's only 36 years old and wants to do something involving the NBA. From CNNNE.com in August 2012:
I'll probably want to coach one day, he said. I don't know what level yet. I enjoy being around the game. I love the game of basketball. It definitely will be in sports, in some capacity. Right now it's hard to say, I'm trying to find my niche. That's why I want to come out and do these type of things. I also went to the NBA Pre-Draft Camps, talked to some GMs. I've just got to figure out what my niche will be, but it definitely will be in the game.
We've already seen one famous shimmy go to the sidelines and have a successful season as a coach with Mark Jackson coaching the Golden State Warriors, and we've seen Jason Kidd recently get hired by the Brooklyn Nets to be the coach just days after ending his playing career. I'm sure there are plenty of examples that Walker looks at and figures he could be one of those guys.
Walker will probably have to put in some time as an assistant coach somewhere before a team just throws a head coaching job his way and asks him to invent a play for 4-pointers. For those of you too young to remember, once when asked why Walker shoots so many 3-pointers, he replied with, "Because there are no fours."
That's just good coaching strategy right there.
Show Comments
Hide Comments
Game 1 of the 2017 NBA Finals tips on June 1

LeBron reflects on emulating Michael Jordan growing up, but one thing he couldn't quite co...

Check back here for all of the conference finals results from the NBA playoffs
The Cavs clinched the series by winning Game 5 by 33 points in Boston

'I wear the number because of Mike'

Our experts predict every series in the 2017 NBA playoffs