Are John Wall and Kyrie Irving fighting for a Team USA spot?
Wizards and Cavs guard battling to see who can make the Team USA roster.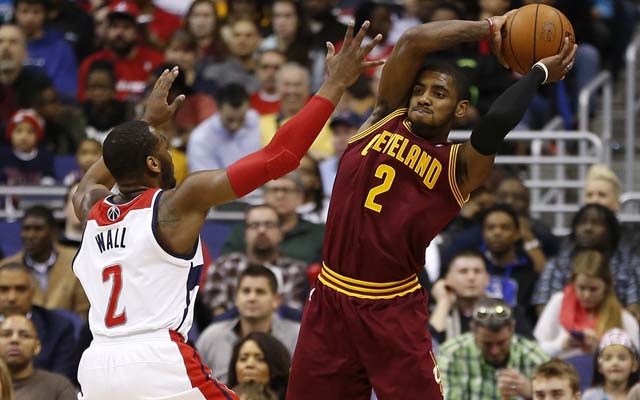 Offseason: Free Agency | Latest from Ken Berger | Rumors
NBA.com reports from Team USA camp that it's very likely Kyrie Irving and John Wall, who have battled over All-Star spots and recognition as the pre-eminent young point guard in the league, may be indeed also competing for one spot on Team USA. 
Essentially, Steph Curry (shooting, passing, basically everything that Coach K values in a player for Team USA) is a lock, and Derrick Rose has blown away the coching staff with his performane in camp. Which means: 
Colangelo told USA Today on Wednesday that it would be hard to keep more than one "pure point" on the roster, and labeled Rose, Kyrie Irving and John Wall as the true points in camp.

So it seems clear that one roster spot will come down to Irving vs. Wall. Irving is the more dynamic one-on-one player, but Wall is the better passer and defender.

Also, while Irving (35.8 percent) was a slightly better 3-point shooter than Wall (35.1 percent) overall last season, Wall was much better on catch-and-shoot opportunities. Wall had a 3-point percentage of 43.1 percent and an effective field-goal percentage of 60.8 percent on catch-and-shoot jumpers, while Irving's numbers were just 32.1 percent and 46.0 percent. Opponents will pack the paint and hope the U.S. Team is having an off night from the perimeter, so catch-and-shoot skills should be more important than pull-up skills with this team.
via USA Basketball Showcase big for roster hopefuls « NBA.com | Hang Time Blog with Sekou Smith.
This continues to be confusing on multiple levels. For one, if we're going to sit here and pretend that DeMarcus Cousins could be cut based on his fit in terms of being a role player in comparison to Mason Plumlee (Mason freaking Plumlee!) and not his attitude, then what role does Rose fill better than either? Rose is not a spot-up shooter like either of the other two point guards can be, and defensively, he's solidly behind Wall. 
But forget it, the coaches like Rose, that's a lock, whatever. 
But Wall is effectively the same outside shooter, a much better playmaker, has more experience, and is a vastly, and I mean leagues and oceans and worlds and galaxies, better defender. There's simply nothing Irving does that Wall isn't better at at this point. 
It's flummoxing that John Wall keeps having to prove himself despite what he's accomplished, despite no injuries or leadership concerns. But hey, Coach K has done nothing but win with Team USA so it's hard to fault the process. We'll see which guy comes out on top. 
Show Comments
Hide Comments
The veteran guard has spent the past six seasons with the Clippers

The veteran guard had a contract guarantee that would have triggered if he wasn't released...

Griffin has been with the Clippers for his whole career. Is this the end of an era in LA?
The restricted free agent will likely still see significant offers this summer

Texas' Mohamed Bamba and Arizona's DeAndre Ayton also in the top 3 in next year's NBA Draf...

The popular meme will be forever immortalized as a piece of body art