As final decision nears, Sac Mayor Johnson says city deserves Kings
Ken Berger catches up with Sacramento Mayor Kevin Johnson as the final decision on the Kings' possible relocation nears.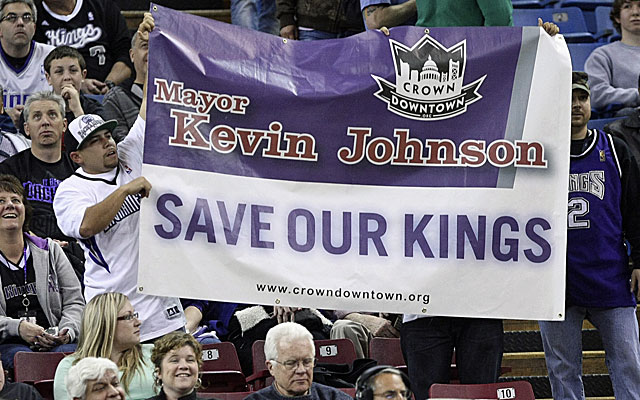 NEW YORK -- The battle over the Sacramento Kings has reached the final stages, with ownership committee meetings set for Wednesday in Manhattan to frame the debate for a final decision on the team's fate later this month: Sacramento or Seattle? What's it going to be?
Sacramento Mayor Kevin Johnson has been leading the city's efforts to keep the team from leaving -- first, for Anaheim and now, for Seattle -- every step of the way during this three-year ordeal. As chance would have it, Johnson had a wedding to attend in New York over the weekend, so fittingly, the old point guard has been in the city for days, just waiting for what could be his final chance to save his city's team.

"It's a culmination of a three-year saga," Johnson told CBSSports.com on Monday night. "We've fought so hard as a community because this is our only basketball team. And you don't want anybody taking away something that's yours when you've done what you needed to do to keep a team there. And it's bigger than basketball for us. It's about jobs, it's about civic pride, it's about an opportunity to revitalize our downtown area.

"It's a defining moment for our city," he said.

Given the unprecedented circumstances over the Kings' fate, the NBA has convened a meeting of a special joint committee of owners -- the combined relocation and advisory finance committees -- to set the stage for a final vote at the full Board of Governors meeting April 18-19.
Johnson and the proposed ownership group from Sacramento will make a presentation, as will representatives from Seattle and the group led by Chris Hansen and Steve Ballmer, who have an executed purchase agreement to buy a majority stake in the team and move it to Seattle as early as next season.

The Hansen group also has put in a bid for the 7 percent of minority shares in the Kings that are in bankruptcy, potentially strengthening its position. But a league source told CBSSports.com that the other minority investors have the right of first refusal and will be exercising that right before Wednesday. Those shares will be part of Sacramento's proposal, not Seattle's.

It's a collision of two cities desperate for membership in the NBA -- one that has had its team slowly pulled out from under it for three years and another that had its SuperSonics shipped to Oklahoma City in 2008. In terms of fans who love the game and yearn to be a part of it, there can only be one winner here. And one loser.

"We have a love affair with the NBA," Johnson said. "We're one of 30 cities that have an NBA team in the world, and we don't want to lose our team."

Sacramento's incredible efforts -- led by Johnson -- to match the strength of the Seattle offer have thrown such a wrench into the once-seemingly inevitable relocation of the team that it isn't even clear how Wednesday's meeting will be conducted. What will owners be deciding? What will they be voting on in a couple of weeks? The proposed relocation to Seattle, or the sale of the team to Hansen and Ballmer? Or both?

"I think the NBA is trying to figure that out themselves," Johnson said.

That's one key reason the committee meeting was scheduled in advance of the April 18-19 vote, to clarify the issues and how, exactly, owners will tackle them. Whatever they decide, the owners choosing between Seattle and Sacramento will never be able to say with a straight face that Johnson and his city haven't waged one of the biggest comebacks in NBA history.

After shutting down the Maloofs' path to Anaheim by pushing through terms of an arena deal at 2012 All-Star Weekend in Orlando, Johnson was double-crossed when the Maloof family later backed out of it. Though this signaled to Johnson that the Maloofs "didn't want to be in Sacramento no matter what we did," he said, it didn't stop him. The Maloofs also never answered the two key questions that Johnson kept posing to them.

"Were they willing to sell?" Johnson said. "And, if they were, what would be their price?"

Johnson finally got both answers on Jan. 9, when terms of an agreement to sell 65 percent of the team to the Seattle group for $340 million -- based on a $525 million valuation -- became public.

"We instantly went into an offensive mode to identify an ownership group and got an arena plan done," Johnson said, "and were able to make both of those happen in record time."

Sacramento's proposed ownership group initially consisted of Mark Mastrov and Ron Burkle, two men who are no strangers to the pursuit of NBA ownership -- no strangers to commissioner David Stern and the other owners.
In the weeks since, two other key equity investors have emerged: software magnate Vivek Ranadive and Paul Jacobs, CEO of Qualcomm. On Twitter, where everything happens, Johnson called the group "a true Dream Team."

Ranadive is the founder and CEO of TIBCO, a multi-billion-dollar software and cloud-computing company. He partnered with Joe Lacob and Peter Guber in a successful bid to buy the Golden State Warriors from Chris Cohan -– outbidding Mastrov on that transaction. He also would be the NBA's first owner from India, a market that the league is committed to exploring and expanding over the next decade. Ranadive would divest his minority interest in the Warriors if the Sacramento group is successful.

Last week, the Sacramento City Council approved terms for a $448 million downtown arena, with $258 million coming from public contributions. So, in barely three months, Johnson has galvanized four titans of industry to make a serious competing bid for the team while steering an arena deal through the City Council for the second time.

"We know what's at stake, and that's why our community has stepped up time and time again," Johnson said. "And that's why we're at the point where we're at the end of this process and the city is ready for an ultimate decision to be made. There have been three acts, and we think this is the last act of a saga that's gone on for far too long."

No one is rooting against Seattle here; at least no one who remembers the devastating way the SuperSonics were sent packing for Oklahoma City. But it's impossible to ignore that Sacramento has done what Seattle couldn't do in 2008. Sacramento has done everything it has been asked to do.

"It would be unprecedented to move a team from one city to another when the fans support the team and the city is building a new arena," Johnson said. "It has never happened in the history of the NBA."

The owners will not be voting on emotion. They are businessmen, and this is business. And though Johnson said he does not believe Stern wants a bidding war -- "I don't think that's in the best interests of the league or either city," he said -- that's very well what this could become. Life, as Stern often points out, is a negotiation.

But while it can be argued that the owners would do better financially if the team moved -- by virtue of the gargantuan relocation fee that they would reap -- there is a greater precedent at stake. It's called leverage in future negotiations.

Unless you haven't been paying attention, this will not be the last proposed relocation of an NBA franchise. The merry-go-round keeps spinning in Stern's NBA, even in the final months of his tenure. The next troubled market will be commissioner-elect Adam Silver's problem, and the ground rules for solving it will be established in the next two weeks with the outcome of this Sacramento-Seattle saga.

The leverage that sports leagues and owners have long held over cities has been the following threat: Build a new arena for us, or we're leaving. So what happens if Milwaukee, for example, receives such a threat several years down the road? And what happens if Milwaukee says, "Sacramento was ready to build you a new arena, twice, and you moved the team, anyway. Go threaten somebody else."

"That's why it would be a bad precedent," Johnson said. "It would be a horrible precedent for the NBA to do that. We've met every benchmark, every milestone, every goal, every objective, everything that has been laid out -- we've met. And you just don't do that to a community that has done everything you've asked of it."

As Johnson prepares for Sacramento's final stand, amid the subtle signs of springtime in New York, he can step before the owners knowing he has done everything in his power. He's held up his end of the deal.

A book about all this is there for the writing, I told Johnson on Monday night, but the fearless mayor of Sacramento quickly corrected me.

"It's got to have a good ending," he said, "for me to think about writing a book."
Show Comments
Hide Comments
The playoffs are getting interesting

The Cavs and Warriors have both swept their first-round opponents

Our NBA experts predict the first round of the playoffs
Our experts predict every series in the 2017 NBA playoffs

Golden State swept the series, 4-0

Looking to complete the sweep, the Warriors came out on fire against the Blazers