As NBA trade deadline looms, there are many ways to become a seller
Three teams stand alone in a multi-city trend that has exposed the curse of unexpected success followed by utter failure: The Phoenix Suns, Milwaukee Bucks and New Orleans Pelicans.
SANTA CRUZ, Calif. -- As team executives wrapped up their annual pilgrimage to the D-League Showcase this past weekend, looking for a prospect and maybe a trade, a common theme emerged.
As trade season began to warm up in "Surf City," the focus -- as usual -- was on the handful of teams that have gotten sideways. Some, like the Lakers and Sixers, are at the bottom of the standings on purpose -- or, at least by their own doing. But the trade deadline was created for teams that find themselves dwelling in the bottom unexpectedly.
A look at some of those teams who are figuring most prominently in the trade chatter reveals an interesting study in how many different ways there are to wind up with a mess in the NBA.
You could be the Brooklyn Nets (10-27), for example, and trade most of your future away in swing-for-the-fences deals that yielded Kevin Garnett, Paul Pierce and Joe Johnson , leaving you with the NBA record for luxury tax payments as your only tangible accomplishment. On Monday, owner Mikhail Prokhorov will explain what happens next after GM Billy King was reassigned and coach Lionel Hollins was fired on Sunday. Behind curtain No. 1 is Kentucky coach John Calipari, who would give Prokhorov a chance to do what he does best -- throw money at the problem. Calipari reportedly is seeking $120 million over 10 years.
You could be the Portland Trail Blazers (16-24), who saw four starters depart in free agency and trades this past summer and yet are only four games in the loss column out of the eighth playoff spot in the West.
You could be the Washington Wizards (16-19), who league sources say are hoping to put together a rare 10-12 game stretch at or close to full health before deciding whether they're going to be sellers in the trade market with the deadline approaching Feb. 18.
But three teams stand alone in a multi-city trend that has exposed the curse of unexpected success followed by utter failure: The Phoenix Suns , Milwaukee Bucks and New Orleans Pelicans .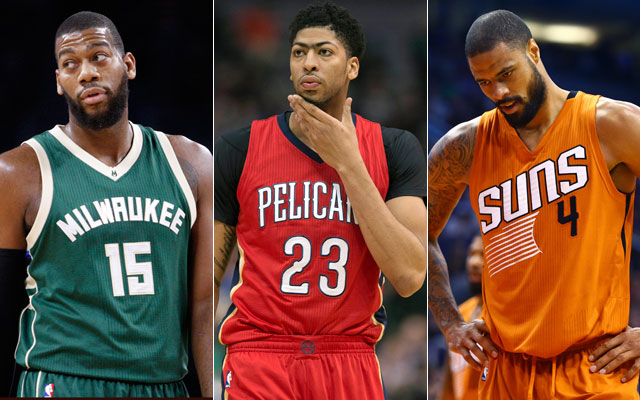 Team

News

Phoenix Suns

It's a tire fire in Phoenix, where the Suns fell for the elixir of an unexpected 48-win season in 2013-14, went for it with a series of moves that deviated from their original rebuilding plan and now find themselves in a state of chaos. In 2013, the Suns traded veterans Jared Dudley , Luis Scola and Marcin Gortat for a collection of young players and draft picks, a tried-and-true strategy for rebuilding. But lo and behold, Phoenix nearly won 50 games and narrowly missed the playoffs.

The organization's posture changed, and its undoing was two-fold, according to rival executives: 1) Signing 33-year-old Tyson Chandler to a four-year, $52 million deal on the belief that the move would entice free agent LaMarcus Aldridge to sign (spoiler alert, it didn't); and 2) Underestimating Markieff Morris ' reaction to his twin brother being traded to Detroit.

Chandler showing up for the Suns' free-agent pitch meeting with Aldridge was great theater. "We walked in and we had no idea what he was doing there," a person who attended the meeting told CBS Sports. "And then they said, 'He's with us now.'" The only problem with this bold plan was that it didn't work. Now with Chandler once again struggling to stay healthy and Morris having diminished any leverage the Suns had to trade him, the Suns are stuck. The shakeup on the coaching staff didn't help, and coach Jeff Hornacek still doesn't have any security beyond this season.

"We are looking at a number of things between now and the trade deadline," GM Ryan McDonough said on Phoenix radio. "We obviously need to make some changes."

As the Suns have learned, sometimes the moves that you have to make to undo mistakes are more costly than the mistakes themselves.

Milwaukee Bucks 

Milwaukee won 15 games in 2013-14, landed Jabari Parker with the No. 2 overall pick and wound up with Jason Kidd roaming the sidelines after Kidd lost a bid for complete control in Brooklyn -- but won a better job with better pay in a better situation. The Bucks landed Jared Dudley, Michael Carter-Williams and Miles Plumlee in trades, won 41 games and made the playoffs. Then came the big coup: signing free agent Greg Monroe . All of it bought the Bucks a ticket back to the bottom, where they're mucking around with a 15-24 record and wondering what went wrong.

According to one rival executive, here's part of it: With a revamped roster and a new coach with new systems last season, the Bucks won a lot of games with the surprise factor. Opponents were expecting to see the 15-win team from the year before and needed time to catch up in the scouting department. Well, they've caught up. The Bucks are 23rd in offensive rating and 29th in defensive rating, another tale of a team taking two steps back after one big step forward.

New Orleans Pelicans

This is the most puzzling example of a team supposedly on the rise bottoming out. The Pelicans increased their win total for three straight years under Monty Williams, topping out at 45 last season and a playoff berth. With rising star Anthony Davis , New Orleans seemed to be on the path to joining the powers in the Western Conference.

But the franchise dumped Williams and hired former Golden State offensive assistant Alvin Gentry, a move that I thought would 1) help the Pelicans, and 2) hurt the Warriors. (Wrong, on both counts.) New Orleans has fallen from ninth in offensive efficiency last season to 18th, and their defense has deteriorated, too -- from ninth-worst last season to third-worst. It's all baked into their 11-25 record, only a few games better than the Lakers, who have admitted that they're intentionally wasting the entire season to honor Kobe Bryant.

Is it injuries? Yes, to be fair, injuries have been a factor. But they were a factor last season under Williams, and the team persevered. According to Basketball-Reference.com, the Pelicans were a combined 55-46 in games missed by Jrue Holiday (25-17), Ryan Anderson (12-9), Eric Gordon (10-11), Tyreke Evans (2-1) and Davis (6-8) -- including four straight wins without the Brow in the February-March playoff push.

Saints GM Mickey Loomis has taken on a greater personnel role above GM Dell Demps, but rival execs understand that move is only temporary. "Mickey is a football guy, not a basketball guy," one exec said. And at the D-League Showcase, the buzz was getting louder that it's only a matter of time before former Pistons executive Joe Dumars -- who has a close relationship with Saints and Pelicans owner Tom Benson -- returns to his native Louisiana to assume control.

That's usually how it works. When someone is assuming control in the NBA, he usually has a mess on his hands.
Show Comments
Hide Comments
Our Latest Stories
This topic is going to be prevalent throughout the NBA season

This hopefully won't derail the start of the second season for the Pacers' big man

Cleveland general manager David Griffin maintains that the team wants Smith back
Whiteside is now their centerpiece and everything after that is up for acquisition and dev...

Life comes at you fast in Miami

The guard retires a one-time All-Star and one-time NBA champion