At forefront of owner-player divide, LeBron James' power is put to the test
LeBron James is between a rock and a hard place. And how ironic that he may go back to an owner in Cleveland that has helped put him in a no-win situation.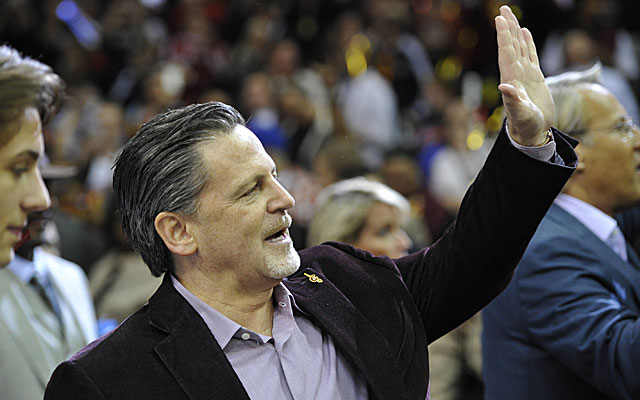 More on LeBron: James' free agency page | Doyel: NBA revolves around LeBron
A few months before the start of the 2011 lockout, LeBron James attended a bargaining session during All-Star weekend in Los Angeles. Like much else that occurs in the NBA, the event was unremarkable except for LeBron's presence.
In the meeting, sources told CBSSports.com at the time, James was among the most vocal players in a room populated by All-Stars. His target: a group of hard-line owners that was beginning to take shape in an effort to slash the players' share of league revenues and place even more restrictions on big-spending teams' ability to acquire free agents.
"This has been a 57 percent system for years," James said, according to a person who was in the meeting. "This has been a system with guaranteed contracts forever. What did you guys expect? What did you think you were getting into?" 
Leading the charge in that group of hawkish owners was Cleveland Cavaliers owner Dan Gilbert, still devastated by James' departure from Cleveland to team up with Dwyane Wade and Chris Bosh in Miami. As the lockout meandered through its five months of misery, and the players' share of league coffers dwindled from 57 percent to about 50 percent, joining the Cavs in the hard-line trenches were Atlanta, Charlotte, Milwaukee, Memphis, Philadelphia, Washington, Portland and Minnesota.
One of James' key protests has proved prophetic, as seven NBA franchises -- the Sixers, Pistons, Pelicans, Grizzlies, Kings, Bucks and Clippers -- have been sold since 2011. Even when excluding the astronomical $2 billion price for the Clippers, whose sale is being held up by legal action, the prices keep escalating. The average sale price for the four franchises that have changed hands since the end of the lockout -- New Orleans, Memphis, Sacramento and Milwaukee -- is $450 million.
There's no question the 2011 collective bargaining agreement has made the NBA more profitable as a whole -- though, I'm sure in three short years, when each side can opt out of the deal, we'll hear about how the NBA still doesn't have 30 profitable franchises. Global interest in the game is at an all-time high by any metric, and the players as a whole are doing better than ever. With their 57 percent share of a $3.8 billion pie in 2010-11, the players' salaries and benefits were worth $2.17 billion. By the end of the current deal, the NBA will be a $5 billion business -- and the players' 50 percent share will be $2.5 billion.
But superstars like LeBron (and really, there's only one superstar like LeBron) have never been more restricted. The ultra-punitive luxury-tax penalties that caused Heat owner Micky Arison to amnesty Mike Miller last July were pushed by the hard-line owners, including Gilbert. The very restrictions that have hamstrung Pat Riley's efforts to upgrade the roster so the Big Three stay emerged from the persistence of hawkish owners who wouldn't give in.
So while franchise values soar, revenues rise -- the 2014-15 cap went up 7.5 percent to a record $63.065 million, the NBA announced Wednesday -- and more teams enjoy profitability, the stars who drive all that revenue are expected to "take less" or "sacrifice" to team up with other stars or keep their superteams together.
An argument can be made that those provisions are good for the league from a competitive standpoint, and there's no denying that the NBA's resulting hot-stove madness is driving year-round interest in the sport like never before. But that is not instructive to this discussion, which revolves around LeBron and his decision.
Much has been made of the scathing letter that Gilbert wrote in 2010, in which he called James' decision to leave "a shocking act of disloyalty" and a "heartless and callous action." As the Cavs have added another No. 1 pick, Andrew Wiggins, to the roster and cleared the cap space necessary to lure James back, the letter no longer loads on the team's website.
But while personal mending would have to occur between James and Gilbert, that letter isn't the crux of his decision of whether to reverse his departure from Cleveland four years later. As J.A. Adande of ESPN.com so eloquently put it here, it's bigger than that -- going straight to the issue, laid bare in the 2011 lockout, of the gap in trust between owners and players.
Gilbert, of course, voted for the 2011 CBA. Arison was among five owners who voted against it.
Be that as it may, if James leaves Miami and returns to Cleveland to work again for Gilbert, it would be an unprecedented story of redemption and two-way forgiveness. Much more than that, though, it would be a remarkable capitulation from the league's biggest star in his unique position as the pre-eminent force on the players' side of owner-player relations.
As owners' pockets are more flush than ever, why should the game's biggest star take a substantial pay cut to keep teammates with whom he's won two championships and competed in four consecutive NBA Finals, and to add more role players? The alternative seems even less appealing. Would he abandon the superteam he helped form under the old rules because the new rules are so prohibitive -- and go work for one of the owners responsible, for $30 million less?
Let's not forget, in the NBA's post-lockout world, James can get a five-year, $119 million deal to stay in Miami but only a four-year, $88.4 million deal to go to Cleveland, or anywhere else with max cap room next season.
So what's taking James so long to make a decision? The CBA imposed on him by Gilbert (and, to be fair, 24 other owners who voted for it) has him stuck between a rock and a hard place. This isn't just Arison vs. Gilbert, or every member of the Big Three for himself. It's the fundamental clash between players and owners, and James is the litmus test.
Just as he was during that 2011 pre-lockout meeting in Los Angeles, he's the most important man in the room.
There are other factors, to be sure. James is on an aging team in Miami and would be on a young, rising team in Cleveland. According to one Eastern Conference executive, members of James' close circle of advisers had the run of the place in Cleveland for seven years, but have not enjoyed nearly as much influence with the Heat. 
For James, there is also the known factor of coach Erik Spoelstra, warts and all, vs. the unknown of Cavs coach David Blatt. James has not taken or scheduled meetings with any team besides the Heat during the 10 days of free agency, and a person who knows all parties involved told CBSSports.com Thursday that James' agent, Rich Paul, has never met Blatt.
So if James returns home, it may amount to an exercise in self-preservation -- and there's that word again, sacrifice. Foiled by the CBA in their attempts to keep the band together, the Heat would be forced to watch James pass up millions of dollars, Riley's championship pedigree and his own hand-picked star teammates for what he views as the best of some unappealing options.
Maybe James is buying more time for Riley to pull a trump card out of his pocket, such as refreshing the roster through sign-and-trades involving some Heat free agents. Maybe he can limit his capitulation by signing a three-year deal, perhaps with a player option after the second year, so he can re-evaluate the landscape one calendar year before the next potential work stoppage. At that point, with the good times still rolling and a lucrative new TV deal in place, perhaps James will have the clout to change some of the circumstances that have hemmed him in.
For now, in the post-2011 NBA, trump cards are not what they used to be and options are limited. As always, James is right in the middle of it -- the most powerful guy in the room with little to show for it. 
Show Comments
Hide Comments
Will Iggy stay with Golden State? Does anyone have any idea what to do with Derrick Rose?

Hoiberg was asked about Isaiah Thomas possibly carrying the ball during Game 5

Celtics point guard does not need anyone to hype up his defense
The Bulls had it, they had it ... and ... it's gone

The Bulls found they were without hot water following their Game 5 loss

Wall finished with 20 points and 14 assists in win over the Hawks