Baseline Awards 2.11.13: Envisioning a Point Guard of the Year Award
Examining what a Point Guard of the Year or Shooting Guard of the Year race would look like.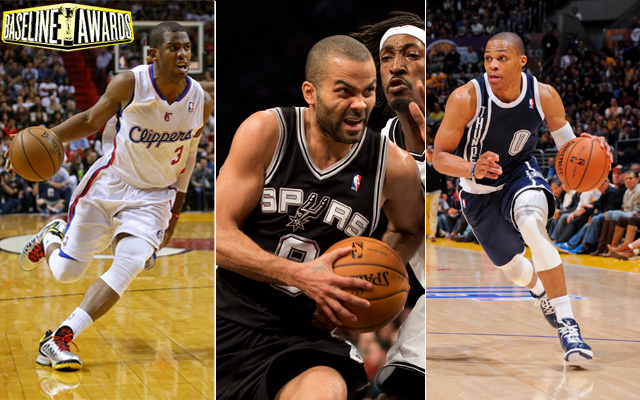 The best point guard in the league? Tough race.
(Getty Images)
Do we even need positions anymore in the NBA? The Heat roll with two guards and three forwards. The Celtics sometimes go with a guard and four forwards. I'm not really sure what Denver's players' postions are, but I know that George Karl talks about Danilo Gallinari and Wilson Chandler playing the four.
This isn't a recent development, teams have been stretching the boundaries for years. We've debated redefining positions for years, a pointless, but pretty fun exercise. Wings, slashers, cutters, bigs, lows, highs, all manner of teriminology has been used to spin some form of accuracy in discussion.
But coaches at every level are going to hang on to the same system. And the traditional PG-SG-SF-PF-C model does thave some advantages. But here's a question. Why are there no awards for specific postions? Well, the answer is because very few people would notice and the NBA has enough awards as it is. But because I love to delve into hypotheticals, and you, the reader, generally like to argue over worthiness of players in position of ranking, we should go on.
So over the next few weeks, we're going to be imagining what a "(Position) of the Year" award would look like. We begin this week with the guards.
Let's imagine you had the Point Guard of the Year, awarded for overall excellence in pursuit of the position's role. Now you don't define what that role is. That's how you create those debates that drive conversation, which lead to people watching games, which lead to the owners having their pockets lined, which they'll of course forget about when the next lockout comes around.
But everyone has their own idea of what a point guard should do. Most are going to say passing. Some are going to say running an offense (that's where I land). Many are going to say, simply, "best player at position listed."
But I think there's something to be said for performing the duties prescribed by where you're put on the floor... except that often, players aren't asked to do what their position prescribes. Do you dock a scoring point guard for scoring because you think they should pass?
And what about Rajon Rondo ? Lord -- what about Rondo? Do you punish a point guard in a point guard award for passing too much?
These questions are complicated, unanswerable, and will undoubtedly devolve into the worst kinds of caps-lock diatribes and mindless assertions.
But wouldn't it be fun to debate?
Let's see what these position awards would look like.
Point Guard
No.1: Chris Paul
No.2: Tony Parker
No.3: Russell Westbrook
Honorable Mention: Kyrie Irving , Tony Parker, Stephen Curry
Maybe the easiest to award the top spot, but maybe the hardest to suss out the rest. Point guard in the NBA is the deepest and best position at the moment. Nearly half the teams in the league have a player who could be considered "brilliant" at their position.
But Chris Paul has clearly separated himself as the top point guard in the league. With Rajon Rondo excluded due to injury, Paul is the best pure passer in the league. His control over the offense is surgical. Watch him run the pick and roll. He has a mastery over it that few guards have. He's become better at it than Steve Nash .
From there, though the question becomes very interesting.
I consider, in all honesty, Kyrie Irving and Russell Westbrook to be more impactful players than Tony Parker. They're able to take the game over in a way that Parker is not. Their individual talents, be it athleticism, shot-making, creativity, put them at a higher level than Parker this season.
But a point guard? Parker commands the best offense in the league. Even if Oklahoma City's is the best according to the metrics (110.3 per 100 possesssions) and San Antonio's is only fourth (107.3 per 100 possessions), the Spurs' offense is widely regarded as the toughest to defend. They simply force you into too many impossible decisions.
Now while the perpetual motion of the offense does take some shine off Parker's performance (the system largely runs itself), Parker's control of it is what makes it work so effectively. The Thunder run a lot of isolation, and relies on its athleticism, even when creating shots. Parker's control of the offense in San Antonio makes him the superior choice over Westbrook and Irving.
Irving's an interesting question, though. It's not difficult to argue that he has the fewest weapons of any player on this list (look at that roster) and yet his numbers are spectacular. But Irving is forced to create so much on his own that putting him among these other point guards is difficult. Consider that Westbrook has a 40.1 assist percentage this season (percentage of available assists), while Irving has a still-great mark of 30.6. You can definitely envision Irving as a top-two point guard in three years, but at age 20, with this roster, he slips.
Stephen Curry gets a nod here, but is primarily a scorer, and while his passing is better than you might expect, it's not enough of a weapon to vault him over the others.
Shooting Guard
No.1: Kobe Bryant
No.2: James Harden
No.3: Dwyane Wade
Honorable Mention: None
This one, pretty cut and dried as to the top three. The shooting guard crop in the NBA is pretty awful at the moment. There are great defenders ( Andre Iguodala , Tony Allen ) and terrific sixth men ( Jamal Crawford ), but for the top guys, it's just these three.
How you suss them out? That's difficult.
In the beginning, I couldn't rationalize putting Kobe anywhere but No. 1. His efficiency has tailed off in recent weeks, but his passing has made the Lakers a better team. And yet, they're still several games under .500. And isn't shooting guard mostly determined by, you know, shooting? If we're going to hold point guards to needing to be able to pass well, aren't we going to put scoring first and foremost up front for shooting guards?
Harden has a pretty strong case in that regard. Let's look at some basic stuff from the three.

Effective FG%: measures effect of three-pointers; TrueShooting%: measures effect of three-pointers and free throws.
Via HoopData.com
I'm using per 40 minutes here, via HoopData, because it matters how you perform when you're on the court. Harden scores 1.6 points less per 40 minutes, but does it on over three fewer shots. But consider that effective field goal percentage is just what you shoot from the field, factoring 3-point percentage, true-shooting percentage factors threes and free throws. You start to see how Harden makes up for the fact that he's behind from the floor.
He draws an insane number of free throws. He gets more than one free throw for every two shots he takes. Now, the fact that he's so reliant on free throw shooting, does that make him better, or worse than the other two?
Bryant scores higher than Harden and Wade, has less talent and a bigger role than Wade, and scores more efficiently from the field. Harden draws free throws better.
If you consider part of being any sort of guard, shooting or not, to be passing, then that bumps up Wade. But Harden is right behind him in assist ratio at 17.79 to Wade's 18.82. (Assist ratio is the number of assists against possessions used). Bryant, despite the recent bump in assists, is still at just 16.28, behind Joe Johnson and then Harden.
Wade's a better playmaker, Kobe a better shooter, Harden a better scorer because of his free throws.
It's a pretty insanely tight race, and that's well before you get to maybe the most important questions, that makes me reconsider everything.
Who do you want with the ball in a crucial scoring situation? And what about defense? Next week, we tackle the forwards.
AWARDS WATCH (No blurbs this week, just the awards)
MVP
1. LeBron James , Heat
2. Kevin Durant , Thunder
3. Carmelo Anthony , Knicks
4. Kobe Bryant, Lakers
5. Chris Paul, Clippers
Rookie of the Year
1. Damian Lillard , Blazers
2.  Andre Drummond , Pistons
3.  Anthony Davis , Hornets
4.  Bradley Beal , Wizards
5.  Alexey Shved , Timberwolves
2. Tony Allen, Grizzlies
3.  Marc Gasol , Grizzlies
4.  Joakim Noah , Bulls
Most Improved Player
1. Jrue Holiday , Sixers
2. Grevis Vasquez, Hornets
3. Larry Sanders, Bucks
4.  Blake Griffin , Clippers
5.  Paul George , Pacers
1. Jamal Crawford, Clippers
2.  Kevin Martin , Thunder
3.  Jarrett Jack , Warriors
5. Ray Allen , Heat
Coach of the Year
1. Scott Brooks, Thunder
2. Gregg Popovich, Spurs
3. Erik Spoelstra, Heat
4. Mark Jackson, Warriors
5. Mike Woodson, Knicks
Executive of the Year
1. Bob Meyers, Warriors
2. Billy King, Nets
4. Danny Ferry, Hawks
Show Comments
Hide Comments
Iverson clapped back at Tim Hardaway for his claims that The Answer carried the ball

Riley signed Bosh to a five-year, $118M contract back in 2014

The Grizzlies take on the Spurs on Wednesday night in a pivotal Game 5
It's not all about Stephen Curry and LeBron James being awesome -- we knew that already

Riley says he had a close friend who "talked him off the ledge"

Bryant continues his interesting post-retirement appearances