Baseline Awards 3.26.12: Third Quarter Awards
The Baseline Awards are handed out every week for the best and worst in the league. This week we review the NBA's third quarter and see how great the Bulls have been the past month and half.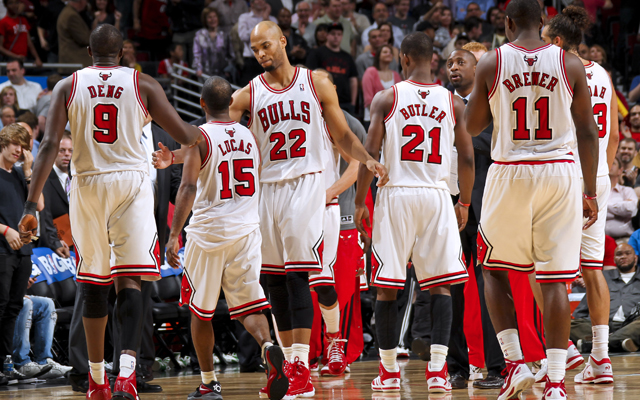 The Bulls were the best team in the league in the third quarter of the season.
(Getty Images)
Three quarters through the year and this season has flown by. The compacted schedule means that every week the narrative shifts radically. The Clippers were playing fine if not great a month ago and were in abject freefall until their win over the Grizzlies on Saturday. The Heat have dominated most of the season but all of a sudden have huge blemishes on their resume. It's just that kind of year and it's going to make for a playoff season that is largely unpredictable outside of the first round.
So we look back at the third quarter and hand out some awards as well as cover our weekly honors in this edition of the Baseline Awards.
Eastern Conference 3rd Quarter MVP: Dwight Howard
What player had a bigger impact on this quarter? Howard actually had arguably his best quarter this season, sixth in points and first in rebounds and blocks from the 33rd game on.
He saved Orlando's season by opting in for the 2012-2013 season, simultaneously leveling the Nets and potentially spelling the end of Deron Williams' tenure there. He dominated headlines and his team won a huge number of games. Howard drove us nuts with his indecision and flip-flopping, but in the end came out behind the team that drafted him, at least for another few months. It was all Dwight all the time on and off the court for the Magic.
Western Conference 3rd Quarter MVP: Kevin Durant
The Thunder have been the most consistent team in the West, and that's a hard thing to take away from the Spurs. Durant is the biggest reason why. He's become the player fans and analysts hoped he would when he was drafted. No longer just a jump shooter, he's a player who can take over the game for long stretches, not just at the end, but his defense is the biggest improvement.
In the third quarter we saw him lock down on some of the league's best, and it's those extra possessions he's creating off turnovers and defensive plays that are helping the Thunder separate from the rest of the league. Durant is at another level this season and in the third quarter put himself in the top two for the best players in the
NBA
.
Best Team of the Third Quarter of the Season: Chicago Bulls
This is more complicated than just wins and losses. You could have a team with more wins but a weaker schedule, against teams without their stars, or who just didn't look like they played well and they could have gotten this award.
In this case, the team with the best record won.
The Bulls went 15-2 in this last quarter of the season. FIFTEEN. AND TWO. And Derrick Rose played in just 11 of those games. They have been monsters on defense, allowing the second lowest effective field goal percentage and owning the boards as the best team in offensive rebound rate.
Thibodeau has probably put himself in the driver's seat for a consecutive Coach of the Year award. To have done all this while missing Rose is exceptional. The Bulls are sharing the ball, getting contributions from everyone and overwhelming their opponents with hustle. If they can integrate Rose and keep up this kind of approach, it's hard to see anyone, including Miami, beating them in anything other than the final minutes of a seven game series.
Best Defensive Player of the Third Quarter of the Season: The Bulls' second line
A lineup of John Lucas III, Kyle Korver, Luol Deng, Taj Gibson and Omer Asik allow just a 37.8 effective field goal percentage (factoring 3-pointers; basically you should be at about 50 percent or better). They rebound better than their opponents to a significant degree, collecting 38 percent of their own misses to create extra possessions.
Asik is going to get paid a lot in free agency and Gibson has been a viable sixth-man-of-the-year, non-Harden-division candidate. They simply destroy the opponent with hustle and precision and any team that faces Chicago is in for a rough stretch defensively with their combination of size, length, and athleticism.
Biggest Disappointment, Third Quarter of the Season: Los Angeles Clippers
It would have been so much better of a story had the Clippers been a force. A potential Staples Series should be the stuff of legend. Instead the Clippers look lost, as Vinny Del Negro desperately clings to his job and the defense falls apart.
They've had the 9th worst defense over the past 17 games and while Chauncey Billups certainly explains some of their problems, it doesn't excuse all of them. This team has been spiralling downward since a big win over the Thunder nearly two months ago and they need something to get them out of the water.
Weirdest Storyline: Dwight's Mind
He's in, he's out, he's back in, no, he's back out, wait, no, he's back in. Dwight Howard went from demanding a trade to offering to opt-in for next season to telling teammates he was either all-in for this season or next, depending on who you ask, then he pulled back out, then he finally committed.
Basically, after all this drama, Dwight Howard had the Magic win two games, and suddely changed his mind. He went against the advice of people close to him, without mentioning specifically who (his agent and manager are the two most rumored). And he did all of it at the very last minute.
What a weird year for the Magic.
Dumbest Highlight: JaVale McGee
He ran the other way
. That's all I got.
And now for this week's weekly awards.
Eastern Conference Player of the Week: Joe Johnson
I'm pretty big on efficiency. I think my track record is clear on that. And over the past week, Johnson is just 43 of 93 at 46 percent. Good, not great. He scored 116 points on 93 shots, that's not spectacular on any level. But consider this. Johnson played in five games this week, logging over 207 minutes, 41 minutes per contest. The Hawks had a back-to-back-to-back over the weekend, with Johnson playing over 40 minutes, over 30 minutes, and then in a quadruple-overtime game Sunday against Utah, over 55 minutes.
That's above and beyond the call of duty, especially considering Johnson's usage rate. There's something to be said for giving that much to your team, especially as the Hawks won 4 of 5, all three of the back to back, in the midst of a tough playoff series.
Go Joe. Or, well, don't. You should probably sit down for a while after all that.
Western Conference Player of the Week: Kevin Love
With Ricky Rubio out, the Wolves have had to go back to last year's formula for winning games: have Kevin Love be awesome. The big guy is living up to the demands. Love dropped over 30 points in three of the Wolves' four games this week, including 51 points in a loss to the Thunder on Friday. What's more, as a perimeter scorer half the time, he shot over 55 percent from the field in three of those contests.
Oh, and he rebounded in double-digits each game, like he did Sunday in another 30-20 game, scoring 30 points with 21 boards. It's getting harder and harder to ignore Love in the MVP conversation.
Dominator Award: Tyson Chandler
Chandler's on pace for the highest True Shooting percentage in history, and it's been his resurgence defensively that's pushed the Knicks to a higher level. He's closing off lanes, finishing alley-oops, benefiting from the attention drawn by the stars, everything he was brought in to do.
Chandler is probably the Knicks' MVP if we're getting down to it.
The Horde Award for team you should fear: Chicago Bulls
If you can't beat them without Rose, how are you going to beat them when the MVP gets back?
Cub Scout Troope Award: Team you should not fear: Denver Nuggets
We'll never know if the crazy, athletic, free-wheeling Nuggets fell apart because of the trade of Nene, injuries to Danilo Gallinari and others, or just because they couldn't sustain, but they've hit the wall, hard. Denver has few answer and after a loss to the Wolves Sunday, it's looking more and more like Denver could be the odd team out in the West.
Blog of the Week: Bright Side of the Sun
If you're looking for a blog about the hottest team in the land, you can't go wrong with Bright Side. Featuring strong ties to local media and a diverse range of voices, Bright Side of the Sun on SBNation's network is a blogger's blog. Long-form essays, stat breakdowns, great game recaps, and a strong community make for one of the best overall blogs in the land.
Award RankingsMVP1. LeBron James:
I said earlier this year it would take a massive fall-off from James for the last month and a huge push from Durant for LBJ to not win this. The pattern has started, but James holds on for now. It should be noted that when James injured his elbow a few games back, it was the same one that he hurt in the 2010 season which severely limited him against Boston in the "Quit" series.
2. Kevin Durant:
He's not just scoring, but passing, rebounding, creating and defending. Durant has become the all-around product as well as the game's most lethal scorer. There's no way to stop him this year.
3. Kevin Love:
With injuries to Derrick Rose, Love is going to take this spot. You just can't overlook what he's doing with the Wolves. He's the only guy in the league that is a consistent 30-20 threat every single night, and that's just too much production to ignore especially with the Wolves hanging around in the playoff race.
4. Derrick Rose:
Get well soon, DRose. Your team hasn't needed you yet, but we miss seeing you slice and dice.
5. Dwight Howard:
Same old dominance from Howard. If he'd been a little more plugged in defensively this season, he would probably be in the top three.
ROY1. Kyrie Irving:
Irving is shooting 63 percent in the restricted area on 76 attempts. He has the third most makes at the rim of any player in the league in the 4th quarter and he's a guard. You can't stop him from getting to the rim in the final frame.
2. Ricky Rubio:
Still miss Ricky.
3. Isaiah Thomas:
Thomas has been a lightning bolt for the Kings, suddenly making them relevant. He's not getting enough publicity after converting Mr. Irrelevant status into a starting job and making the Kings' offense make sense for once.
4. Klay Thompson:
Goodbye Monta, hello Thompson. The young sharpshooter is averaging 18 points and is a crack shooter from the outside. The Warriors found themselves a long-term solution at the 2-guard.
5. Kenneth Faried:
Manimal smash!
Coach of the Year:1. Tom Thibodeau:
Doug Collins has done such a phenomenal job this season, but the Sixers' collapse along with their struggles in late game situations means Thibodeau is going to take this. He's managed to win the most of any team in the league with significant injuries to his two best players. Thibodeau is a mad genius.
2. Doug Collins:
It's not Collins' fault the way the schedule worked out. But their inability to close games like their disaster against New York last week is.
3. Greg Popovich:
What can we say that hasn't already been said? Simply the best coach in the league right now, factoring history.
4. Lionel Hollins:
Quincy Pondexter, Mareese Speights, and Gilbert Arenas are key contributers to this team and they're in line for homecourt advantage in the first-round conceivably. Antoher amazing job by Hollins in a follow-up to last year
5. Larry Drew:
Yeah, I said it. The Hawks have done all this without Al Horford. Larry Drew deserves credit.
Show Comments
Hide Comments
A fantastic series will pit two of the best players in the league against one another, aga...

What does this mean for the future of Paul George?

Father's dream of his own billion-dollar brand prevents his son from landing a deal with the...
Will the Celtics, Jazz and Wizards all advance Friday night?

The Spurs and Raptors are the latest to move on from the opening round

Our NBA experts predict the first round of the playoffs