Baseline Awards: Early Defensive Player of the Year leaders
Roy Hibbert is a beast, and these other guys are good at defense, too.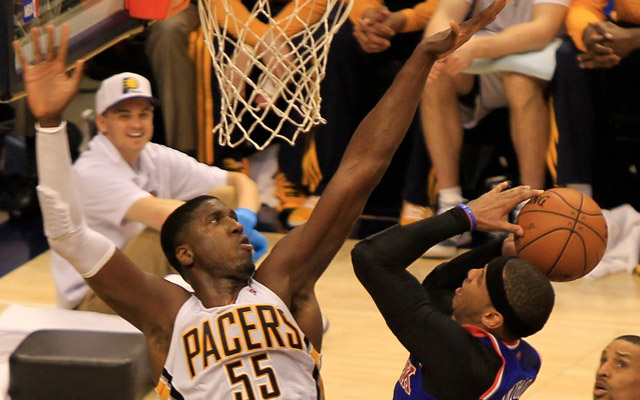 There are two truly great defenses in the NBA. The Pacers, and the San Antonio Spurs , not coincidentally the best teams in the league record-wise, hold the best marks. And if you're looking for the best defensive players in the league early on in this season, that's a great place to start. Both teams present the complication of having terrific team defenses. And that's the reality. In today's NBA, you shouldn't win DPOY without a good defensive system, because the rules make it too difficult otherwise.
The players make the system, and the system makes the player. Blocks and rebounds are vital to the makeup of a good defense, but they're not the core of modern NBA defense. Dwight Howard learned early in his career to rebound and block shots, but didn't become DPOY until he learned to work within a defensive framework for Stan Van Gundy.
Five of the players in this top-10 list are from those two top teams. The rest from other top units.
And for the successive second year, Dwight Howard has yet to make an appearance. I do truly believe that Howard has actually been better than he has been given credit for, the Houston Rockets simply are so bad on the perimeter that they require more than he can give. In flashes and bursts, Howard has been dominant. But he hasn't made the impact the other players on this list have.
I think Howard can help get the Rockets back to a good enough place that he returns to the list. But for right now, he's off. Here are the contenders for the defensive throne.
1. Roy Hibbert , C, Indiana Pacers : This really isn't close. Joakim Noah 's been great. Marc Gasol actually wasn't playing that well before the injury and the injury makes it irrelevant. You can throw out anyone you like, including two of his teammates.
But what Roy Hibbert is doing is insane. Let's start at the team level. Among all players playing at least 25 minutes per game, Hibbert is No. 1 in defensive rating, points his team allows per 100 possessions on the floor. Individually, that metric is insanely flawed (Al Jefferson is 11th in this for starters). But just put that one in your back pocket and hold onto it.
The NBA's new SPORTVU data has information on opponent's field-goal percentage at the rim. Hibbert is No. 2 in that category as well, allowing opponents to shoot only 35 percent on him at the rim. (Among players playing 25 minutes per game and having to defend at least five times a game there.) He's No. 1 in blocks and block percentage, and No. 1 in defensive win shares.
He is the mountain that blocks out the sun. He's a human eclipse. He is the end of days. Pack it up, we're done with the leader competition. Everything else is second.
No, seriously, everything else is so far behind, I'm not even going to rank them. Consider these guys in no particular order.
Serge Ibaka , F, Oklahoma City Thunder : I'm a longtime critic of Ibaka's. The man gets votes because he blocks a lot of shots and gets a lot of rebounds for a good team.
But for my money, this season, Ibaka legitimately has been the second-best defender on the floor. He's defending at the rim better, and he has become much, much better in space. When you're the rebounding and blocking force he is and you stop falling for pump fakes (and start getting real), you actually belong in the conversation.
He's also taking on a lot more responsibility this season for one of the better defenses in the NBA. He's no longer merely an additional component, he's more of a centerpiece than ever.
He's in there with other guys on this list, but if I had to pick a runner-up right now, it's Ibaka.
Kawhi Leonard , SF, Spurs: Leonard's comfortable enough to freelance a lot more and the result is him going from the primary ball handler to the dropoff man to disrupt a drive, back to the primary ball handler, over to the corner on the kickout and then blocking the offensive rebound putback attempt and then rebounding it.
So yeah, he's doing some stuff. I thought it would take Leonard another year to get here, but the little things he's doing -- the small swipes at the ball, the subtle deterrence at the elbows, generally destroying the lives of men -- have put him on the list.
Joakim Noah, C, Chicago Bulls : Noah has had a few rough games, so his inclusion on this list isn't set in stone. The Bulls are about to have a depressing five months, so this might be the last time he's on the list; even if they blow it up, they're not trading him.
But he's still a wild man, and an emphatic force on the floor. Noah's coverage of ground is what continues to impress me. He leaps out on the pick and roll, flashes at the guard and then sinks or explodes back to cover the roll man. He positions himself perfectly when helping on drives inside and trying to score over him on offensive putbacks just looks incredibly painful.
His myriad injuries still limit him a bit in space and it's hard to tell how much of this is him and how much of it is Thibodeau, but he's the anchor of a fierce defense, Rose or no Rose, and that deserves credit.
Paul George , SF, Indiana Pacers: Victim of the dreaded split vote. George is maybe the Westbrook to Hibbert's Durant in the defensive game. No, he's not as good, but man, are you missing out if you don't see how great he is.
George pesters expertly on the perimeter and has a knack for driving down sets further in the shot clock than teams are comfortable with. He switches perfectly and can fight over screens while knowing when and how to contest through them. He has become particularly adept at anticipating passing lanes and turning his shoulder to deter on drives without fouling.
He has been a phenomenal player for the first month of the season, and his offense is starting to overshadow his defense. It shouldn't, though.
Tiago Splitter , C, Spurs: I can't believe it, either, but yup, here he is. The Spurs' starting center has been better than Tim Duncan , and Duncan has been pretty freaking good. Splitter has learned to engage players at the rim right when they're at their point of attack, and has stopped getting caught out of position as regularly.
He has become a much tougher one-on-one post defender as well, getting moved by less and staying in position longer. He's more patient and disciplined while also attacking with more force. He's fourth among all players in points allowed per possession and has allowed only seven baskets at the rim in non-post-up situations this season.
Splitter has long been the guy who I thought was the weak link on the Spurs. Instead he's become the strongest interior defender they have.
Tony Allen , G, Memphis Grizzlies : Still the best attack dog in profesional basketball.
Andre Iguodala , F, Golden State Warriors : Andrew Bogut is who everyone talks about on the Warriors defense, but Iguodala hadn't lost a step when it came to his defense before a hamstring injury put him on the shelf.
He has helped the foundation for the Warriors to become a top-10 defense, allowing Klay Thompson to shift to the second-best perimeter threat (much the same way he did with Danilo Gallinari last year in Denver).
Iguodala can switch effectively from threat to threat and helps considerably with containing perimeter penetration, which keeps the pressure off Bogut to contain everything else. It's similar to the relationship between Hibbert and George, but those two have been just slightly better respectively.
Andrew Bogut, C, Golden State Warriors: Bogut and Iguodala have turned the Warriors from a free-flowing, offensive-centric team to a defensive one. If he can stay healthy, he might wind up in contention, but it's going to take a lot to catch Hibbert.
Mike Conley , PG, Grizzlies: Arguably the best defender among point guards. Opposing point guards used to blow by him. Now he corrals them to the driving lanes he wants. He smothers and attacks on pick and rolls. Off the ball, he deflects a world of passes. He has become as valuable as Tony Allen in this regard.
Honorable mention:
Anthony Davis, Omer Asik , DeAndre Jordan : You know what these three guys have in common? They're all incredible defenders now playing on terrible defenses that are going to limit their candidacy.
Davis in particular has been phenomenal, not merely rebounding and blocking shots but attacking passing lanes and causing turnovers with his unbelievably long arms. We thought this guy would make it to the top of the list in a few years. We didn't expect it this fast.
DeAndre Jordan has actually been really good and sound on defense, but the Los Angeles Clippers as a whole are so horrible you simply can't see him winning.
Show Comments
Hide Comments
If this is their real list, some of the names are pretty hilarious

The bucket pushed the Spurs' lead to seven, and the Grizzlies never got that close again

The series shifts back to Washington for a pivotal Game 5
Trade Kanter? Re-sign Roberson? What about Westbrook?

The Celtics and Bulls meet in Boston for a pivotal Game 5

Here is how to watch the Celtics-Bulls series