Baseline Awards: The Durant Dominance
The Baseline Awards are handed out for exceptional and not-so-exceptional events and players of the past week. Award rankings are at the end and, please, watch your step as you exit the ride.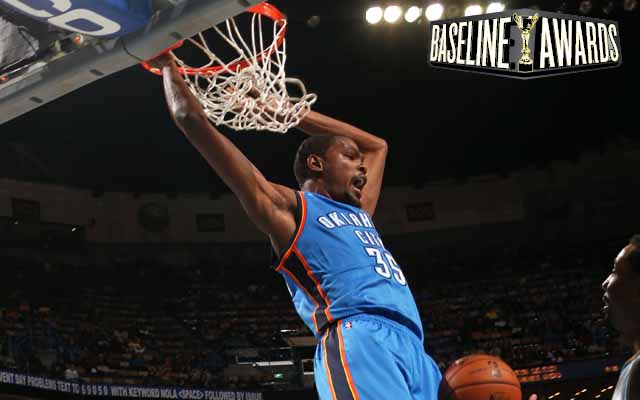 Kevin Durant took over this week.
(Getty Images)
The Baseline Awards are handed out for exceptional and not-so-exceptional events and players of the past week. Award rankings are at the end and, please, watch your step as you exit the ride.
Western Conference Player of the Week: Kevin Durant

Twenty-five points on 14 shots per game. 61 percent from the field (!), 47 percent from the arc, 89.7 percent from the line. Six rebounds, four assists, and 2.5 blocks for Durant this week, and that's about as flawless as it's going to get. Even without a signature win, Durant's play continued to be at just another level this week. The fact that he doesn't need a ton of attempts to dominate a game says volumes about his progression to the next level.
Western Conference Team of the Week: Oklahoma City Thunder
Yes, most of it was on the back of their big game against the Bobcats, but Oklahoma City wound up beating teams by more than 26 points per 100 possessions this week. That included wins over Houston and Utah, who aren't really pushovers. When you consider how well Charlotte has played this year, that win actually looks more impressive. OKC has won five in a row, is 8-2 in its last 10 and is just a half-game back of the top spot in the West.

What beard?
Eastern Conference Player of the Week: David West

The man I refer to as Assassin's Creed: David West had himself a week as the Pacers started to climb out of the hole a little bit before regressing. West averaged 23 points with 10 rebounds and five assists on 59 percent from the field. He helped lead to a big victory over the Lakers and another road win vs. Sacramento. West getting going is huge for the Pacers' season.
Eastern Conference Team of the Week: Brooklyn Nets

They finished the week with a loss to the Heat, their second of the season. But they also hung with the Heat in that game until late in the fourth, an improvement over their first blowout loss. Before that, though, the Nets won three straight, including a huge win over New York last Monday. That was the biggest game of the season for both teams, and Brooklyn out-executing the Knicks deserves some respect. They lost Brook Lopez but still managed to go 2-1 the rest of the week.

Deron Williams and Joe Johnson seem to be getting going. Plus, Joe Johnson did this.
Team whom you inexplicably do not want to bet against under any circumstances: Cleveland Cavaliers

Cleveland is 8-6 this season as an underdog according to TeamRankings.com. The Cavs, without Kyrie Irving, continue to absolutely mistify with their ability to hang, even as they rarely get the victory. Anderson Varejao is a lot of it, but consider how much rookie wing Dion Waiters is carrying of one of the better offenses in the league ... and yet he's shooting 36 percent. The Cavs are mysteriously, bizarrely, one of the most competitive bad teams in the league.
The Unspeakable Award for That Which We Must Never Mention Again
Oklahoma City 114 Charlotte 69. The day the music died. 
The Diana Ross and the Supremes Award for Stops (in the Name of Love)

Gerald Wallace: The work that he put in vs. Carmelo Anthony on Monday was terrific. Wallace is once again having a terrific defensive year.

Andrea Bargnani: No, I'm not kidding. Late vs. Phoenix, he smothered Goran Dragic in isolation on the baseline, then Luis Scola in the post, and got the key late rebound to seal the win. Huge sequence for a player trying to rediscover what worked last year.
Narratives of the Week

Gregg Popovich is a genius. Gregg Popovich rested players. Therefore, resting players is something that genius coaches do.

Gregg Popovich set the world on fire when he rested his starters for a nationally televised game. Didn't just rest them, sent them home a day early. After receiving a $250,000 fine, the Spurs faced the Grizzlies at home on Saturday and defeated them, seemingly proving the validity of Popovich's little move.

(Nevermind that the move was also obviously a swipe at David Stern and the schedule makers, with the Spurs apparently angry that they, like every other team in the league, had a long road trip to contend with.)

But one thing to keep in mind is that in the end, everything worked out as the schedule would typically allow for. The Spurs lost the fourth game in five nights in Miami, and San Antonio defeated a Memphis team that was on the second night of a back-to-back on the road. Was it the rest that the Big 3 received? Or was it more just Memphis running out of steam, as the schedule sometimes dicatates?

In the end, nothing was accomplished except what was statistically probable, and the Spurs lost some dough. If that two-day rest winds up being the difference in a Spurs title, then great for them. But, of course, this is the team that has a quote about the blow that breaks the rock being all that came before and not the last.

The Nets are Kings of New York

When Brooklyn won the Battle of the Boroughs, Episode I on Monday, it was more than a simple victory. It was a statement they had arrived. But the arena was anywhere between 30-50 percent Knicks fans, depending on whom you talk to. The Knicks were without Jason Kidd.

So was this some sort of landmark victory?

Well, kind of. It's complicated.

The Nets needed this win, significantly more than Big Brother Manhattan did. They needed to prove it to a fan base still getting to know them, to a league still trying to understand how good they are. This thing is going to grow and change, but Monday represented their ability to challenge this year. And if they challenge this year with both teams good, and the next, and the next, that's how the balance changes. It's a long road, but Brooklyn's brash approach wound up with a big win. We can only hope we get this one in the postseason to take it to another level.
The Mayan Apocalypse Award for "WHAT?!"

Milwaukee is on top of the division with huge comebacks vs. Boston and Chicago in the past week. Larry Sanders is a block factory, and the Bucks are winning despite relative inefficiency from Brandon Jennings and Monta Ellis. Make. This. Make. Sense.

The Ricky Davis Honorary Award for more field goal attempts than points.

Dion Waiters 64 points on 69 shots

Monta Ellis 62 points on 63 shots

Greg Monroe 54 points on 55 shots

Deron Williams 45 points on 49 shots

DeMarcus Cousins 47 points on 48 shots
Awards watch

MVP
1. LeBron James, Heat: James maintains the top spot only by virtue of tie-breaker as reigning MVP. He and Anthony are obstensibly tied. 
2. Carmelo Anthony, Knicks: The rebounding, the efficiency, the passing! There are signs of regression, but Melo keeps getting it done. 
3. Kevin Durant, Thunder:  It's his restraint that you appreciate, particularly in the face of so many pundits begging him to shoot more. 
4. Kobe Bryant, Lakers: Slipped a bit in the efficiency department, and all these losses are piling up. 
5. Tim Duncan, Spurs: There might be no country for old men, but there's a spot on this list for one. Duncan has been dominant. Not surprisingly good, dominant. You know, when he actually plays. 

ROY
1. Michael Kidd-Gilchrist, Bobcats: The only rookie outside of Anthony Davis who looks great at both ends and is getting the confidence to make big plays in key moments. 
2. Harrison Barnes, Warriors: Still shooting efficiently and has been a big part of Golden State's successful run. Shouldering a big load with the injury to Brandon Rush.
3. Damian Lillard, Blazers: Lillard's going to wax and wane with his shooting percentage.
4. Anthony Davis, Hornets: Seriously, get well, Unibrow. 
5. Andre Drummond, Pistons: Well, see the reason that Andre Drummond isn't playing in lineups with Greg Monroe is... wait, there's no reason that Andre Drummond isn't playing in lineups with Greg Monroe. 

COY:
1. Lionel Hollins, Grizzlies: The fact that Hollins actually played his schedule and nearly took down San Antonio on the road in a back-to-back says more than the loss does. 
2. Mike Woodson, Knicks: Injuries are hitting them, the offense is starting to regress, and yet Woodson keeps the team on the winning side. 
3. Gregg Popovich, Spurs: Say what you want, the man's got stones. $250,000 stones, to exact. 
4. Vinny Del Negro, Clippers: Del Negro's development work between Chicago and L.A. has been incredible.
5. Mike Dunlap, Bobcats: I'm keeping him on here despite that abomination vs. the Thunder. Outside of that nightmare, the Bobcats remain very competitive. 
Honorable mention: Larry Drew, Hawks 

6MOY
1. Jamal Crawford, Clippers: Shooters will shoot. His effiiciency isn't quite as blistering but the effect on the defense remains the same. 
2. Carl Landry, Warriors: His defense is still poor, but he just overwhelms with effort.
3.  Kevin Martin, Thunder: How much fun is Kevin Martin having right now? After all that struggling in Sacramento and Houston, he's in the perfect spot. 
4. Ray Allen, Heat: Does not look over the hill ...
5. Ramon Sessions, Bobcats: A 20-5-6 per 36 minutes line, and he's finishing games strong for Charlotte.  

DPOY
1. Tony Allen, Grizzlies: Not a defender on the planet who provides more pressure. 
2. Nick Collison, Thunder: It's about time Collison got the respect he deserves.
3. Andre Iguodala, Nuggets: Smothers the opponent in nearly every set they run.
4. Andrei Kirilenko, Timberwolves: Third in points per possession allowed this season.  
5. Lavoy Allen, 76ers: Allen remains the bedrock for the Sixers' stout defense. 
Show Comments
Hide Comments
The commissioner's infamous veto of the Paul trade could have been different

Warriors are intent on keeping a mind like Jerry West around

LaVar has always been proud of his son, which Magic says isn't a problem as long as it doesn't...
Curry was cookin' on the pan and stole the show when she took over the mic

Shaq says LeBron isn't comparable to any one legend, rather a mixture of several greats

Kevin Love says the Cavaliers are on the same level as the Warriors: 'We match up well'