Baseline Awards: Tracking the early leaders for the scoring title
Who could wind up winning the 2014 scoring title? A look at some early returns including Kevin Durant, Carmelo Anthony, Chris Paul, and Kevin Love.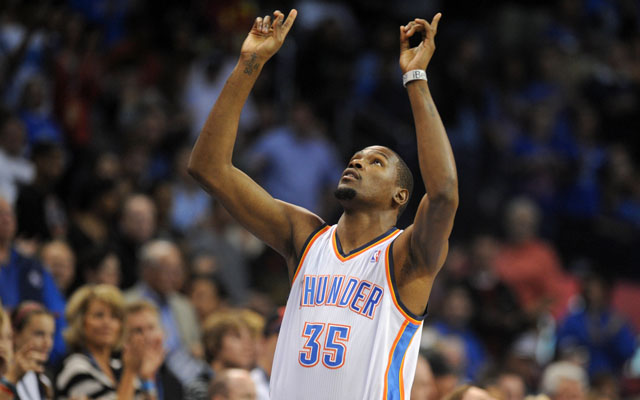 We're just a few days into the season, but it's never too early to start our look at the Baseline Awards, tracking the NBA's award winners.
I want to give MVP and the other awards another week to percolate, but even a handful of games in, I thought it would be good to examine who the contenders for this year's scoring title.
The Favorites
Kevin Durant : Durant got off to a blistering start with 42 points in his first game, and is averaging 29 points per game on the season, right on track for yet another scoring title. Durant by all rights should have been the scoring leader last year, he scored the most points, but Carmelo Anthony missed a lot of time and squeaked out in front with his usual blistering April. Durant should be the odds on favorite for the scoring title.
Carmelo Anthony: Not a great start for New York's favorite son. Through three games, he's shooting just 38 percent and scoring just 21 points per game. He can bust out any time, but the New York Knicks ' offense looks much easier to defend than it did last year, and that could hurt Anthony's ability to run it up. He's still up there with KD, but maybe a bit further behind than expected.
Kobe Bryant : Don't count the Black Mamba out yet. The league's new requirement states that you have to play in just 58 games to be considered the leader. That give Bryant twenty more games to miss before he gets back in order to compete for the title. With how high-octane the Los Angeles Lakers ' offense looks, Bryant could jump back into this thing from the get go.
The Dark Horses
Kevin Love : Back from injury, Love looks like an even better version of the borderline MVP candidate from two years ago. He's averaging 27 points per game and the Wolves' starting schedule hasn't exactly been soft. With the Wolves looking like an offensive juggernaut, this is a sneaky good pick early on.
LaMarcus Aldridge : This dude looks ready. The Blazers have an extremely efficient offense and Aldridge looks unstoppable thanks to the space being afforded him by a upgraded roster. He's currently fourth in scoring. His biggest liability may be his teammate, Damian Lillard , who himself is sixth on the list.
Paul George : Last year's breakout player looks improved, with more shooting confidence and a wider range of playmaking abilities. He looks like the best player on the Indiana Pacers and is averaging 26 per game on 48 percent shooting.
The Long Shots
Chris Paul : Having a dazzling start to the year and is third in scoring after four games. But he's a point guard first and always tends to coast for about two months from January through February. Will he burn the candle at both ends, while being the best passer in the game and have enough left over for scoring? Doubtful, but it would make him MVP if so.
Anthony Davis : Davis has been taking a huge percentage of shots, 19 per game on a not-fast New Orleans Pelicans team. A second-year player taking the win? When it's a raw power forward? Unlikely, but Davis has been stuffing the stat sheet anyway early on.
Dirk Nowitzki : We know he's got weapons behind him now, but will he play in enough games and go full bore? Does he have that gear left in him? Either way, shooting 47 percent and averaging 23 per game is a good start.
The Concerning Start
James Harden : What happened to the Beard? 23 points on 49 percent shooting seems good, but we expected Harden to be a favorite this year. Dwight Howard 's touches could mean Harden just doesn't get the opportunities like last year to compete for this title. We'll see if he wakes up, though; Monday night's loss to the Clippers was especially low.
Show Comments
Hide Comments
Our experts predict whether the Jazz can compete with Golden State, along with the rest of...

Breaking down key matchups as the second season reaches the conference semifinal series

Pierce's 19-season run in the NBA ended Sunday as the Clippers bowed out of the playoffs
Utah overcame its relative lack of experience with a balanced, deep and versatile roster

Our experts predict every series in the 2017 NBA playoffs

The series opener between Houston and San Antonio tips on Monday night