Baseline Awards: Westbrook, Wade lead NBA's best 'Beta Dogs'
Who are the best second options in the league? Russel Westbrook, Dwyane Wade, Roy Hibbert, Damian Lillard, and Klay Thompson make up the league's best.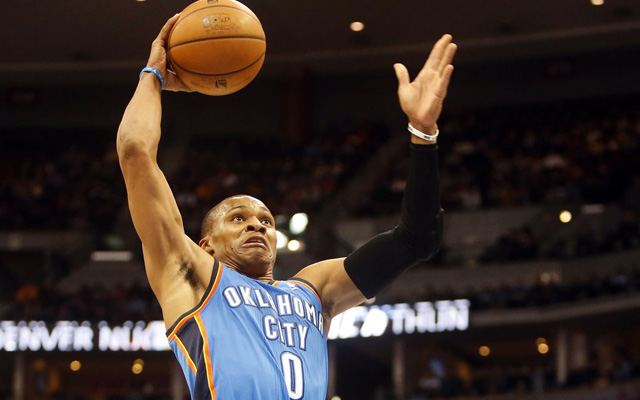 We spend a lot of time arguing about the best players in the league, based on how much each carries his team. But there also is more talent stacked on teams than ever. No matter how good your No. 1 option is, you need a viable No. 2. Someone who can score when the defense limit Option A. But as the second-best player on his own team, they sometimes get lost.
So who are the best second-best players on their team this season?
We'll call it The All-Beta Team
1. Russell Westbrook , PG, Oklahoma City Thunder : Everything changed after Westbrook's injury last season, at least in the public's eyes. No longer is Westbrook spoken of as a liability to Kevin Durant , but instead the only thing that stands between Durant and getting mobbed like any number of stars without help. His aggressiveness compromises their flow? It also sparks their team. His confidence and ruthless aggression give the Thunder an edge they lack without him. In short: If Durant is the beating heart that makes Oklahoma City strong, Westbrook is the spine that steels it against adversity. 
What's odd: You could argue that Durant actually is the Beta Dog. For a point guard, Westbrook actually has the ball less than most counterparts, substantiated by SportUV calcuations, which place him second in the league behind DeMarcus Cousins in usage (times he touches the ball). He still ranks ahead of Durant, averaging 13 more touches -- not many when factoring the considerable ball-handling duties of a point guard.
Meanwhile, Westbrook is averaging 23 points, seven assists, six rebounds, and two steals. He's not even shooting well this season coming back from knee surgery at 40 percent. But he makes such a huge overall impact, it's difficult to argue any other player as having a bigger impact on his team's success. It's close, but Westbrook remains the best second option you can find, and the player you could put on his own team as the best player on a team and find success.
2. Dwyane Wade , SG, Miami Heat : Wade is averaging 20-5-5-2 per 36 minutes while taking 28 percent of all possessions. Yes, he's only played in 18 games (heading into Tuesday vs. Indiana), but when he plays, the idea that Wade has fallen off is a little ridiculous when you look at the numbers. He has a 22 PER and the highest True Shooting percentage since 2007.
And as far as a complementary B-option? After years of trying to understand how he fits with LeBron James , once Wade accepted LeBron's dominance, he has fashioned an unbelievable chemistry with the GOOT (Greatest Of Our Times). In transition, Wade and James form perhaps the most dangerous and effective combination in NBA history.
Wade can take a smaller opponent in the post, can cut off ball when the defense triangulates to guard James, and can carry the offense when he's off the floor. A few limitations? He can't hit from the outside to stretch the floor on James' ball reversal, which hurts his overall ability to complement what they do, and being limited to 18 games means he has trouble staying on the floor. That puts him behind Westbrook, despite a better overall resume when on the floor. But man, it's close.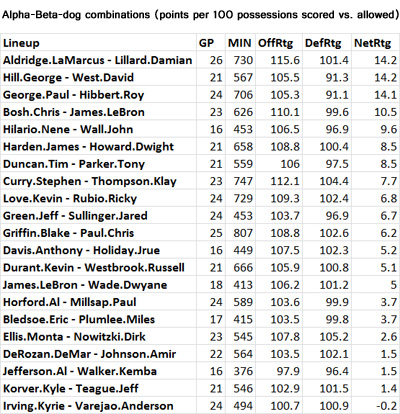 3. Klay Thompson , SG, Golden State Warriors : If Wade and Westbrook comprise the
players who independently make huge parts of the offense to complement and support their Alphas, Thompson represents the best "symbiotic" player. Klay Thompson needs Stephen Curry to draw the defense's attention, and Curry needs Thompson to punish the defense for going to help on him.
When on the floor together, Thompson and Curry score 112.1 points per 100 possessions, the highest of any non-Blazer combination and the second-highest of any combination of No. 1 and No. 2 weapons. Thompson isn't the caliber of player Dwight Howard is, or even as good overall as Damian Lillard . But for his role, you will not find anyone better. The Warriors shoot 59 percent with the Splash Brothers on the floor.
You can make the argument, based on what we've seen, and the data, that Andre Iguodala is actually a more important role player than Thompson. But Thompson remains the tip of the spear for the Warriors' non-Curry offense and the biggest threat they have. Iguodala ties the room together, but Thompson is the disco ball that makes people dance.
4. Damian Lillard, PG, Portland Trail Blazers : Let's start here. Damian Lillard is shooting  39.9 percent (only 42 percent from 3-point range). He's aveaging six assists, good, but not excellent.
But you cannot watch the Blazers' hot start and not think Lillard is the second-biggest part of it after LaMarcus Aldridge . With Lillard and Aldridge on the floor together, the Blazers score 115.6 per 100 possessions, and have a net points per possession of 14.2, by far the best for any combination of alpha and beta players in the league. Lillard is the one nailing the big shots at the end, and he controls the offense.
I may be tempered by doubts I had about Lillard last year. He's been so much more in control, and his shot selection has greatly improved. But I can't see how well the Blazers are playing, and how they use their weapons, and not credit Lillard for both deferring to Aldridge and helping the Blazers be the second-best team in the league.
5. Roy Hibbert , C, Indiana Pacers : This one's tricky. Hibbert averages only 13 points and nine boards and is not flashy. He's not centric to their offense, necessarily. But if you look a the success of the Pacers, it's their defense first, right? And no matter what Paul George does, Hibbert is inherently be more valuable as the rim protector. Hibbert also is the weapon the Pacers don't always need, but when they elect to use it, it levels the opponent. He's a special move in a video game. You save up your energy and then use it at the right moment.
With George and Hibbert together, the Pacers allow only 91 points per 100 possessions and outscore the opponent by 14 points per 100 possessions. So they're pretty good. Hibbert's impact is in the threat of what he provides down low, in how he dominates at the point of attack, and how he works with George. He doesn't compromise usage and yet provides an 18.3 PER. Defense matters. Hibbert is the defensive alpha to George' offensive alpha.
Honorable mentions: Dwight Howard, Brook Lopez (could be argued as the alpha), Eric Bledsoe / Goran Dragic (determining which is which is too difficult), Monta Ellis , Greg Monroe / Andre Drummond , Ryan Anderson , Tim Duncan , Blake Griffin
Statistical support provided by Basketball-Reference.com and NBA.com
Show Comments
Hide Comments
The two best point guards in the East go at it in a series sure to be filled with drama.

Breaking down key matchups as the second season reaches the conference semifinal series

The second round of the 2017 NBA Playoffs tips off Sunday at 1 p.m. ET, with Game 1 of Cel...
The Spurs have homecourt advantage, and will host Game 1 Monday night at 9:30 p.m. ET

All-Star guard flew to Washington after Game 6 vs. Bulls to attend his sister's funeral Sa...

Some love for the Rockets over the Spurs, and at least one expert says the Cavs are going...