Basketball Hall of Fame's 2013 inductees are an impressive group
Basketball legends like Gary Payton, Bernard King, and Rick Pitino are being inducted to the Basketball Hall of Fame, but the entire class is more than worthy.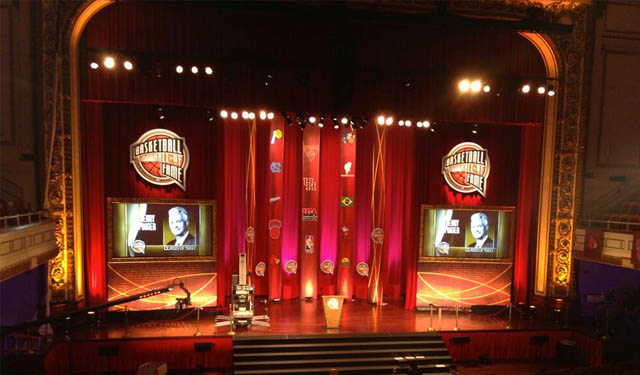 While much of the sporting world will have their eyes tuned to the NFL's opening weekend on Sunday, the basketball diehards will have at least one eye on the 2013 Basketball Hall of Fame's Enshrinement Ceremony that will be aired on NBATV at 2 p.m. ET. This year's class is an eclectic bunch, to say the least, and should have plenty of touching moments as they are presented by legends of the game and enshrined as official legends of the game themselves.  
This year's class of seven former players, four coaches (two still coaching), and two very important contributors to the game of basketball is quite impressive when you look over their résumés. For a little primer on what to expect from today's enshrinement and these worthy inductees' contributions to the game of basketball:
Gary Payton, point guard, 1990-2007
Better known as "The Glove" for his ability to cover you tightly on defense, Gary Payton was one of the best point guards of the past 25 years. During his time in the NBA, mostly for the Seattle SuperSonics, Payton was one of the loudest players in the league because of his incredible ability to trash talk his opponents, which was only bested by his ability to back it up. In 1995-96, he joined an exclusive club of non big men to win the Defensive Player of the Year award. He was named to the All Defensive First Team every season from 1993 to 2001. He is currently eighth all-time in assists and fourth all-time in steals.
Bernard King, scoring machine, 1977-1993
If he had been healthy throughout his career, Bernard King probably would have been elected into the Hall of Fame a long time ago. Unfortunately, King missed a considerable amount of time during his career due to knee injuries. In his 16 years in the NBA, King missed 438 games, including two full seasons (1985-86 and 1991-92). That didn't stop him from finishing with 19,655 points, which currently places him 41st all time. During his days with the Knicks, there were few scorers in the league that could fill it up like Bernard King.
Roger Brown, ABA guard/forward, 1967-1975
Roger Brown is one of those ABA greats that never properly got their due until his induction into the Hall. Brown made his career in the ABA with the Indiana Pacers, winning three ABA titles during his eight-year career. As the video below says, he was once thought as the next Elgin Baylor and was one of the best one-on-one players in the league for a couple of years. It was pretty impossible to stop him from scoring during his first five seasons, when he averaged over 20 points three times. During that time, he also averaged over 20 points in the playoffs in each of his first five seasons.
Oscar Schmidt, Brazilian scoring machine, 1974-2003
Oscar Schmidt is one of the international legends that could fill it up, no matter which country he was playing or playing against. Schmidt played in Brazil (his native country), Italy, and Spain for decades as he amassed incredible scoring numbers. He's the only player in Olympic history to score over 1,000 points in Olympic games. He didn't retire until he reached the age of 45 years old, continuing to put buckets on opponents. 
Richie Guerin, guard, 1956-1970
Guerin was one of the original greats for the New York Knicks back in the late 50s and early 60s. His first seven years in the NBA came with the Knicks before being traded in 1963 to the St. Louis Hawks. His career high scoring average was 29.5 in the 1961-62 season, which helped him earn one of this three career All-NBA Second Team selections. Guerin was the player/coach for the Hawks from 1964-1967, didn't play in the 1967-68 season while still coaching, and then played briefly from 1968-1970 before retiring from playing for good. He coached the team through the 1972 season. He won the NBA's Coach of the Year award in the 1967-68 season.
Dawn Staley, WNBA point guard, 1999-2006
Dawn Staley spent the majority of her playing career in the WNBA playing for the Charlotte Sting, but her playing days and legend began far before she joined the new league. Staley was a dominant player in college, leading the University of Virginia to three Final Fours and one national championship game. She was named the National Player of the Year in 1991 and 1992. She played professionally in France, Italy, Brazil, and Spain before joining the professional ranks in the WNBA. Staley also won three gold medals with the USA Women's Olympic team from 1996-2004. She's currently the head coach for the University of South Carolina and seventh all-time in WNBA assists.
Rick Pitino, college/NBA coach, 1978-present
Rick Pitino is one of the most successful college coaches of all-time, winning 662 games in 27 years. He's won two separate NCAA championships, winning by leading the Kentucky Wildcats to the NCAA title in 1996 and the Louisville Cardinals to the title in 2013. Pitino tried his hand in the NBA on two separate occasions with the New York Knicks and Boston Celtics, but had a disappointing record of 192-220 in six seasons. However, in the NCAA he's been incredibly successful in winning games and developing players that went on to the NBA. He's currently 22nd all time in career college coaching wins.
Jerry Tarkanian, college coach, 1969-2001
Known as "Tark the Shark," Jerry Tarkanian was one of the most prominent college coaches in NCAA history during his run with the UNLV Runnin' Rebels from 1973-1992. His record of 762-202 puts him 11th all time in victories and 10th all time in career winning percentage (79.0 percent). Tarkanian's UNLV teams in the late 80s and early 90s were stunning displays of talent and athleticism, led by Larry Johnson, Greg Anthony, and Stacey Augmon. They won the NCAA championship in 1990. He later went on to coach Fresno State University for seven years.
Guy V. Lewis, University of Houston coach, 1956-1986
Guy Lewis spent 30 years coaching the University of Houston basketball team, one of the longest stints in NCAA history in terms of coaching. It was the only team he ever coached in college. He spent time developing some of the best players in NBA history with Hakeem Olajuwon, Elvin Hayes, and Clyde Drexler all students of his coaching. He has a career record of 592-279. Lewis led his team to five Final Fours and was twice named NCAA Coach of the Year. 
Sylvia Hatchell, women's college coach, 1975-present
Sylvia Hatchell has been a staple at North Carolina basketball on the women's side for nearly as long as Dean Smith was on the men's side. She's been the Tar Heels' women's coach since 1986 and has a record of 907-321 during her coaching career. She helped coached the USA Basketball Women's Team to the gold medal in the 1988 Olympics as an assistant coach. Hatchell has been the National Coach of the Year twice.
Russ Granik, Deputy NBA Commissioner, 30 years with the league
Russ Granik spent 30 years working for the NBA with the final 22 years of his career in the league as the Deputy Commissioner, the position currently held by Adam Silver before he takes over as the commissioner next year when David Stern steps down. Granik had a big part in the international expansion of the NBA during his tenure and helped put together the Dream Team in 1992. 
Dr. E.B. Henderson, Contributor, "Grandfather of Black Basketball"
Dr. Edwin Henderson is credited with introducing the game of basketball in Washington, D.C. to African American players in 1904. His involvement with the game of basketball spans decades during the first half of the 20th century as both a player and a coach. He created the International Athletic Association in 1906, which was the first all-black athletic conference. Henderson died in 1977 at the age of 93, but is finally getting recognized by the Hall of Fame. 
Show Comments
Hide Comments
Our Latest Stories
In another shootout, the Washington got the best of LeBron James and co.

It doesn't, however, sound like he's looking for an official role

This isn't what you'd call peaking at the right time as Utah have lost four of its last fi...
Golden State is hoping to get Durant back before the end of the regular season

Shaquille O'Neal wishes his resume was a little bit stronger

The Philadelphia big man said it went 'better than expected'