Battier stays focused on the process in the most physical year of his career
Shane Battier has always been known as the thinking man of the NBA. But this year he's put on the hard hat and is doing the dirty work down low defensively, all the while punishing opponents from the perimeter on the other end.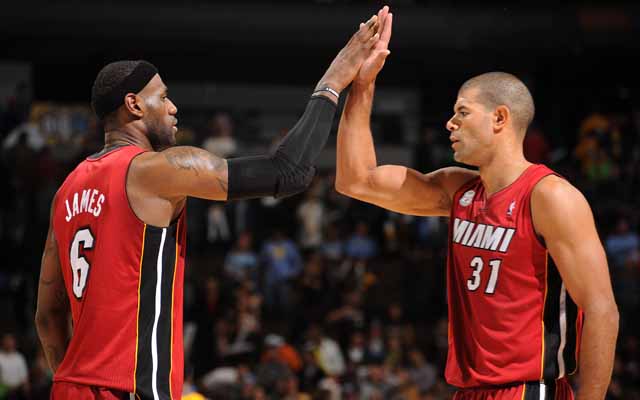 Shane Battier is doing the dirty work for LeBron James' Heat this season down low.
(Getty Images)
DENVER -- It's a Thursday afternoon, and for a man who trusts the process so much, Shane Battier looks like the process has been pretty rough on him. After facing the Clippers and Blake Griffin on an ESPN late-night game Wednesday (and taking a whupping), the Heat arrived in Denver at 4:30 a.m. Thursday to play a back-to-back in the altitude against a fast-paced Denver team.

The infamous "You know it's bad when the USA Today is on your doorstep before you check in" kind of game. The Heat are expected to get clobbered, as tired legs in the midst of a six-game West Coast road trip should do them in against a rested and hungry Nuggets team that played them close in Miami two weeks ago.

For his part, Battier's showing the effects of this exhaustion, in what he describes as the most physically taxing season of his career. The late arrival was rough, but in his twelfth season in the league, he's used to it. Worse, though, is his transition to frontcourt defender after the Heat decided to go to small-ball exclusively following their success in last year's playoffs. For his trouble, arguably the smartest player in the league spots a shiner from Zach Randolph ("ZBo got me with an elbow") and a body that is fresh off Blake Griffin, and headed straight towards Kenneth Faried Thursday night.

Battier says he doesn't mind the beating, though he acknowledges the challenge and the toll. It's what's working and he's determined to take the challenge on. But for a guy who has been credited so much with his mental approach to the game, he says this season is considerably easier on that end.

"Physically, yes," he says when I ask if this is hardest he's ever had to work in this league. But mentally?

"No, it's much tougher mentally guarding Kobe Bryant or Kevin Durant. There are high-usage guys in the post, but for the most part, guys who are big scorers in the block get a lot of points in transition and on offensive rebounds. That's just guys working their tails off, not so much the mental as guarding Kobe Bryant who will get 30 shots up in the game, and has the offense is designed around him, or Kevin Durant who will get so many touches on the perimeter."

Battier's parlance is what you'd expect for the guy who rose to basketball-intelligentsia fame when Michael Lewis profiled him during his time in Houston for a New York Times Magazine piece entitled "The No-Stats All-Star." It provided the rare insight into the detailed scouting reports Battier prepares on his opponent, and put to the forefront the marriage of Houston's analytical approach using advanced stats with Battier's micro-focused mind, which looks to find players' tendencies, good and bad, and exploit them defensively.

"The highest level of analytic use that I saw was from my time in Houston." Battier says. "Obviously Daryl Morey had a pretty dedicated staff of engineers and MIT grads and Stanford grads. The use in Miami is a little bit different. It's a little more macro than micro. When I say micro, I'm talking about breaking down guys' tendencies and how to shift your gameplan. In Miami, it's more macro. What's the team doing, what's the best five-man unit? Where are we winning games, and where are we losing games?"

He talks about usage, analytics, and about how to interpret the data, which is part of what makes him so popular with stat-geeks/stat-heads/whatever short-minded term you want to use to describe those who are looking to measure the results of the past to influence an interpretation of the present or a predictive path for the future.

But beyond that, Battier's discussion of his process centers more on a basic thing to basketball, and even just to life. It's all about decisions. The data is a tool to determine what the most likely outcome is based on the decision he makes. If he forces a guy left, how well does he score that way? If he hedges on the screen, what's the most likely reaction from the point guard?

The problem, of course, is outliers. Data can tell you one thing, and the results will simply not mirror that suggestion, as was the case on Wednesday night when Battier surrendered the mid-range jumper to Blake Griffin, and the All-Star forward hit 4-of-6 from mid-range.

"I played Blake Griffin last night. The numbers say I'd much rather have him shooting a 20-foot jumper than him going to the hole. And he puts up 4-6 numbers on me last night and everyone's going crazy. But you play the process and you have to stay true to the belief in the gameplan."

Ah, that word, process.

Sports, perhaps even more so than the culture we live in, is a results-commodity environment. The bottom line. The wins and losses columns. The evidence after the fact is supposed to provide the truth of what occurred.
But Battier bucks that, in the same way as the smartest teams and players in the league do (including San Antonio, which famously preaches this concept). If he plays defense and the opponent goes for 30 points, it doesn't necessarily mean he did his job poorly or well. The process is what matters, and the data is only one of its factors. That's kind of a trick when it comes to a league where so many guys can't see past the simple numbers on a box score.
I ask if communicating that kind of philosophy is hard to teammates in the NBA.

"Yes, because we are results-based. And our jobs are predicated on the final bottom line. But it's very liberating to lose yourself in the process and know that if you play the process and you try to play basketball as it pertains to the numbers, you're going to have a greater chance to be successful."

But with so much information, how does he possibly keep track of it all in the middle of running, jumping, playing in an NBA game?

"It took me many years," Battier says. "I still don't have it totally figured out. It took a lot of practice, it took a lot of time with Sam Hinkie in Houston to understand what's important in these numbers, what's practical. There's a lot of data out there. You can get overwhelmed by, paralyzed by the amount of data that's out there. After you practice utilizing the data in games, it's second-nature to me now. I know now in a split-second what my best-case scenario is and what my worst-case scenario is. Again, it's about mitigating risk. That's all analytics is: giving yourself the best chance to succeed over the long run."

What may be most strange about Battier's time with the Heat is how this renown defensive player may end up being most remembered for his offensive contributions, particularly in last year's Finals. Battier had seen his percentages from long-range dip last season to just 34 percent, after being a 38 percent career shooter, as well as a 38 percent shooter the year before. Even in the playoffs, he had an uneven shooting performance.

Until the Finals, when Battier shot 15 of 26 from long range against the Thunder for 58 percent. How can a man who trust the numbers so much explain that kind of explosion relative to his season performance?

"Easy- regression to the mean. I was due!" he exclaims with a laugh. "That was my mindset. It really was. I was struggling, I've been 38-39 percent my entire career. And it's not like I forgot how to shoot. I knew at some point it was going to click. You make small adjustments, but I knew I had a hot streak in me that I hadn't experienced yet. It just came at the right time."

Battier's contribution to Miami, and what he's been able to give the team is something coach Erik Spoelstra raves about. The system in Miami is more macro not just in their analysis, but also in their approach, with the team spending considerably more time using help and rotation defense. Battier often gets asked who the toughest guy to guard in the NBA is (he used to say Kobe, now he says Durant due to Durant's 6-11 frame). But for a help-side defender, two systems really stand out as being difficult to defend against, he says. 

"Any team that moves the ball. A team like San Antonio, they force you to make so many decisions. They move the perimeter so quickly, especially as a help-side defender. If you're a second late, it's going to be an open three-point shot, or Tony Parker going to the hoop. The old Utah (Jazz) system was very difficult to guard as well, because there was so much movement, and they had very good players.

It's much easier to play a plotting team that calls out every set. You hear the call, and I know what the action is going to be. It's a matter of trying to stop it. But at least you can get yourself in position, which is half the battle on defense."

On Thursday night, he'll be in position against another big man, Kenneth Faried, who is all effort, all intensity, less-skilled and more physical. The number of things he has to consider defensively has gone down this season. His workload has not.

-----------------------------------

It's Thursday night and a satisfied Shane Battier sits at his locker icing what looks like half his body. The defensive stalwart has just nailed six of seven three-pointers for 18 points in a 98-93 win. Faried's numbers are gaudy: 16 points and 20 rebounds, 11 offensive. Battier is still satisfied with the work he did and not just because of the result being a win.

He tells reporters after the game, "Faried had eleven offensive rebounds, but I blocked him out as much as I could. I don't know how many second-chance points that lead to."

(The answer is 10 points for the Nuggets total on those 11 possessions, which is pretty bad relatively speaking. The secret that gets lost in the box score is twice when Faried misses his own shot rebounds it, then misses again.)

"I played pretty good post defense on him," Battier continues. "Guys aren't really scoring on me when they throw the ball into him in the post. It's usually when I help off. I don't get caught up in the points. I don't overreact. I'm fighting, that's the most important thing. I'm small, and that's fine."

The small-ball tactic from Miami that helped win them a title has won out again, and Battier notes that part of the design of small-ball is to punish the bigger teams with Miami's ability to spread the floor using LeBron James as the creator and hurting the big defenders who can't guard their perimeter counterparts.
----------------------------------
After the Buzzer:
Battier, a known technophile, said that his favorite gadget right now was actually Waze, the traffic app. He said he hates traffic "more than anything in this world." Sounds like a guy who lived in Houston a long time. 
He's in the middle of Nate Silver's "The Signal and the Noise," which is making him "re-evaluate (his) belief in the numbers." 
Battier's foundation focuses on a different area than most NBA players. Typically players stress early education and high-school graduation. Battier's is focused on providing higher learning opportunities. He says that a college education "is a great springboard for doing big things and eventually impacting others. He says they hope to establish a "pay it forward" kind of system.
Battier said last week that he liked his chances in a "Jeopardy!" contest against any other power forward in the league. So I tested him. I asked him two questions from the popular game show this week, a $200-value question about "The Maya" and the central ingredient in a ceremonial drink from mead, and a $1,000 question about smartphones (him being the tech guy and all). He nailed the tech question, but whiffed on the mead question, forgetting that mead is made with honey. He was kicking himself over the missed question. One out of two for $800 is now the standard for NBA power forwards. 
Battier has a son a few years older than my 18-month-old, so I wanted his advice on how to deal with our impending "Terrible Twos." "Find a wine-drinker, " he said. "It's a good time to get into wine." 
Daryl Morey feels good about the Rockets chances of pushing the juggernauts with Chris Paul...

Everything you need to keep track of during the all NBA offseason madness

Griffin and the Clippers are at a crossroads
"He left because he wanted to be with James Harden," the Los Angeles coach said

The Warriors have shown that simply putting talent together isn't enough

Hayward will be in Miami this weekend, while Utah and Boston also have meetings scheduled