Bill Self: Andrew Wiggins said he wanted trade to Wolves
Kansas coach Bill Self said that Andrew Wiggins told him he wanted to go to a team where he'd be the man.
• 2 min read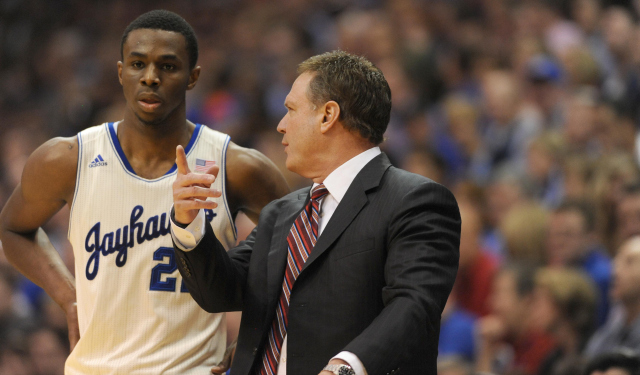 Offseason: Free Agency | Latest from Ken Berger | Rumors
Kansas coach Bill Self said that No. 1 overall pick Andrew Wiggins told him he'd welcome a trade from the Cleveland Cavaliers to the Minnesota Timberwolves, via the Associated Press:
''When all this trade stuff started, I talked to Andrew and Andrew told me, ''I hope I get traded,'' Self said. ''And I'm like, 'No you don't.' And he said, ''Coach, I do. It's better for me, knowing my personality and what I need to do, to go somewhere where I'm forced to be something as opposed to going in there where they're going to be patient with me and I'm going to be a piece.''

…

Self said that he initially thought everything worked out perfectly for Wiggins, who would have a chance to win immediately in Cleveland. But he also saw Wiggins' point: The low-key, soft-spoken swingman could fare better if he's carrying the weight of a franchise.

That would never have happened if Wiggins was playing in (LeBron) James's lengthy shadow.

''Even though in a weird way everybody would love the opportunity to play with LeBron because you're guaranteed winning,'' Self said, ''for the longevity of his career, he needs to develop that mindset to be the guy, for him to be great, and I think being Minnesota will help him do that.''
Wiggins is set to be traded to the Timberwolves in a blockbuster involving superstar Kevin Love on Aug. 23, which is one month after he signed his rookie contract. NBA rules prohibit the 19-year-old from being traded before then, and neither team is allowed to publicly acknowledge that an agreement has been reached until that time.
Self added that Wiggins had "known since the summer that he'd be traded," and "in some ways he's looking forward to going to Minnesota."
The argument that the Timberwolves would be a better destination for Wiggins has some sound logic -- he's going to be looked at as a franchise cornerstone, a future superstar. Their plan should be to turn him into a dominant force on both sides of the floor, and there will be pressure on him to make good on his considerable potential. Certainly more pressure than there would be in Cleveland alongside the best player in the world, anyway.
The question of whether or not that pressure is good for him is a different story, and it won't be answered for a few years. Assuming nothing happens to derail the deal, Wiggins will miss out on a chance to learn from one of the greats, and he might be asked to do more than his current skill set allows. Here's hoping he's right about this spurring him on to develop more quickly.
Show Comments
Hide Comments
Somehow, the Celtics have become a significantly better defensive team with Thomas on the...

Will Iggy stay with Golden State? Does anyone have any idea what to do with Derrick Rose?

Hoiberg was asked about Isaiah Thomas possibly carrying the ball during Game 5
Celtics point guard does not need anyone to hype up his defense

The Bulls had it, they had it ... and ... it's gone

The Bulls found they were without hot water following their Game 5 loss