Billups hopes to rejoin Clippers' crowded backcourt in December
NEW YORK -- Chauncey Billups is shooting to return from Achilles surgery the first week of December, a move that will exponentially increase the Clippers' championship experience and make one of the deepest backcourts in the league even more crowded.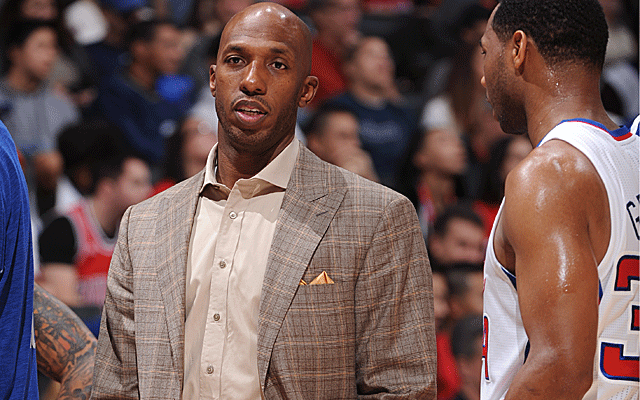 Chauncey Billups' expected return in early December could cause problems with the Clippers' backcourt.
(US Presswire)
NEW YORK -- Chauncey Billups is shooting to return from Achilles surgery the first week of December, a move that will exponentially increase the Clippers' championship experience and make one of the deepest backcourts in the league even more crowded.
If you're a team with title aspirations that's currently suffering through the late November doldrums with two straight road losses, as is true of the Clippers on both counts, this is a good problem to have. Look no further than the Knicks with Jason Kidd or the Clippers last season with Billups before he got hurt to understand what a title-tested point guard can do for a team.
But Billups' imminent return raises the question of how he will affect the Clippers' backcourt rotation, which already includes Chris Paul, Willie Green, Eric Bledsoe and Jamal Crawford. Once 40-year-old swingman Grant Hill returns from a bone bruise in his knee, the distribution of minutes and roles will become even more dicey.
"It seems like we'll have an issue, but hopefully not," Paul said after the Clippers fell apart down the stretch and lost to the Nets 86-76 Friday night. "I think that's the reason why we brought these great guys in our locker room so we won't have an issue. Hopefully guys -- which I believe -- are all about winning. If you're all about winning, then you play the minutes when you've got them."
The Clippers' could've used Billups' steady hand down the stretch in Brooklyn Friday night, when they committed eight of their 20 turnovers in the fourth quarter and put up a lethargic 13 points. In one of the most curious anomalies ever witnessed, Paul was called for six personal fouls in a 4 1-2 minute span in the fourth -- something he said had never happened to him in his life.
"Not even in a video game," Paul said.
Billups started 20 games for the Clippers last season before getting hurt, and they were 14-6 in those games. At 36, he's ready to join the graybeard point-guard trend going on at the moment, with Kidd (39) getting the job done in New York and Steve Nash (38) hoping to recapture the old Phoenix magic with Mike D'Antoni in L.A. once he returns from a leg injury.
Kidd's influence on the Knicks, who dropped to 8-3 Friday night with a 131-103 loss in Houston, has been about his experience, calmness under pressure, and his ability to organize a team and hold the locker room accountable -- not his sheer talent anymore. It remains to be seen whether Nash can still do with the Lakers what he did for D'Antoni in Phoenix after all these years.
The Clippers, who are outpacing the rival Lakers in road attendance so far this season, don't need Billups to be Mr. Big Shot all the time anymore. At this point, they just need him to fit in, keep the locker room in order and perhaps most important, give Paul a breather now and then by allowing him to play off the ball.
"Chaunce will bring it up some," Paul said. "Let him run the show, and I can maybe blend in."
A person with knowledge of Billups' recovery said he's progressed to the point where he could be back in the lineup "any time," but the Clippers have not put a timetable on his return. After the game, Billups said next week might be unrealistic simply because he's yet to have a chance to log any substantial scrimmage time to test his leg and work himself back into game shape. He's eyeing the first week of December, and for good reason. The Clippers have two potential practice days after their Nov. 28 home game against Minnesota and two more after a Dec. 5 home game against Dallas.
"I'm getting there," Billups said.
However it works out, Billups' return will present a rotation dilemma for coach Vinny Del Negro. The odd man out would appear to be Willie Green, who is the Clippers' starting two-guard at the moment. Bledsoe's energy and production off the bench are too valuable to limit, and Crawford has settled into his usual pursuit of the sixth man of the year award.
No matter how deep the Clippers are, there is always room for a champion like Billups on a team that is trying to advance farther in the playoffs and maximize the window for winning created by Paul and Blake Griffin -- not to mention Billups' arrival from New York in the first place. 
"He brings a confidence," Paul said. "I think it's easier for him to talk to guys than it is for me."
Soon, it will be time for Billups to talk and play at the same time -- and time for the Clippers to figure out how to make it work. A good problem to have, but still a problem.
Show Comments
Hide Comments
Thunder fans used the term 'cupcake' in reference to Durant after he left OKC in free agen...

There appeared to be some wishful thinking on the part of Charlotte general manager Rich C...

Thompson is one of the best shooters in the league, but it appears dunking isn't his speci...
Cuban was willing to part ways with employees who leaked ahead of the official announcemen...

Draymond wasn't mad about the move, though. He was mad about the way he heard about it

All-Star forward was sent from the Bulls to the Timberwolves on draft night