Billy Hunter lawsuit moved from Oakland to LA
A superior court judge ruled on Thursday that Billy Hunter's lawsuit against the National Basketball Players Association and president Derek Fisher should be moved from Oakland, Calif., to Los Angeles.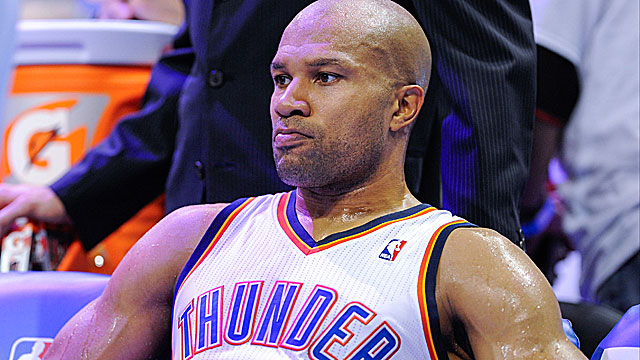 UPDATED 11:12 p.m.ET 
A judge has granted the motion for a change of venue in Billy Hunter's lawsuit against the National Basketball Players Association and its president, Derek Fisher, clearing the way for the case to be heard in Los Angeles instead of Oakland, Calif., the defendants' attorneys said Thursday.
Lawyers for Fisher, his manager, Jamie Wior, and the NBPA had argued that Hunter should not have filed the lawsuit in Alameda County because none of the plaintiffs lives or does business there. Fisher and Wior are residents of Los Angeles, one of 28 cities in which the NBPA conducts business.
In their motion seeking to have the case moved in June, attorneys for Fisher and Wior also argued that Hunter's relationship with the presiding judge in Alameda County Superior Court, C. Don Clay, further necessitated the change of venue. It was not Clay who ruled on the change of venue motion on Thursday, but rather Superior Court Judge Frank Roesch.
"We are pleased that the court has transferred the case to Los Angeles, where it should have been filed, and now look forward to a hearing on the pending motions to dismiss the case," the defendants' attorneys, Christina Sarchio for the NBPA and Andrew Kassof for Fisher and Wior, said in a statement.
Attorneys for Fisher, Wior and the NBPA filed a motion to dismiss the case in July. An Aug. 27 hearing on that motion has been postponed due to the change of venue. 
Hunter, 70, sued Fisher, Wior and the NBPA for defamation and breach of contract stemming from his ouster as executive director in February. Hunter was voted out after a nine-month investigation revealed his failure to properly manage conflicts of interest and put the union's best interests above his own in business dealings.
The NBPA will elect a new president to replace Fisher, whose term is up, at its summer meeting in Las Vegas next Wednesday. Details also will be divulged to players in attendance about the status of the search for Hunter's replacement, including the identity of an executive search firm that has been retained.
Show Comments
Hide Comments
Houston advances, and San Antonio is set up to follow suit after its Game 5 win

This is fuel to the Westbrook haters' fire

How to watch the first-round series between L.A. and Utah
The playoffs are getting interesting

Harden didn't play great, no one could shoot, and the Rockets still rolled to a 4-1 series...

The Cavs and Warriors have both swept their first-round opponents