Blazers allow Eric Maynor to become unrestricted free agent
Portland declines to extend qualifying offer to Eric Maynor, will allow him to become an unrestricted free agent, may not re-sign him.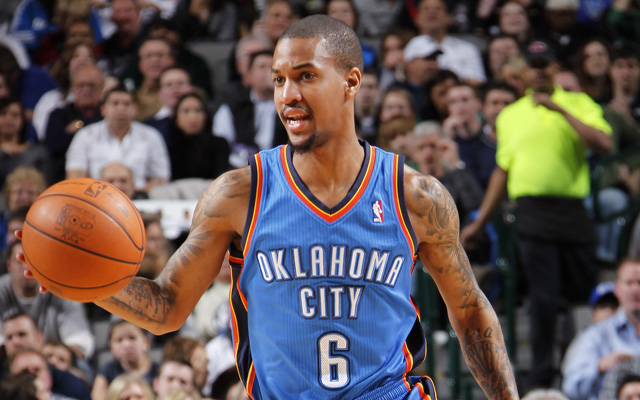 The Portland Trail Blazers confirmed Friday that they will not extend a qualifying offer to backup point guard Eric Maynor and allow him to become an unrestricted free agent next week. The Oregonian reports that the team's inclination to keep him in free agency may have shifted in the last week. 
General manager Neil Olshey said late Thursday night that the Blazers will not extend a qualifying offer to Maynor, guaranteeing that their backup point guard will become an unrestricted free agent on July 1. 

It has long been assumed the team would allow Maynor to become an unrestricted free agent because his qualifying offer would have carried a hefty $5.85 million salary cap hold, eating away roughly half of Olshey's offseason spending power. But it also has been assumed the Blazers would try to resign Maynor regardless of his free agent status — after season-ending exit interviews, both sides expressed a desire for a reunion.

But that was before Thursday's NBA Draft, when Olshey selected Lehigh guard CJ McCollum with the No. 10 overall pick. McCollum is expected to play from Day One and his skill-set, which includes the ability to run a team and play both guard positions, is similar to Maynor's. In fact, Olshey on Thursday said McCollum could have a similar impact — and role — to the one Maynor had last season.
via Trail Blazers notebook: Eric Maynor's stint in Portland seems finished, Terry Stotts wants to play faster | OregonLive.com.
Maynor will almost assuredly land on his feet. He was considered a prize trading piece by the Thunder before suffering a knee injury. He never quite recovered last season and was on a horrid Blazers squad but can still bring a high level of athleticism at the backup position. He'd be an upgrade at reserve point guard on nearly half the teams in the league. 
McCollum does give the Blazers a logjam there, though, so this decision wasn't tough. The Blazers could still decide to bring back Maynor, too. After all, that bench needs all the help it can get and Maynor was one of the more talented pieces last season, even if his production struggled. 
Show Comments
Hide Comments
Our Latest Stories
Who faces who, who's in, who's out, and what happens next?

Spurs assistant is well-positioned to be the first female NBA head coach

Big Baby has spoken, and he wants Allen at the get-together this summer
Reportedly, the star forward could be looking for a fresh start

Phoenix is taking the idea of a youth movement to its logical extreme

A phone call was made while Williams was still a member of the Lakers