Blazers GM Olshey says Portland is done acquiring assets
It seems obvious, but the move to look to win now has ramifications for the Blazers' future.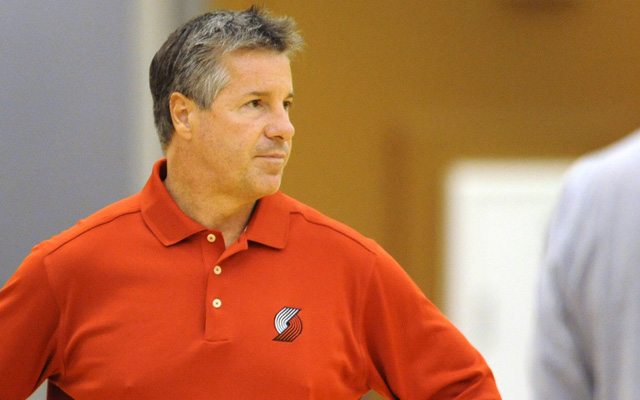 More Offseason Analysis: Coaching changes, news | Free Agency | Draft
The Trail Blazers took several years to recover from the failed promise of the Brandon Roy-Greg Oden era. They first tried to piece things together, then fully committed to a true rebuild. The fruits of that plan were on display this year as Damian Lillard and LaMarcus Aldridge helped lead the Blazers back to the playoffs and then the second round after an upset over Houston. 
Now, GM Neil Olshey says the team is done acquiring assets and is looking to move forward. 
#Blazers GM Neil Olshey says the organization is out of the asset acquisition phase and says now it's about winning games.

— Chris Haynes (@ChrisBHaynes) May 16, 2014
What does that mean? Well, depending on what owner Paul Allen says, that could put the Blazers in the market for big upgrades. As we covered here, the path for Portland to improve defensively isn't really that smooth. They could use significant upgrades on the wing defensively, and most especially on the bench. 
Even without options, the Blazers are locked into $64 million in salary next year. Wes Matthews and Robin Lopez will be expiring contracts ... as well as LaMarcus Aldridge should they not extend him. They've got another year until they have to deal with Damian Lillard's (presumed) max extension or new deal. They have some room to trade for upgrades, but not much in the way of immediate assets to cash in. How they move this team forward will determine if they were a nice story that became a good team, or something greater. 
Show Comments
Hide Comments
Boston had a 16-point lead at one point

Kyrie Irving saw LeBron James was in foul trouble and he stepped up big

LeBron hads a chance to blow the roof off Quicken Loans Arena, but misses a wide open jam.
LeBron James has never committed four fouls in a single half. Until Game 4

Boston's starting five will look even more different in Game 4

Gasol was a part of NBA title-winning Lakers teams in 2009 and 2010