Blazers' Nicolas Batum out for Wednesday's game with a concussion
Portland Trail Blazers forward Nicolas Batum will miss Wednesday's preseason game after getting a concussion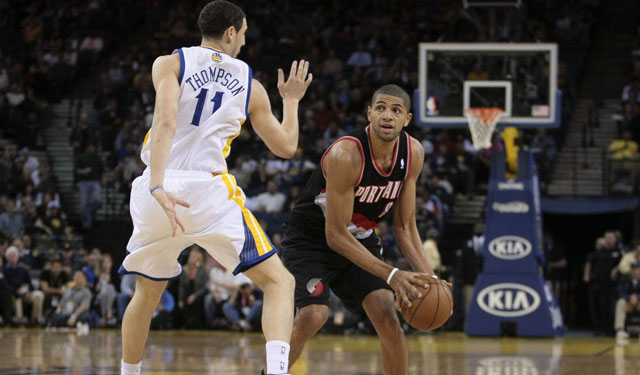 The Portland Trail Blazers committed big money to Nicolas Batum in 2012 when the Minnesota Timberwolves were trying to secure the services of the restricted free agent. Because of that big pricetag, big things are expected out of the small forward, especially in a season in which the Portland Trail Blazers have beefed up their bench and look like serious playoff contenders (vying for a playoff berth, that is) just one season after posting a 33-49 record.
After a collision with teammate Will Barton in practice on Tuesday, Nicolas Batum has been diagnosed with a concussion and the Blazers will need that depth to take over until he's cleared to play. The concussion happened during a play in practice in which Batum went up for a dunk and had it contested by Barton. The Blazers announced that Batum has a concussion and won't play in Wednesday's preseason game against the Phoenix Suns.
The list of Trail Blazers who have been injured during training camp got a little longer on Tuesday with Nicolas Batum suffering a concussion during practice on Tuesday. He will not play in Wednesday night's preseason game against the Suns at the Moda Center.

The injury occurred when Batum collided midair with Will Barton, who also suffered a concussion early in training camp, while driving to the basket. Batum reportedly hit the basket stanchion after the collision. It's not known whether it was the collision with Barton or the stanchion that caused the concussion, but it is clear that he will not be in uniform for Wednesday night's game.
In order to be able to play again, Batum has to be cleared through a series of tests that include both recognition performance and physical exertion tests that will be administered by team doctors. The league's neurologist heading up the concussion program also has to be consulted before Batum is cleared to play again. 
Batum averaged 14.3 points, 5.6 rebounds and 4.9 assists in 73 games last season. He struggled shooting the ball at 42.3 percent from the field but had a very respectable 37.2 percent from 3-point range. 
Show Comments
Hide Comments
One way or another, we won't forget these Finals and what they mean for Draymond Green

Celtics will have plenty of tough decisions to make going forward

The defending champs seem pretty relaxed ahead of the NBA Finals
The commissioner's infamous veto of the Paul trade could have been different

Warriors are intent on keeping a mind like Jerry West around

LaVar has always been proud of his son, which Magic says isn't a problem as long as it doesn't...